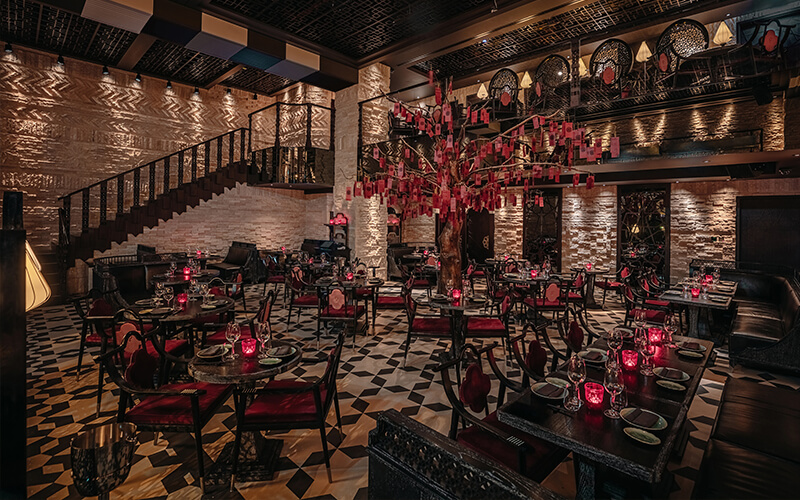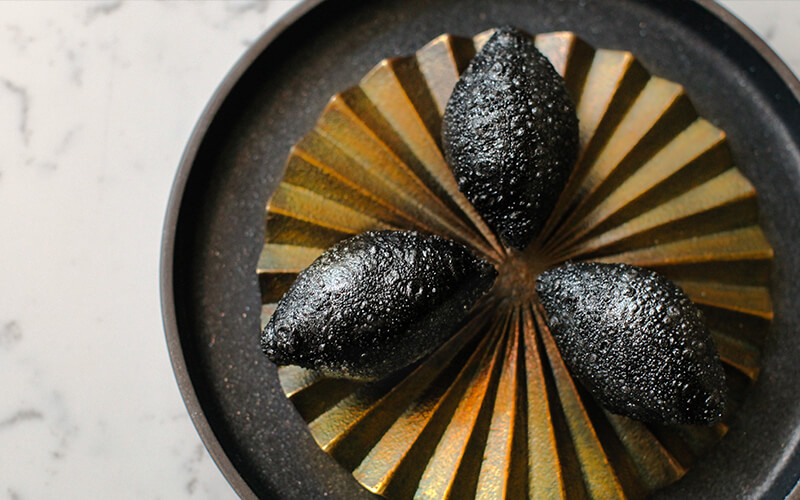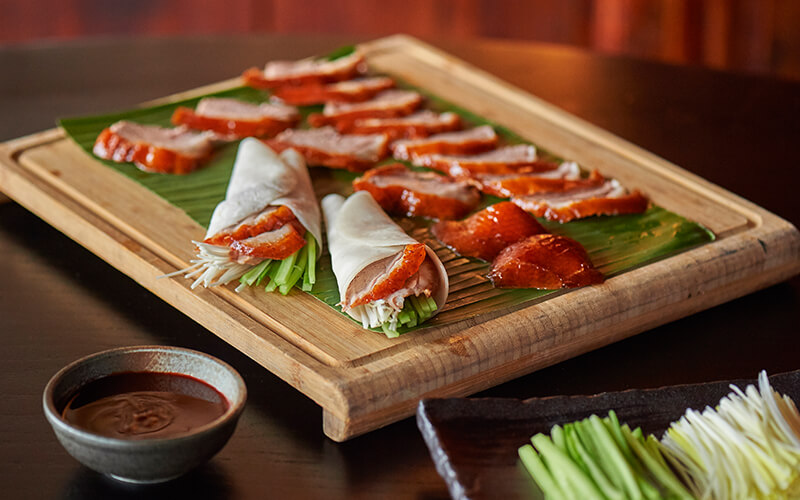 What's it like?
Perched on the edge of Dubai's bustling financial centre, newly opened Hutong brings a taste of sophisticated, Northern Chinese flair to the city. Upon arrival, it's clear that no expense has been spared in the fit-out of the new restaurant – which hails from the brand's original Hong Kong-based outlet following its opening in 2003, before expanding to London, New York and Miami in recent years. Spanning the ground and first floors of the Gate 6 building in DIFC, guests are first greeted by glamorous hostesses before being led down a folia-lined pathway, complete with elaborate water feature and twinkling lights overhead. To the right is an al-fresco terrace (ideal for after work drinks, with Hutong's happy hour running from 5pm until 8pm), and to the left is the indoor, split-level restaurant. There's depth in the detail where decor is concerned at Hutong; if you can see it, that is. Blacked out windows and dimly lit interiors encase bespoke design elements that merge Chinese and Arabic influences. Expect red plush velvet cushions atop mahogany furniture, exposed brickwork with carved geometric detail, eye-catching monochrome floor tiles and Hutong's signature wishing tree in the centre.
What are the food highlights?
Hutong promises to bring "contemporary and occasionally fiery" Northern Chinese cuisine to the floor. But don't expect any form of "spiceometer" on the menu. Instead, just go with the understanding that dishes are likely to be on the high-end of the spice scale, so be sure to check with your waiter before ordering. To begin, don't miss the vegetable spring rolls. Though perhaps a predictable addition to any Cantonese menu, these incredibly light and crispy pockets of deliciousness shun any spring rolls I've tried in the past into a distant memory. Instead of traditional rice paper rolls, which I find can often be on the greasy side, Hutong's version of the much-loved appetiser features paper thin glass noodles, which have been delicately deep fried and packed with a meaty mushroom and cabbage filling. The wild mushroom and truffle baos come highly recommended. Each bun mirrors the appearance of an oversized mushroom, lightly toasted on top and served alongside crispy kale. Punchy truffle flavours and pillowy bao buns make this dish a delicious sharing appetizer. The spicy beef xiao long bao is also not one to miss. Though not served in the more traditional steamed bread bun, this dish features melt-in-the-mouth braised beef with a spicy kick, encased in a steamed starchy shell. Diners are advised to first pierce the bun and enjoy the liquid centre, which is a flavoursome soup that surrounds the beef, before biting into the remainder of the bun.
For mains, expect signature Cantonese favourites such as Peking duck and crispy ribs. We opt for the wok-tossed tenderloin beef, which comes in a fiery Laoganma sauce. The beef is cooked well – seared on the outside and tender on the inside – and is complemented by the egg truffle fried rice beautifully. My dining partner chooses a vegetarian dish – the golden tofu with capsicum. Expecting this to be encased in a crispy, golden outer shell, we are slightly deflated to see learn that the tofu hasn't been fried. What arrives instead are pillowy pieces of soft tofu, drenched in a radiant red chilli sauce. Nevertheless, the sauce has an intense depth of flavour that is not for the faint hearted, so fans of spice will be sure to love this!
How was the service?
We face some teething problems (miscommunication over our drinks and a delay in taking our food order) that I put down to a new restaurant finding its feet. But aside from that, each member of staff that we encounter is extremely hospitable and keen to tell us about the restaurant's concept and love of good food.
The bottom line: A welcome addition to Dubai's Chinese dining scene, and a great spot for Thursday night drinks once the outbreak is over. Though the restaurant is temporarily closed, Hutong is said to be using the time to create new and exciting culinary ideas. We can't wait to see them for ourselves in the future!
Want to go? Follow @hutongdubai on Instagram for updates on the restaurant's reopening. Call 04 220 0868 for bookings. For more dining inspiration across the city, click here.