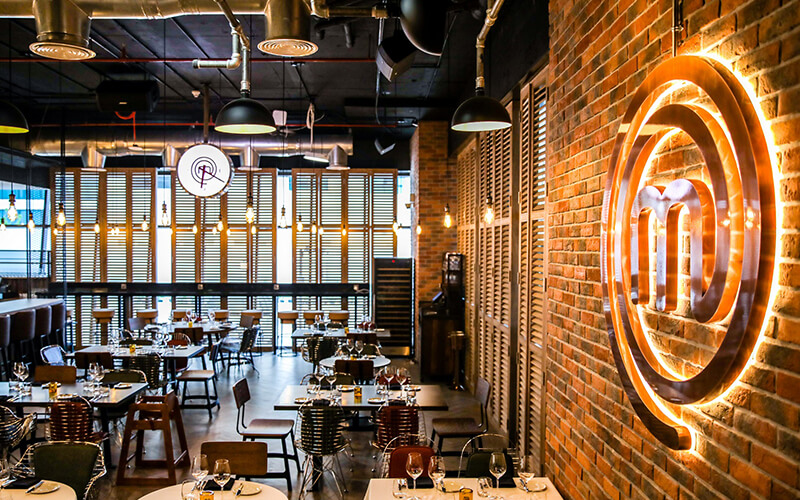 What's it like? 
In true Dubai fashion, it seems only fitting that the city play host to another "world first" in the culinary scene. This time, it's the first ever concept restaurant based on the television phenomenon that is MasterChef. Located on the ground floor of Millennium Place in Dubai Marina, the restaurant welcomes fans into a laid-back, open-plan dining space, which has a warehouse feel to it courtesy of the exposed brickwork and low-hanging lightbulbs. It's a Thursday evening when we visit (which is always an excuse to dress up in my eyes) and while the restaurant has a relatively casual feel to it, I don't feel out of place – this is a "world-first experience," after all! Taking our seats beneath the iconic 'M' emblem on the wall, we have a clear view of the expansive dining area and bustling open kitchen (tip: for a close-up of the action, perch on a high stool overlooking the kitchen to enjoy your dinner.) 
What are the food highlights? 
While chef Margarita Vaamonde-Beggs heads up the culinary operations at the restaurant, each dish on the menu is a replica of one created by a former finalist on the show. As a result, there's a diverse range of cuisine, culture and cooking techniques that bring the best of the MasterChef's worldwide kitchens under one roof. To begin, we try the lobster tortellini from the hot starters – courtesy of Laura Cassai, MasterChef Australia Finalist in 2014, and a sharing salad made up of figs, halloumi and hazelnut from MasterChef Australia champion in 2016, Elena Duggan. The tortellini is served in a fragrant lobster broth with hints of ginger and coriander. Though a small portion, what it may lack in size, it certainly makes up for in flavour. For the salad, we're served a large portion of caramelised figs and grilled halloumi amidst mesclun leaves, topped with roasted hazelnuts, oregano and a honey vinaigrette. Perfection!
The main courses are divided into meat and poultry, seafood and vegetarian dishes – each section offering ample options to suit each dietary requirement. As a keen meat lover, I opt for the duck margret with plums and bok choy – a recipe from Ping Coombes, MasterChef UK Champion in 2014. Though its presentation wasn't perhaps as refined as I may have expected from a fine-dining entry, there's certainly no doubting its fantastic flavour combinations. Seared duck breast (of which there is plenty) is served with oven roasted plums, sautéed bok choy and a super indulgent blackcurrant and red wine sauce. It's rich, but utterly delicious. My dining partner, who is vegetarian, is impressed with the rolled mushroom gnocchi – another recipe from Miss Cassai. A simple yet satisfying combination of gnocchi, porcini mushrooms, parmesan, butter and sage proves that this dish doesn't need to be dressed in airs and graces to be a hit. 
Daring dessert fans must try the mixed berry pie with activated charcoal crumb, which comes with a generous scoop of fiery Tabasco ice cream. Love it or hate it, this is MasterChef's very own 'marmite moment,' but one that clearly paid off after its creator, Ping Coombes, was crowned the season champion back in 2014. We're also a huge fan of James Nathan's deconstructed Eton mess – a traditional British dessert with a twist. The sweet yet savoury meringue is made up of lemon and Japanese Sansho pepper and is served alongside bright green pops of mint jelly that cut through the coulis' sweetness, creating a deliciously refreshing dessert. 
The bottom line: This fun concept is so much more than a gimmicky TV kitchen. Its menu boasts great quality dishes which are brilliantly executed by chef Margarita and her team, and the MasterChef references are subtle enough to ensure it suits both avid watchers and newbies to the show alike. We're looking forward to heading back to try the Mystery Box very soon…
MasterChef, The TV Experience is currently closed for dine-in services due to the COVID-19 pandemic, but is now working with Deliveroo to bring doorstep delivery to fans. Visit the @masterchefdxb Instagram for more details.
If you enjoyed this article, you may be interested in reading more of our local restaurant reviews here.