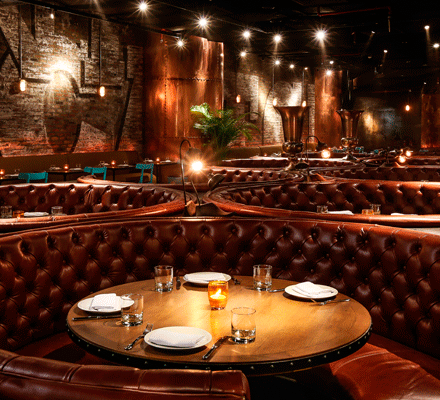 Seated in a cosy, circular booth in the dining area, the setting is intimate, relaxed and overlooks an open sushi kitchen and mixology bar. Greeted with the menu, I was pleasantly surprised to find such a wide-range of fish, meat and vegetarian options. There's an impressive starter offering to begin with. From sushi, sashimi, tartar, plus cold and hot appetizers – all of which come sharing-style – you could easily order a few dishes from this section of the menu and leave fully satisfied. Mains are equally as impressive, with highlights including crispy whole snapper with peppers, and oyster mushroom, Cantonese lobster and whole roasted sea bass, which comes chili rubbed with cracked olive and artichoke. Other fish and seafood options include tuna, salmon, jumbo prawns and kampachi – that's before we even get started on the meaty options, including tomahawk ribeye, wagyu, tenderloin and more.
Should you be able to squeeze in dessert, don't miss the deliciously, chocolatey, oozing 'Hit Me!' – I'll leave the surprise element to you.
Overall, a perfectly relaxed evening out with great food – the place has real character. Hats off to chef Bobby Griffing. We'll be back!
If you want to go: Around Dhs350 per person, excluding beverages. Call 04-3571755.