One of the most positive and consistent health messages we hear is to eat at least five portions of fruit and veg a day – yet most of us don't. Nutritional therapist Kerry Torrens suggests ways to reach your target, and explains why we should aim even higher. Eating a variety of fruit and veg …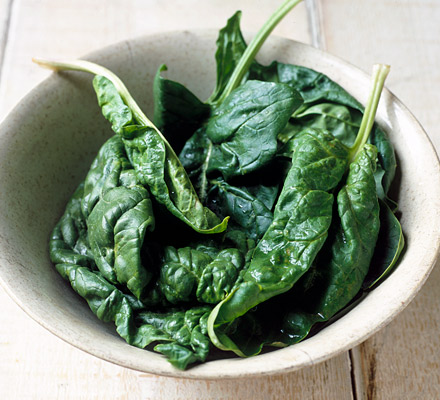 One of the most positive and consistent health messages we hear is to eat at least five portions of fruit and veg a day – yet most of us don't. Nutritional therapist Kerry Torrens suggests ways to reach your target, and explains why we should aim even higher.
Eating a variety of fruit and veg is one of the surest ways to get the vitamins, minerals, fibre and plant chemicals that help to lower our risk of disease. On top of this, people who eat four or more servings a day (a total of 350g) are reported to score higher in aptitude tests and feel generally happier. Yet some of us find it a challenge to reach the 5-a-day target and are confused about what 'counts'. If you feel the same, our chart opposite will help.
Is five portions enough?
Standard international health guidelines usually advise eating at least five daily portions of fruit and veg (based on WHO recommendations to consume at least 400g of fruit and vegetables daily), but some experts argue that's simply not enough. Certain countries have higher targets – in Japan, 13 portions of veg and 4 of fruit is the daily goal. In reality, 5-a-day represents the minimum required for good health, and it's best to aim for 7-9 portions a day. (A portion for adults is 80g of fresh fruit and veg, and 30g of dried fruit.)
Another consideration, particularly in this part of the world, is that the fruit and veg on offer may be less nutritious than it once was. This is due to intensive farming methods, changes in soil conditions, new crop varieties (which yield larger produce that needs less time to ripen on the plant), increased transport distances, storage times and our tendency to eat out of season.
What are the benefits?
We have plenty of produce to choose from these days. Whether it's bananas, which is rich in potassium and fibre, to vegetables such as cabbage, cauliflower, broccoli, onions, garlic, tomatoes, carrots and green leafy veg, which provide more valuable plant chemicals, like carotenoids (which are thought to give us the most protection), the rewards are many. Here are some key health benefits you can enjoy with increased intake of fruit and veg:
Boost your bone health with broccoli and dark-green leafy veg like kale, which are valuable sources of calcium.
Beat high blood pressure with celery, tomatoes and spinach – all potassium rich.
De-stress by eating avocado, which
is rich in vitamin B.
Cut colds with vitamin C: top sources are kiwi, strawberries, citrus fruit and peppers.
Fight hunger with low-cal, high-fibre fruit and veg; they keep you fuller for longer.
Best eaten together
• Avocado and tomatoes Heart-healthy fats in avocado help you absorb protective plant nutrients, like lycopene in tomatoes.
• Spinach and citrus You'll absorb the iron in spinach more easily if you combine it with vitamin-C-rich fruit or veg, such as lemon, orange or peppers.
• Green leafy veg and chickpeas Leafy greens are rich in magnesium, needed for energy and heart health. Not so keen on greens? Combine just a small amount with beans or pulses – they supply vitamin B6, which ups your magnesium intake.
• Broad beans and parsley Beans are a good source of catechins, plant compounds thought to protect against heart disease and cancer. The vitamin C in parsley helps our bodies to absorb catechins more easily.
WHAT COUNTS AND WHY
Canned, frozen, dried and fresh fruit and veg all count
All contribute vitamins, minerals and fibre. A variety is best, so aim for a rainbow of colours.
Beans and pulses count as one portion, regardless of how much you eat
They're a great source of fibre, but beans and pulses lack the mix of vitamins and minerals that fruit and veg give us.
A 150ml glass of 100% unsweetened juice counts as one portion, even if you drink more
Juice contributes vitamins, but none of the valuable fibre found in the whole fruit or vegetable. Fruit juice is also high in natural sugars.
A smoothie may count as a maximum of two portions
However, it must include the whole edible pulp from one fruit or vegetable (80g) combined with 150ml juice of another, or the equivalent edible pulp.
Fruit and vegetables in convenience foods do count
But beware – these products may be high in fat, salt and sugar, so check the label.
Potatoes, whether baked, mashed or as chips, don't count
Potatoes are considered a starchy food in our diet, along with pasta, rice or bread.
Raw, cooked or peeled – what's best?Some fruit and veg is best eaten raw – but with other produce, our bodies absorb more of certain nutrients after light cooking. However, fruit and veg always offers important benefits like fibre, no matter how you choose to eat it.
Carrots
Key nutritional benefit: Betacarotene – essential for healthy skin and good eye health.
How to cook and eat: Cooking them helps us access betacarotene. (Raw carrots still have some, plus potassium and fibre.)
Tomatoes
Key nutritional benefit: Lycopene – heart healthy; helps to protect our cells from damage such as cancer.
How to cook and eat: Slow-roast or pan-cook in a little oil.
Garlic
Key nutritional benefit: Allicin – helps to support your circulatory system; helps to manage cholesterol levels.
How to cook and eat: Raw is best! Or chop or crush 10 minutes before use and add at the end of cooking.
Broccoli/cauliflower
Key nutritional benefit: Glucosinolates – potent compounds that help to protect us against cancer.
How to cook and eat: Raw, as their activity is reduced on heating; but light steaming helps us to access protective carotenoids.
Apples/ pears
key nutritional benefit: Pectin – a soluble fibre that helps to manage cholesterol.
How to cook and eat: Just as good raw or cooked – but keep the skin on, as most nutrients are found just beneath it.