The importance of getting it right when introducing a baby to solid foods, cannot be emphasised enough. Prachi Grover asks the experts for their advice on one of the key decisions parents need to make when it comes to laying the foundation for healthy eating habits – whether homemade baby food is better. As new …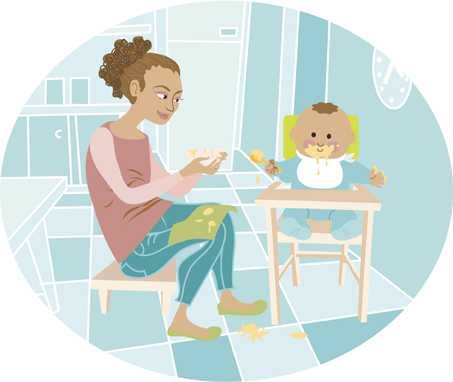 The importance of getting it right when introducing a baby to solid foods, cannot be emphasised enough. Prachi Grover asks the experts for their advice on one of the key decisions parents need to make when it comes to laying the foundation for healthy eating habits – whether homemade baby food is better.
As new parents, there are several moments in a baby's growth that one treasures. Their first smile, their first word, the first time they learn to hold their neck straight and many more. And the first time they eat solid food is undoubtedly one such defining moment. But like every other decision that young parents have to make, this too comes with its exhaustive list of doubts. What foods should one begin with, how should they be cooked, salt or no salt, and most importantly in an ever-busier world, is it OK to feed your kid store bought baby food? After all, research suggests that what a child eats in the first three years pretty much lays the foundation for the rest of their lives.
Dr Ayisha Bahauddin, Specialist Paediatrician at Mediclinic Al Sufouh, says, "It is fine to give your baby both home cooked and/or store bought baby foods because both have advantages and disadvantages. While a homemade meal is less expensive, it does take time for preparation. But it is possible to control and know the exact ingredients that go into the constitution of a homemade meal. Having said that, since they are not prepared under sterile conditions, homemade food can spoil more easily. A lot of store bought foods generally follow strict safety guidelines, are portable and ready to use. But it is expensive. Most babies nowadays get a combination of the two."
Nutritionist Kaya Peters has the opposite view. "I strongly believe anything that comes from a jar cannot be as healthy as the fresh food you would make at home. Cooked food of course loses its nutritional value over time, so I would strongly recommend making fresh food each time – unless you are on the go or really short on time. A mashed banana, boiled and mashed broccoli or a well cooked and puréed sweet potato doesn't take time," she says.
But, a balanced approach is essential. Even though Dr.Talal Farha from Farha Childrens' Clinic doesn't recommend choosing store bought baby food, she concedes that exceptions will need to be made. "When you can look at the long history of mistrust between the parents and the producer companies and recent scares, I would say, stay away from store bought as much as you can. Fresh always come first. I think if a parent can take out just 20 minutes each day to prepare their baby's meal that would the best gift for them," she says. "Having said that, don't become rigid. When out for an evening or travelling, I tell parents, take a judicious call. As a baby grows, they will be exposed to all kinds of environmental factors – food will be one of those."
But when shopping for baby food, Dr Bahauddin advises, "Always read the ingredients on the label. Avoid foods that have added salt and sugar. While introducing baby foods, it is ideal to give meals with single ingredients to look for allergic reactions. A lot of readymade meals have mixtures of different food items that should be given after tolerance to the ingredients in isolation is established. Baby desserts are generally unhealthy, so avoid them."
According to Kaya, "A good rule to follow when buying baby food would be – if you can't pronounce the ingredient, don't buy it. Preservatives, additives and flavouring agents are not meant for little bodies."
When, what and how
According to most experts, babies are ready to eat solids when they can sit up with support, have good control of head and neck, put hands or toys in their mouth and show interest in food by leaning forward or opening their mouth when it is time to eat. The ideal time for starting baby foods is between four to six months of age.
Dr Bahauddin says, "Introducing solid foods before four months of age or delaying beyond six months both are associated with problems. Early introduction before four months of age can increase the risk of chronic diseases like diabetes, obesity, eczema and celiac disease. It can also end exclusive breast feeding and reduce the duration of breast feeding. On the other hand, withholding solids beyond six months of age can lead to decreased growth and may increase resistance to eating solids and textured foods later."
Once you've established your baby is ready for solids, the challenge is to find a healthy balance between a homemade meal and store bought food and more importantly, finding a way where making a meal for your baby doesn't become a tedious and a monotonous chore but a pleasure.
Deconstructing the meal that you are making for the rest of the family is an easy way to do this. Making a shepherd's pie for the family? Before you add the boiled potatoes to the pie, keep one for your baby and make a potato mash. Making a broccoli stir fry with sesame seeds? Before you add the spices, take out a floret or two for the little one and mash it up. Making a brown rice and kale salad for lunch? Take out your share out of the pan and leave baby's portion in to cook for longer to make it soft enough. The possibilities are endless. If the baby's meal start coming out of the main meal, not only does your workload decrease, but as they are eating what the others are, they begin to enjoy meal times more.
When it comes to introducing new foods, the rule of thumb is to let baby get used to one new food for about three-four days to check for negative reactions, if any. "Many mothers worry when babies refuse solid foods after one or two attempts. If that happens, do not force down foods, instead try a different type of food," suggests Dr Bahauddin. "Sometimes it can take eight to ten encounters with a particular new food before the baby will actually eat it.
"Also some vegetables like beets, turnips, carrots and spinach may contain large quantities of nitrates, a chemical that causes an unusual type of anaemia in young babies. You can either use commercially available prepared forms of these foods when your baby is an infant, as baby food companies screen the produce they use. Or, if you're making them at home, serve them fresh and do not store them as storage increases the nitrate content."
Other foods to avoid include cow's milk until they turn one, and anything that can cause choking, like nuts and grapes. Red meat is also a no no, because the protein might be difficult for babies to digest until they are older.
Dr Talal suggests introducing white meat and fish from about a month after they have started
on solids (so, ideally, seven months, if the baby has started solids at six months of age), giving the baby's digestive system enough time to get acclimatised. "Fish once or twice a week is great for kids. Well cooked chicken breast is beneficial as well, but try and choose organic – chicken pumped with steroids can be harmful."
Once you've chosen your ingredients (see Homemade food combinations for ideas),
"Just ensure that the food is soft," says Kaya. "Cooking, stewing, puréeing and mashing will be the rules to follow here. There is no need to add salt and sugar because we don't want to ruin baby's clean taste palette, plus they don't need extra sugar and salt. Also I wouldn't advise frying."
Making ahead and freezing several cubes of fruit or vegetable purees is another way to ensure that each time your baby is hungry, she gets a home-cooked meal. Kaya tells us, "Any kind of freezing or even prolonged cooking does reduce the nutritional content of the food, but so is the case with packaged baby food."
When it comes to freezing homemade food, here are some important rules to remember:
Do not keep homemade food in the fridge for more than a day.
Do not freeze in bulk, always freeze one portion at a time, and use within one month.
Do not defrost at room temperature as that promotes bacterial growth. Always defrost in the fridge, double boiler or microwave.
Do not refreeze or restore defrosted foods.
Do not overheat food. When using a microwave, it is important to mix food thoroughly and check the temperature to avoid overheating and burning the infant's mouth.
Another important aspect of food safety is sterilisation. According to Dr Farah, "Whether using sterilised baby jars or sterilising home cooked food, babies still end up putting a lot of things in their mouths, so we can't really ensure 100 per cent sterilisation. Just make sure that the food is washed properly and cooked well, utensils are clean and so is the container that you store the food in. I always recommend glass containers for storing food for it doesn't react to food at all. Silicon is another great option since it is resistant to heat, cold and odour."
"Introduction of solid foods is an important milestone and an exciting time for both parents and the baby," says Dr Bahauddin. "Ultimately the decision to give home cooked meals to babies is determined by the parents' desire and ability to prepare meals and also the cultural practices they are accustomed to." However, the evidence in favour of giving them home cooked food, whenever possible, is certainly irrefutable.
Homemade food combinations
| | |
| --- | --- |
| Core Vegetable | Goes well with |
| Potato | Carrots/peas/zucchini |
| Sweet Potato | Squash/carrots/apple/white potato/bananas |
| Parsnips | Green beans/ carrots |
| Peas | Green beans/potatoes |
| Carrots | Apples/potato/sweet potato/parsnips/ squash |
| Butternut squash | Apples/pears/pumpkin/sweet potato/ carrots |
| Broccoli | Peas/Sweet potato/ Carrots/ Cauliflower |
| Beetroot | Potatoes/ Sweet Potatoes |
| Spinach | Potatoes/ Pears/ Peas |
Note: When introducing any vegetable or fruit for the first time, don't try a combination, so that any potential allergies can be easily identified.