The World's 50 Best Restaurants, sponsored by S. Pellegrino & Acqua Panna, today announced a list of restaurants ranked 51st to 100th prior to the annual awards ceremony in London on Monday, July 18th.
The annual list is created by a gender-balanced voting panel consisting of 1,080 independent authorities on the world of gastronomy, from renowned international chefs and food journalists to traveling restaurant owners. The expanded ranking is created from the same voting process as the 50 Best Restaurants in the World, highlighting hospitality facilities around the world.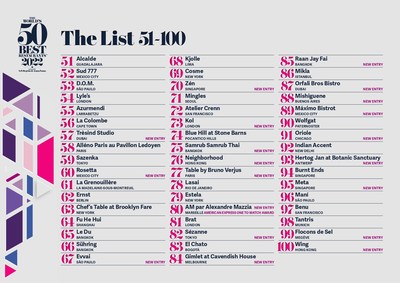 The 51-100 list includes 20 new entries from 15 different cities. The list includes restaurants in 22 territories across six continents. 14 establishments are from Asia, 13 from Europe, 11 from North America, 2 from the Middle East, 2 from Africa, 1 from Oceania, and 7 from South America.
Several new territories boast establishments featured on the extended ranking this year including the UAE with two new entries: Trèsind Studio (No.57) and Orfali Bros Bistro (No.87), both in Dubai.
The World's 50 Best Restaurants 2022 will be announced live at a ceremony being held in London on Monday 18th July, which will also be streamed live on the 50 Best Facebook via the link here and YouTube channels via the link here. The announcement of the list and individual awards can be followed via the 50 Best social media channels, with the livestream beginning at 11.30pm (UAE time).