From ultimate spots to celebrate special occasions to exciting new offerings to indulge in, here are the things to do in the UAE in June
Moe's on the 5th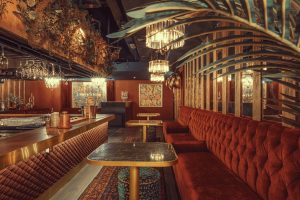 Experience a captivating and energetic evening at Moe's on the 5th, where international DJ Mira Kater accompanied by resident DJs Somalie and Hoolz will take you on a mesmerizing journey through the world of electronic music. Sway to live beats and explore the à la carte menu featuring dishes such as Cordon bleu bites, Cheese fondue, Crispy baby squid, Short rib sliders, and Grilled tiger prawns.
5th Floor, Sheraton Grand Hotel. June 17 from 9pm. Call +9714 333 3055.
RASPOUTINE Dubai
Get ready to be swept away by the mesmerizing beats and captivating melodies as South African DJ and music producer DJ Caiiro takes the stage at RASPOUTINE Dubai. His unique blend of Afro-house, deep house, and tribal rhythms will take you on a soulful journey, accompanied by uplifting melodies and pulsating basslines. With the venue's exclusive ambience and renowned clientele, this extravagant event guarantees opulence and sophistication for an unforgettable experience.
June 15. Call +9714 272 5373. Visit Instagram.
Tamoka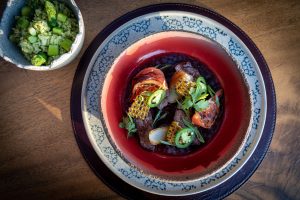 Renowned for expertly combining the flavours and freshness of Latin American and Caribbean cuisine for a delightful fusion of 'Fire and Ice.', Tamoka has launched its new menu just in time for the summer. Begin your dining experience with tantalizing appetizers such as the mouthwatering Provoleta asada, a delightful blend of melted provolone cheese, Nduja, and toasted cornbread. For mains, indulge in the delectable Lomo saltado (sautéed beef tenderloin served with coriander rice and asparagus), followed by desserts such as Dulce de leche or the exquisite Torta de queso (baked cheesecake accompanied by beetroot ice cream).
Visit website.
Cabana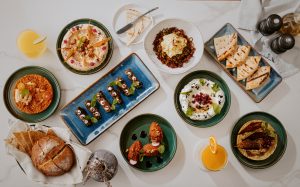 Address Dubai Mall's Cabana restaurant introduces an exciting new menu, showcasing the diverse culinary traditions of the region. Guests can enjoy a modern Middle Eastern twist with delectable starters such as Hummus traboulsi, Baba ghanoush, and falafel, followed by indulgent mains including Korat el lahm with lamb kofta in a spicy tomato sauce, Seabass sayadieh with Arabic spiced rice, and a variety of made-to-order grilled fish and meats. To complete the dining experience, traditional desserts like Umm Ali, Kunafa bel Libin, and Halawiyat Arabiya offer a sweet end to your meal.
Call +9714 438 8666.
La Table
Chef Sara Aqel has been announced as the next creator of the pop-up kitchen concept La Table, renowned for its unique approach of featuring a different chef every three months. Bringing a beach-themed menu, Chef Sara's menu includes a mix of Italian favourites with a Palestinian twist such as the Palestinian stracciatella sandwich, Eggplant strawberry salad, Cacio e pepe, Spicy rigatoni, and Slow cooked short ribs. Finally, conclude your dining experience with the delectable Tiramisu and Pistachoux.
Call +97152 627 3976.
Barfly by Buddha-Bar
The award-winning Barfly by Buddha-Bar had launched Sushi Social 2.0, offering Asian and international cuisine and delightful beverages accompanied by breathtaking views of Palm Jumeirah. The set menu features Barfly's signature creations including Surf & turf (yakiniku beef, prawn tempura, and crunchy vegetables), Tuna tartare crispy rice with smoked gochujang mayo, the Spicy salmon baked cheese (salmon tartare, cheddar cheese, grana Padano, and togarashi), and plenty more.
Every Tuesday from 7pm-11pm. AED199 per person. Call +97154 994 1460 or email restaurant.palm@hilton.com.
The Penthouse
Immerse yourself in an exceptional culinary journey curated by award-winning Chef Frederick Faucheux. The award-winning dining experience uniquely blends contemporary Japanese cuisine with French cooking techniques, offering an extensive menu featuring a range of exquisite dishes including Miso-marinated black cod with pickled daikon, grilled shishito and ponzu, Chef sushi selection of Nigiri, Sashimi and Maki rolls, and Caviar sushi with rice and nori crackers, tamago, chives, yuzu, crème fraiche. With a picturesque beachfront location, the restaurant offers an idyllic setting for sundowners to marvel at the enchanting sunset skyline.
Contact +97152 900 4868.
Terra Eatery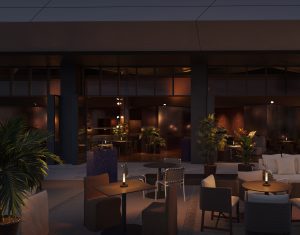 Since its launch in 2021, the homegrown concept has announced its first expansion to a new location in Al Qana Abu Dhabi, boasting breathtaking views of the canal. The new venue will offer its signature Mediterranean flavours and rustic ambience that Terra is known for, and serve classic dishes and mocktails including the Watermelon feta salad, Spicy prawns, Sticky date pudding, and Ananas passion punch. Upon entering the serene space, guests will be greeted by a symphony of rich gradients, glazed finishes, an intricate show kitchen, and stunning views of the Sheikh Zayed Mosque.
Visit website.
The Artisan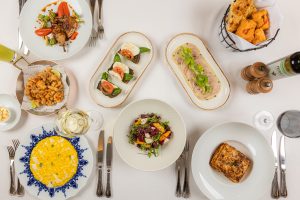 Discover the ultimate Sunday family lunch at the Italian fine dining venue for a delightful culinary experience. Ideal for families, the menu features traditional dishes inspired by various regions of Italy including classics such as Lasagna, Spaghetti clams, Bruschetta caprese, Slow-cooked Brasato e polenta, and Spaghetti al pomodoro featuring carpet clams, red chilli, fresh parsley, and Sardinian fish roe. End your meal on a sweet note with the signature Tiramisu or Vanilla ice cream pops.
1pm-4pm. AED300 per adult and AED70 per child. Contact +9714 338 8133.
Cinque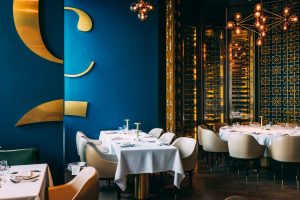 Italian ristorante Cinque welcomes notable culinary maven, Executive Chef Mauro Di Leo, who brings his expertise from training at Michelin-starred restaurants around the world. Ideal for groups of friends, family or date night, Cinque offers a stunning bar and lounge where you can enjoy an aperitivo or indulge in expertly crafted post-dinner concoctions. With Chef Mauro's return from Sicily, look forward to an exciting new menu including a special Chef's Table experience.
Contact +9714 455 9989.
Krema
Led by Corporate Chef Joseph El Hajj and Executive Pastry Chef Hassan Salam from Alabbar Enterprises, the homegrown brand Krema specializes in artisanal desserts and presents a wide array of distinctive and delightful flavours. Influenced by European flair and created with the finest ingredients, indulge in the delectable Raspberry madeleine cake, Basbosa pistachio, Feuilletine chocolate mousse cake, Tiramisu cake, and Crunchy gianduja.
Order via ChatFood, Talabat, and Deliveroo. Visit Instagram.
Belcanto
Belcanto's new menu offers a culinary journey to the sun-kissed summers of Italy featuring dishes including the Seabass ceviche, Spaghetti bottarga, and Lobster catalana. To conclude your meal, indulge in delightful creations such as Il lampone (raspberry), Il limone della costiera amalfitana (lemon), and La ciliegia (cherry).
Call +9714 456 0936.