Food fest is back, and once again – for its third year, Galeries Lafayette Le Gourmet and Le BHV Marais are participating by organizing a Street – Food Fair from Thursday 7th of March to Saturday 9th of March at Le BHV Marais Courtyard, City Walk 2.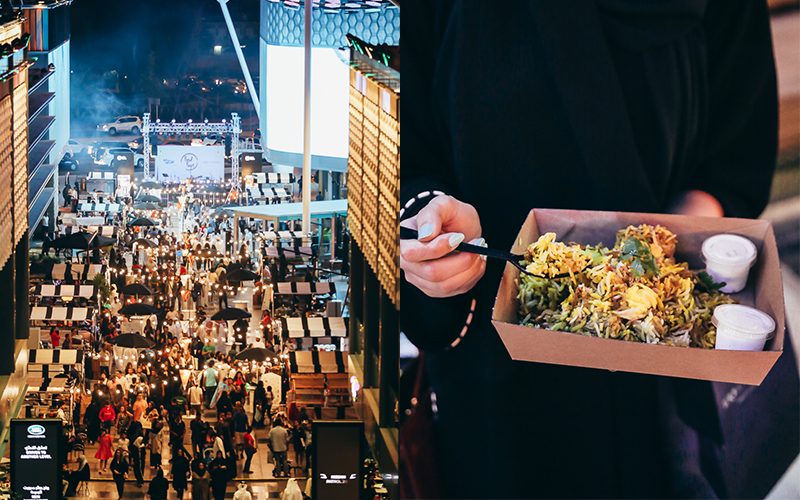 The fair combines international gourmet street food in an urban ambiance giving each visitors a unique street style market feel. Fun for the whole family, The Street – Food Fair will boast an impressive line-up of food and drinks kiosks by Galeries Lafayette Le Gourmet, together with its partners along with live music performances in addition to fun retail pop-ups by Le BHV Marias and kid friendly activities throughout the three days.
Galeries Lafayette Le Gourmet, known for being an interactive food hall combining ten types of cuisines under one roof, is also best known for using selective ingredients from freshly supplied goods. During the festival, it will be creating unique dishes such as "craft your own Pani Puri", chicken and squid balls on a skewer, and a beef burger served on a squid ink bun, only to name a few.
This maze of delights is every gourmand's dream, from sizzling Asian street cuisines to traditional Lebanese delights by Al Mallah, and tasty charcoaled burgers and crusty chips to NY's favorite Clinton St. Bakery for delicious pancakes. Fairy lights, cool rustic signs, mini flags, and uplifting music beats are all part of bringing Street – Food Fair to life.
The kid's-friendly festival will include a variety of entertaining activities and games such as a Zumba class hosted by Fitness First, street shows, face paint, art workshops and a Cook-off Challenge hosted by City Walk.
Details: The program for the Street-Food Fair will go as follows: Thursday 7th of March, 4pm to 11pm: Band & DJ; Friday 8th of March, 2pm – 11pm: Band, DJ, Kids Zumba & workshops; Saturday 9th of March, 12pm – 10pm: Band, DJ, Kids Zumba & workshops.