From the Indian dosa to French crepes, and Moroccan beghrirs to Russian blinis, pancakes come in all shapes and sizes across the world. Luckily, Dubai can offer a taste of all of these variations. Not that we needed an excuse to tuck into these stacks of deliciousness, but March 5 seems like as good a day as any! Where will you be celebrating Pancake Day this week?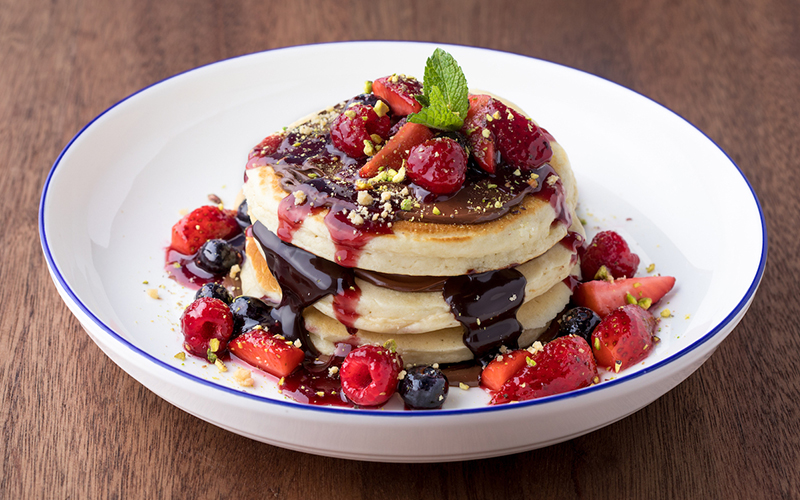 HAPI, JBR
Best known for its rich and fragrant bone broths, Hapi has a menu of simple, wholesome dishes. The burgers and hot dogs made from grass-fed beef, the organic salmon comes piled high with fresh toppings. It's a true hub for nutritious eats.
Pancake lovers: Tuck into the gluten free banana and chocolate chip pancakes (AED 36) if you've got a sweet tooth, or why not try the sweet potato pancakes (AED 45) for a savoury option?
iHOP, Downtown Dubai
A favourite for individual and family dining that delivers a uniquely iconic American-style dining experience right here in Dubai, as well as pancakes galore!
Pancake lovers: the New York cheesecake pancakes (AED 40) look delicious!
Clinton St. Baking Company, City Walk
This City Walk based bakery is known for its pancakes – in fact, co-founder Neil Kleinberg has a reputation for the "best in the city." February was pancake month at Clinton St. – but fear not, because on March 5, you can get your hands on seven different pancake variations from morning until night!
Pancake lovers: the Spiced Japanese Pumpkin Pancakes (AED 59) are served with pumpkin seed streusel and warm maple butter syrup, mmm!
The Coffee Club, Bluewaters Dubai
Boasting a range of yummy options, The Coffee Club presents delicious, fresh and scrumptious pancake choices, perfect for breakfast, lunch or dinner! The all-day-dining Australian concept is yet to open its doors to the public at its latest DIFC venue (also 24thvenue in the UAE).
Pancake lovers: try the Blueberry Crumble Pancakes topped with fresh blueberries and biscuit crumble (AED 52) or the Mixed Berry Pancakes with Nutella, complete with crushed pistachios (AED 58)
Arrows and Sparrows Café, The Greens
A cozy, homegrown neighbourhood cafe in the Greens, serving amazing breakfast, tasty lunch and dinner. Colourful breakfast dishes, big portions, wholesome salads, flavourful mains, fresh juices, and organic coffee.
Pancake lovers: for a nutty treat, try the Banana Pancake with Ferrero (AED 44)
If you're celebrating pancake day at home, try these apple & blueberry blintzes or these Korean-style prawn and spring onion pancakes.