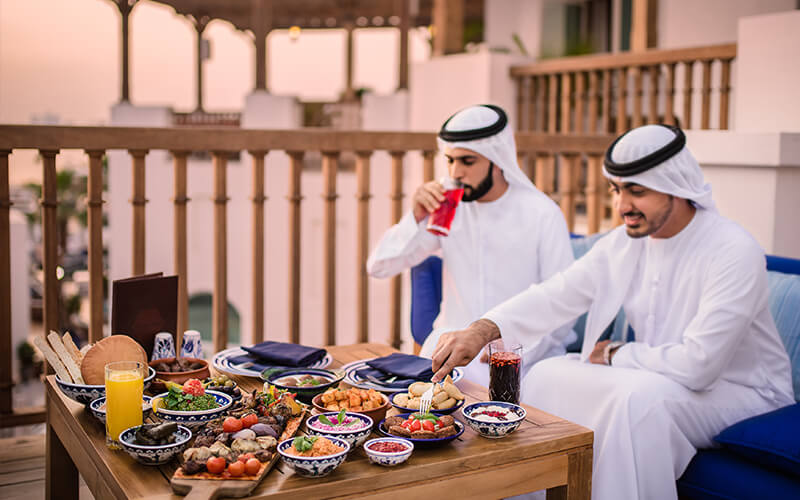 Sponsored: Café Arabesque is inviting guests to enjoy spectacular Iftar and Suhoor meals with their loved ones during the Holy Month of Ramadan.
Situated at Park Hyatt Dubai, the café has stunning panoramic skyline views, which can be enjoyed from the lounge's al-fresco seating area after sunset.
But it's not just the views that guests can look forward to. Diners can delight in an array of cold mezza such as tabouleh, fattoush, hummus, okra bil lahmi and more, as well as enjoying a hot mezza section featuring vegetable samosas, safiha shamieh and sambousek.
Live stations will be offering flavoursome serves such as ouzi with oriental rice, and traditional kibdet dajad, a dish comprising of sautéed chicken liver with onion and olive oil. Guests can wander on to the dedicated soup area and enjoy savoury favourites including the harira with dates and chebakia, accompanied with mouthwatering Gozleme and manakish. Main courses will include Arabic delicacies, such as oven-roasted hammour with sautéed vegetables, beef kawaj, and Moroccan chicken tagine.
As the evening ends on a sweet note, diners can indulge in desserts infused with a touch of traditional flavours like dates, dry figs and apricots, as well as the toothsome Turkish delights amongst other treats on display in the patisserie.
From 10pm till 2am on weekdays (and till 3am on weekends) Café Arabesque opens its doors for Suhoor, where guests can enjoy a variety of finest dishes on display at the venue such as the grilled seafood platter, tiger prawns, lamb arrays and so much more on the a la carte menu.
Details: Iftar is served daily from sunset until 9pm, priced at AED 220 per person inclusive of soft drinks and water. Suhoor is served between 10pm and 2am on weekdays, and 10pm and 3am on weekends. Prices start from AED 25 for starters, and AED 75 for mains. For more information, or to make a reservation, please visit the website or call 04 602 1814.