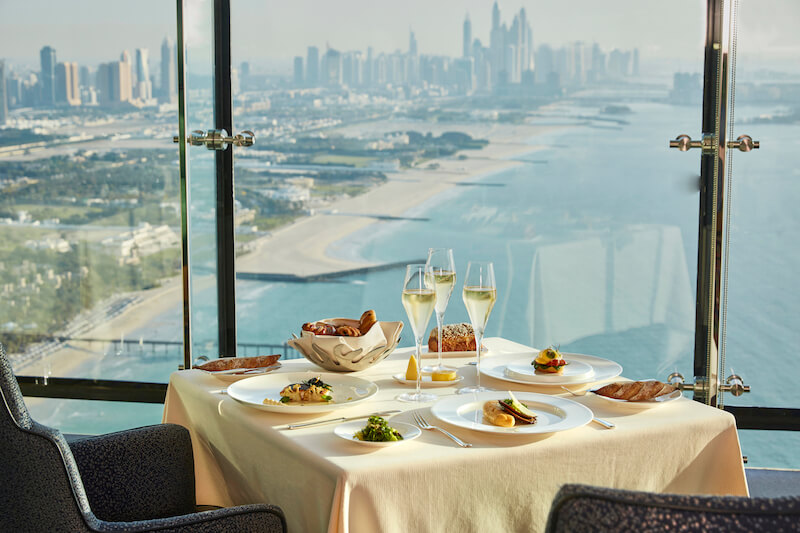 Suspended 200 metres in the sky within the iconic Burj Al Arab, Al Muntaha is set to pay homage to the time-honoured European weekend brunch.
Aptly named "Le Grand Petit Déjeuner", French for "The Grand Breakfast", this elegant brunch merges a seasonal menu with an elegant yet relaxed Friday with friends or loved ones.
Every Friday, from 10am to 3:30pm, brunch connoisseurs are invited to the 27th floor of the hotel to enjoy a refined menu and buffet spread. Inclusive of freshly squeezed juices and smoothies and a glass of fizz (after midday), the brunch begins with freshly prepared egg dishes brought to each guest's table, with the choice of Les Oeufs De Caille, quail eggs served as a "Florentine" and garnished with Winter Black Truffle from Perigord, a fluffy omelet featuring Portobello mushroom and aged Pecorino, and the menu's signature dish, L'Oeuf Benedicte with Blue Lobster from Brittany – a sophisticated take on a brunch classic.
The leisurely dining affair will also feature a selection of traditional breads and pastries (including a warm buttery brioche loaf, croissants and pain au chocolat), served with homemade jam and artisanal French salted butter.
Following the breakfast selection, guests can indulge in a number of carefully curated main courses, from Le Turbot with Caviar Beurre Blanc and Cauliflower Puree to Truffled Corn-Fed Chicken Supreme, and Freekeh Mushroom & Celeriac Cannelloni with Morels Parsley Potato Fond.
Adding another level of luxury, guests can also hand pick their own "La Pousse en Claire" oysters, paired with Brittany Razor Clams and cold Alaskan and Aleutian Islands King Crab for the ultimate luxury appetizer; before enjoying a spread of Patisserie-style desserts and French cheese, including a special 18-month aged Comté cheese from "affineur" Hervé Mons.
Details: Priced at AED 695 person, bookings for Le Grand Petit Déjeuner can be made through restaurant reservations on 04 301 7600. For more information, visit the website.