Emmy Squared, renowned for its award-winning Detroit-style pizza and artisanal sandwiches, has unveiled its Dubai branch at Beach Walk Hotel, Jumeirah.
After its successful launch in Abu Dhabi last year, the renowned eatery specializing in Detroit-style pizza is expanding its presence with its 20th global branch and second outlet in this region. Upon arrival, diners are greeted to a contemporary American destination with a laid-back dining space adorned with pink hues, walnut wood, and framed sketches of popular New Yorkers.
The Emmy Squared Dubai menu features its all-time classics from its Abu Dhabi flagship and exclusive new additions specially curated for Dubai gourmands. Emmy Squared blends a New York-style grandma pie and a Detroit-style pizza by using a light and airy focaccia-like dough coupled with a scrumptious caramelized cheese crust known as the brand's signature 'frico' crust.
Diners can indulge in a wide selection of pizzas including the Colony pizza (soft mozzarella, Italian beef pepperoni, honey, and house sauce), Angel pie (ricotta, mushrooms, and mushroom truffle cream), Seoul mate pizza (Mozzarella, bell peppers, sausage, mushrooms, sesame crust, pecorino cheese, and topped with Kimchi sauce), and plenty more.
We highly recommend trying out the Roni supreme (Italian beef pepperoni and Calabrian chillies), new Carne asada (Mozzarella, red onion, bell peppers, jalapenos, black beans, steak, pecorino cheese, chipotle red sauce, and topped with chipotle mayo) accompanied by Chopped cheese waffle fries for a hearty meal with friends or family.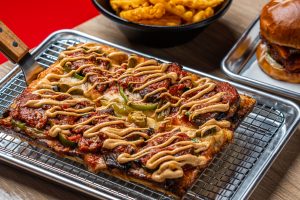 Visit website.