Sponsored: Discover a bespoke dining experience with breathtaking views of the world's tallest fountains at The Pointe.
YOY, which translates to "WOW" in Ukrainian, is UAE's first Ukrainian dine-in restaurant and offers an extensive menu featuring traditional cuisine infused with a contemporary flair. Kickstart your mornings at YOY with live entertainment by modern folk singers and musicians playing authentic Ukrainian instruments called the bandura and trembita (the world's longest instrument).
Upon arrival, prepare to be greeted with a 13-meter-long wooden table in the centre of the indoor space adorned with traditional chairs, handmade ceramics, and a chandelier in the form of the stork's nest, the bird symbolizing love for the native country.
Led by Executive Chef Pavlo Moroz, the bustling venue offers a welcoming ambience to gather your friends or family to explore the restaurant's immersive culinary journey to Ukraine. The tantalizing breakfast features signature highlights including Sunny-side up baked eggs with tomatoes and brynza (feta-style cheese), Cottage cheese pancakes with fire-cooked currants and blackberries, Deruny (potato cakes) with beetroot mousse and coffee, served with chilled sour cream, Pumpkin fritters with clotted cream, Terchaniki (sweet carrot pancakes), and Mushroom toast.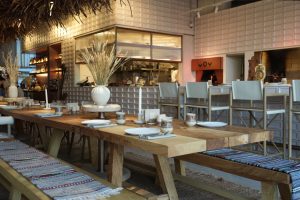 Weekends only. Breakfast from 10am-2pm. À la carte. Call +97150 947 26 26. Visit website or Instagram.