Sponsored: Prepare for a gastronomic journey like no other as award-winning Chef Michael Mina makes a special appearance at MINA Brasserie from October 4 until 7
Nestled within the esteemed Four Seasons Hotel in Dubai's DIFC, the renowned MINA Brasserie eagerly anticipates the arrival of the culinary virtuoso, Chef Michael Mina. Diners will have the exclusive opportunity to savour Chef Mina's innovative modern European brasserie creations.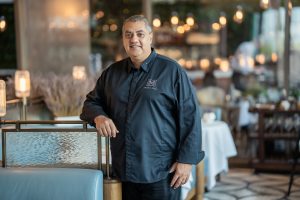 With a career spanning over three illustrious decades, Chef Michael Mina's passion for the culinary arts shines brightly. Born in Cairo, Egypt, and raised in Ellensburg, Washington, his journey has been adorned with accolades including Michelin stars and prestigious acknowledgements from the James Beard Foundation. Chef Michael Mina's inventive and fearless culinary concepts have left an indelible mark in the culinary world, captivating both connoisseurs and critics alike.
Among highlights on the new MINA menu are the Escargots à la bourguignonne, a Parisian classic infused with herb butter and grilled sourdough and the Chargrilled lamb cutlets with Matbucha barley and pomegranate showcase European precision with a subtle nod to Mina's Arabian heritage. As the seasons transition and the weather cools, Mina's hearty Lobster Thermidor and the locally caught Red snapper, served with asparagus, crushed citrus potatoes, and charred tomato relish will be available to order.
In addition, on Saturdays, the restaurant presents the Urban Chic Brunch experience offering diners a chance to indulge in an array of mouthwatering dishes while enjoying the melodic tunes of a talented jazz duo.
Chef Michael Mina's visit to MINA Brasserie presents an extraordinary opportunity for guests to witness his culinary mastery up close.
October 4 until 7. Call +9714 506 0100. Visit website or Instagram.