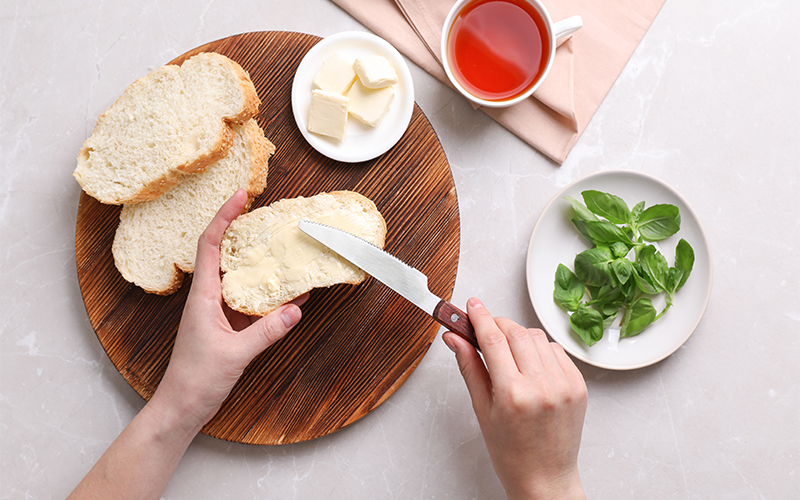 How to make your own flavoured butter: An array of flavoured butters are available to buy, but making them yourself is as easy as it is fun. Food writer Daniel Bardsley travels to France to learn more about making flavoured butter from butter expert Aurelie Rousseaux.
While all of us are familiar with traditional salted or unsalted butters, a wide array of flavoured butters are also available. French brand Le Beurre Bordier produces about a dozen, including seaweed butter, buckwheat butter and lemon – olive oil butter, which are all available online in the UAE. Aurelie Rousseaux-Gubri, from Le Beurre Bordier's production plant near Nantes in northern France, explains that the many different dishes that flavoured butter works well with: "vanilla works well for a tart; lemon and olive oil will go with oysters; buckwheat butter will go with some biscuits; seaweed butter will go with fish or red meat." However, it is easy to make your own flavoured butter, whether sweet or savoury.
Here are some top tips:
1.Only use unsalted butter.
2.With most solid ingredients, (such as beef ham) use equal amounts of the flavouring and butter.
3.If you're using spices or another strongly flavoured ingredient, such as garlic, much less is needed, the vary the quantity according to taste.
4.For consistency, ensure that ingredients are minced or powdered.
5.Before mixing, remove the butter from the fridge and leave at room temperature for two hours to soften.
6.After mixing, leave for at least one hour in the fridge before tasting. This allows the flavour to spread into the butter.
7.Wrap the flavoured butter in cling film or keep in an airtight container.
8.Flavoured butters can be sweet as well as savoury: shortbread and raspberries, for example, make a great sweet butter, while almond paste is another favourite ingredient.
9.Several flavourings can give a Middle Eastern influence, among them zatar, chopped dates and pistachios.
10.For an Indian-flavoured butter, shrimp and curry power can be used, a mix that is suited for cooking fish.
11.Sun-dried tomatoes make for an excellent Italian-style flavoured butter, which is good on its own with bread or for use in cooking chicken.
Details: for more information on buying flavoured butter from the company, visit Le Burre Bordier. If you enjoyed this article you may like these retro cake recipes.