Andalucia, The St. Regis Dubai, Al Habtoor Polo Resort & Club Beat the heat and escape to Andalucia restaurant at The St. Regis Dubai, Al Habtoor Resort & Polo Club this Ramadan. Delight in a buffet spread that includes Arabic and Mediterranean delicacies and be serenaded by the sounds of the live Oud player. For …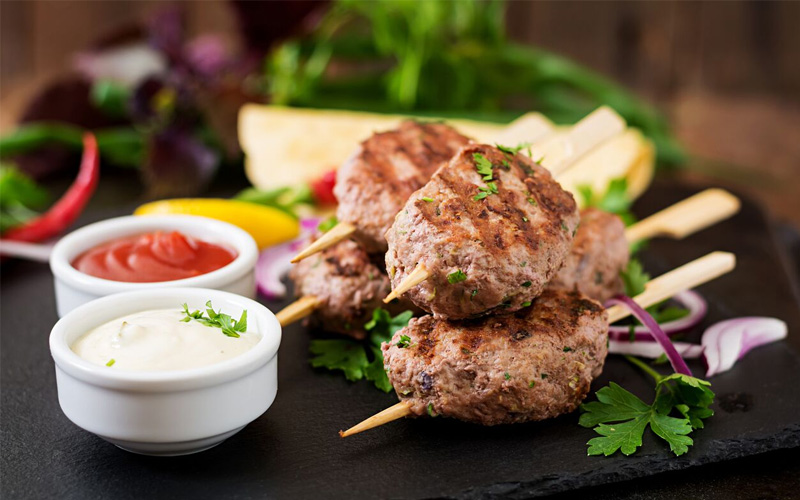 Andalucia, The St. Regis Dubai, Al Habtoor Polo Resort & Club
Beat the heat and escape to Andalucia restaurant at The St. Regis Dubai, Al Habtoor Resort & Polo Club this Ramadan. Delight in a buffet spread that includes Arabic and Mediterranean delicacies and be serenaded by the sounds of the live Oud player. For Suhoor, an a la carte menu and shisha will be available at the Equestrian Lounge. Iftar from sunset to 9pm daily and Suhoor from 9pm to 1am daily and weekends until 2am. Iftar buffet is priced at Dhs175 per person, children aged six to 12 years are half price and children below six years eat for free. Call 04-4354400
Seasonal Tastes, The Westin Dubai, Al Habtoor City
Gather with family and friends this Ramadan at Seasonal Tastes, where resident chefs will be on hand to cook up a storm at the live cooking stations and you will be treated to a vast array of tasty appetisers, traditional hot and cold Arabic mezze platters, as well as fresh salads and seafood. For main course, dishes will include an Arabic section featuring manakeesh and lamb ouzi, plus made to order noodle dishes from the noodle station, Indian tandoor delicacies as well as succulent roast beef, chicken and lamb. Those with a sweet tooth can enjoy the exclusive signature date and baklava desserts along with traditional Arabic delights such as umm Ali and freshly prepared kunafe. To top it off, the fresh juice station will be preparing unique limited edition date smoothies and fresh date juice. Iftar will be available from sunset to 11pm daily, and is priced at Dhs185 with soft beverages, and Dhs95 for children 5-12 years, while under 5 will eat for free. Call 04-4355577.
Atlantis, the Palm's official Iftar will be hosted in the glamorous Asateer tent. Priced at Dhs210 you can enjoy an Iftar buffet from sunset until 8.30pm. At a minimum spend of Dhs195, excluding shisha, the Suhoor a la carte menu will be on offer from 9.30pm until 3am. The evening will be kept alive with bespoke Ramadan entertainment until 3am. Admittance to Suhoor will be only for 21 year olds and above and shisha will be available for guests to enjoy for Dhs95. Call 04-4261000.
Jean-Georges Dubai, Four Seasons, Jumeirah 2
This Ramadan, Jean-Georges will offer a menu with a selection of starters, choice of one main course and a variety of desserts. With seating available out on the terrace area or within the vibrant restaurant you can also choose to select dinner from the a la carte menu during the holy month. spend your family time dining from the a la carte menu. Iftar is charged at Dhs195 per person. Call 04-3436118.
Les Cuisines, Sofitel Dubai Downtown
Delight your tastebuds with traditional Arabic and French cuisine this Ramadan, and enjoy appetisers such as hot and cold mezze platters, fresh salads and soups. For main course, sample dishes from the far corners of the world with highlights including the live shawarma station, lamb tajine with prunes and sesame seeds, chicken curry and the Arabic mixed grill. Those with room for dessert can sample treats such as seasonal fruits, chaibeyat pistachio, aish boul boul, dates and umm ali – all available until from sunset to 8.30pm daily. Priced at Dhs195 with soft drinks and Ramadan juices. Children between 6 and 12 years will get a 50% discount and children under 5 years can eat for free. Call 04-5036666.
Breaking fast while watching the sun set from Club Vista Mare's beachside strip. In true Lebanese hospitality, food will be served to the table, and the menu will feature a variety of daily cooked specials as well as everyday household favourites. Two freshly made soups will be available each day, as well as hummous, fattouch, batata harra (spicy potato cubes) and warak ennab (stuffed vine leaves), plus generous sharing platter and more. Priced at Dhs 89 for all-inclusive Iftar with soft beverage, or Dhs 139 including shisha as well as F&B. Call 04-5588428
Brasserie 2.0, Le Royal Meriden Beach Resort & Spa
During Ramadan this year, feast on a buffet selection that includes over ten live cooking stations, offering traditional Arabic cuisine as well as dishes from the far corners of the world. Enjoy traditional hot and cold Arabic mezze platters, as well as fresh salads, soups, sushi and sashimi. For main course, highlights include the shawarma station, the al fresco charcoal grill, tandoor oven and plancha grill. Those with room for dessert can enjoy traditional Arabic and Turkish favourites such as umm ali, kunafe and fresh cakes and pastries, all while being entertained by a traditional Oud and Tabla duo. Priced at Dhs215 with Arabic juices and soft beverages, children aged 5-12 years will get 50% off, with children under five complimentary. For groups of 20 or more, the Iftar is priced at Dhs190 per person. Call 04-3165550.
Celebrate Ramadan with an array of Anatolian style dishes to be shared and enjoyed with family and friends. For the entire month, enjoy a dining experience that starts will dates and a hearty soup, followed by cold and warm starters such as muhammara, citir kalamar, b?rek and pide. The journey continues by choosing a main course from the a la carte menu designed by executive chef Colin Clague, before concluding with a selection of sweet Turkish treats. The bespoke Ramadan menu will be served daily for Iftar (from sunset to 9pm) and will be priced at Dhs195, while the regular a la carte menu will be available subsequently. Call 04-3999123.
Anise, Intercontinental Dubai Festival City
Share a truly global culinary experience with family and friends this Ramadan with the Iftar edition of Tastes of the World, with a myriad of cuisines from Middle Eastern to Asian to Mediterranean, served over eight live cooking stations. Available daily, throughout the month of Ramadan, from sunset to 10pm, Iftar is priced at Dhs215 per person, and Dhs106 for children 6 – 12 years. Call 04-7011098.
Marina Social, InterContinental Dubai Marina
For those who are looking to enjoy a relaxed fine dining experience with the stunning views of the Dubai Marina, Marina Social is open to serve signature dishes every day of the week during Ramadan. Starting from 7pm each day, the offering will be priced at Dhs150 for a two-course set menu or Dhs195 for a three-course set menu. Call 04-4466664.
Constellation Ballroom, The Address Dubai Marina
Mark the special season with nothing but the best of traditional hospitality that celebrates rich Arabian heritage with a touch of modern style. Enjoy the stylishly elegant setting of the contemporary Constellation Ballroom, seating up to 420 guests, on the fourth floor of The Address Dubai Marina. Traditional in theme and lavish in diversity, the grand Iftar buffet features an extensive selection of Arabic and International favourites, live stations, a variety of authentic sweets and desserts, and the refreshingly tasty Ramadan juices. As a special treat, chefs will also present authentic Emirati dishes such as lafayef khoboz falazi, robyan mashwi, rekat deyay and a range of traditional Emirati desserts such as leqaimat, which will rekindle the memories of childhood. A live oud player will add to the authenticity. From sunset to 9pm daily, the Iftar buffet will cost Dhs220 per person. Call 04-4367777.
Kuzbara, Marriott Downtown Abu Dhabi
Share the ceremonial breaking of Ramadan's daily fast with loved ones in a relaxed, familyfriendly setting of Kuzbara. Located in the heart Abu Dhabi, Kuzbara offers a traditional Iftar buffet with daily changing specials alongside live cooking stations. After Iftar enjoy a breeze on the rooftop where different flavours of hubbly bubbly will be served. Looking out over the Abu Dhabi skyline, enjoy an array of Ramadan sweets complemented by a selection of teas and Arabic coffee. A Suhoor set menu will be served daily from 11pm to 2am. Iftar at Kuzbara is priced at Dhs165++, and for bookings before May 11 there will be a 30% early bird discount. Call 02 304 7777