Sponsored: As winter approaches, Hurricane's Grill & Bar at Pavilion, The Beach in JBR is ready to welcome guests back to its beachfront terraces.
Renowned as one of Dubai's favourite family steakhouses, the restaurant offers a vibrant and memorable dining experience set against the backdrop of the shimmering waters of the Arabian Gulf. With unobstructed views of the beach and Ain Dubai, guests can revel in breathtaking sunsets for a romantic evening, a family gathering, or a friendly get-together.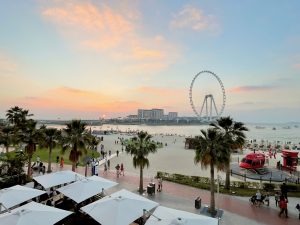 Diners can relish a diverse selection of gourmet steaks and ribs, expertly grilled with Hurricane's famous meat sauce. This beloved recipe, a well-kept secret for over 50 years, traces its origins back to South African steakhouses and eventually became the hallmark of Hurricane's Grill steakhouses, which first opened in Australia in 1994.
Recognized as the winner of the BBC Good Food Magazine Middle East Awards 2022 for Best Pan-African Restaurant, Hurricane's Grill Dubai has long been a symbol of top-quality dining and exceptional value in the Dubai steakhouse scene. Guests are encouraged to come with hearty appetites, as Hurricane's Grill is renowned for its generous portions, often serving two or more diners.
The restaurant features an on-site butcher dedicated to ensuring each mouthwatering steak is perfectly cut and aged, and every rack of ribs is marinated to perfection in its signature meat sauce. Expect over 200 variations of its renowned steaks, ribs, burgers, seafood, lamb dishes, pastas, salads, and desserts, with a well-appointed kids' menu for the little ones.
In addition to its stunning beachfront location, Hurricane's Grill Dubai can also be found in The Dubai Mall. Situated at the base of the world-famous Burj Khalifa, diners at Hurricane's Grill Dubai Mall can savour the extensive menu while enjoying views of the mesmerising Dubai Fountain show.
Visit Instagram.