Sponsored: Whether you're in search of a luxurious dinner, a joyful brunch, or a night filled with dancing, Le Méridien Dubai Hotel & Conference Centre has a lot in store for the season
Celebrate this festive season by immersing yourself in the enchanting magic of Christmas and welcoming the New Year with a lineup of spectacular events that cater to every facet of the holiday spirit.
Turkey Takeaways
Simplify your Christmas preparations by opting for a hassle-free Turkey takeaway from Gourmandises. Select from three sizes of succulent and fresh birds, ready for convenient pickup. Your takeaway Turkey package includes all the trimmings, including roasties and fresh vegetables, ensuring a delicious holiday meal for your family and friends.
AED550 for 4kg-5kg. AED700 for 6kg-7kg. AED820 for 7kg-8kg. Pick-up is available on request of date and time.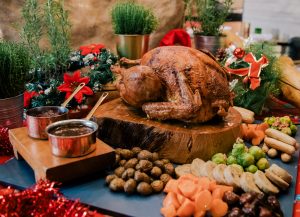 Christmas Tree Lighting Ceremony
This beloved ceremony encapsulates the holiday spirit, forging enduring memories for everyone who assembles to experience the radiant glow of the Christmas tree. The illumination of the Christmas tree is a heartwarming tradition that instils a sense of festive joy and unites people in the spirit of the season. Additionally, Christmas carols will add a melodic touch to ignite the festive atmosphere.
December 8, from 5:30pm.
Christmas Eve
Yalumba 
Elevate your Christmas Eve experience at Yalumba with the Gala Dinner extravaganza! Immerse in the festive ambience and relish a memorable evening with diverse dining packages. Featuring the vibrant beats of DJ Kennedy, the celebration ensures an unforgettable night filled with dancing to festive tunes. Yalumba's Christmas Eve Gala Dinner welcomes guests to embrace the holiday spirit and forge lasting memories in a stylish and celebratory setting.
December 24, from 7:30-11:30pm. From AED295 per person. 15% off if booked before November 30th. 
Méridien Village Terrace 
Discover the magic of Christmas Eve at the Méridien Village Terrace! Partake in the festivities with a range of packages tailored to suit every guest's preference, including a specially curated Kids' package. Experience a delightful Christmas Eve with the magical ambience of live music from a talented band and soulful carol singing.
December 24, from 7:30pm-11:30pm. AED315 per person. 15% off if booked before November 30th.
Christmas
Yalumba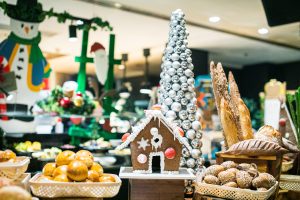 Experience the grandeur of Christmas Day featuring captivating entertainment such as the enchanting melodies of a live band by Skills and carol singing. The festivities include a special visit from Santa and a world of joy for the little ones with dedicated kids' activities and a buffet exclusively for them.
December 25, from 1-4pm. From AED355 per person. 15% off if booked before November 30th.
Warehouse
Guests can immerse themselves in a festive ambience with enchanting melodies from The Ark Band at Méridien Village Terrace and tunes from Brio Band in the Hops Garden, accompanied by carol singing and a visit from Santa. The celebration extends to an exclusive after-party at Warehouse, featuring DJ Clifford, with a 30% discount on beverages from 11pm onwards.
December 25, from 1-4pm. From AED355 per person. 15% off if booked before November 30th.
The Dubliners 
Embrace the festive Irish spirit at The Dubliner's Brunch on Christmas Day, featuring captivating tunes by the talented Martin and Joanne Duo. Continue the holiday celebration beyond brunch with an exciting after-party, blending Irish hospitality with seasonal joy for a memorable Christmas Day experience, featuring drinks starting at AED30.
December 25, from 1-4pm. AED195 per person. 15% off if booked before November 30th.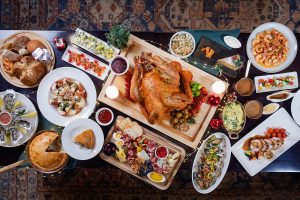 New Year's Eve
Yalumba 
Celebrate the arrival of the New Year in style at Yalumba's New Year's Eve Dinner, promising a memorable evening filled with excitement. Guests can choose from an array of packages including soft, premium, and bubbly, catering to various preferences. Elevate the New Year's Eve celebration with the vibrant beats of DJ Elena Vokina, setting the stage for an unforgettable night, complete with an exhilarating countdown as midnight approaches.
December 31, 8pm-12:30am. AED365 per person. 15% off if booked before November 30th.
Warehouse
Prepare for a journey through time as the "Back to the 80's" NYE Gala promises a nostalgic and lively celebration across three stunning venues: the Warehouse, Méridien Village Terrace, and the Hops Garden. Throughout the night, guests will be treated to continuous entertainment, with live bands playing beloved 80's hits at the Hops Garden and Méridien Village Terrace. An electrifying NYE countdown marks the transition into the New Year, leading into an energetic atmosphere with DJ Elena Vokina taking over the dance floor, followed by an after-party at Warehouse.
December 31, 8pm-12am. Afterparty from 12am to late. AED395 per person.
New Year
Yalumba 
Welcome 2024 at Yalumba's Hangover Brunch!  Guests are invited to explore delicious dishes, enjoy great company, and unwind with soothing tunes—the Hangover Brunch at Yalumba serves as the ultimate remedy for the after-effects of a memorable night out.
January 1, from 1-4pm. AED355 per person.
Call +9714 702 2455. Visit website.