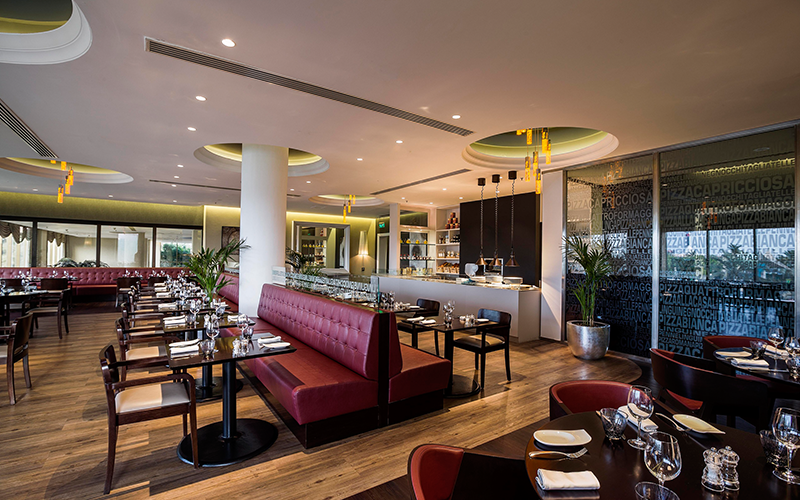 This week Hilton Abu Dhabi has launched not one – but two business lunches. Both are priced at the very affordable amount of AED 69 per person.
The business lunches are at the hotel's award-winning Italian restaurant, Bocca as well as the hotel's international restaurant Vasco's.
The lunch deal is available 12pm-3.30pm Sunday-Thursday. Both menus were designed by the hotel's Executive Chef Walter Miculan. The three-course deal also has a soft drink thrown in.
At Bocca, diners have the choice of four starters: bruschetta, carpaccio, roasted tomato soup and a green salad.
There's also four options available for the main course, including corn-fed chicken and pan-friend sea bream fillet.
There's plenty of traditional Italian flavours on the dessert menu too, including pannacotta and gelato.
Named after the famous explorer, Vasco da Gama, the Hilton Abu Dhabi's international restaurant will be serving up dishes to reflect the countries he travelled to, as part of their business lunch deal.
For starters, diners can have golden lentil soup, deep fried seafood, marinated baby mozzarella or the Vasco's salad.
Options on the main course menu include grilled Nile perch fish, farmer's delights pizza and the Vasco's chicken tikka.
Those with a sweet tooth will the Portuguese almond cake dessert, and the coffee brûlée.
Bocca is open daily from 12noon to 3.30pm for lunch from Sunday to Thursday. Vasco's is open daily for lunch from noon until 3.30pm.For bookings and more information, contact +971 (0)2 692 4247. For more information, visit Hilton Abu Dhabi.