Sponsored: Watch the first-ever World Cup in the Middle East at the unrivalled FIVE Hotels and Resorts from November 20.
There's no denying the World Cup fever has set in across the world and FIVE Hotels and Resorts are hosting the ultimate football party zone in the UAE. Get your friends and family to join in on all the fun with VIP booths, over 17 mega screens, a custom football pitch, halftime performances, live commentary and lastly, a hearty taste of award-winning cuisine as well as signature beverages.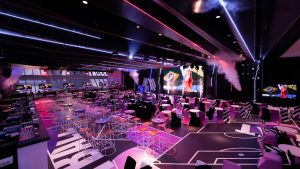 With 64 games on the FIFA World Cup roster in Qatar, visitors can watch the highly-anticipated matches at the Vista Ballroom on the 14th floor of FIVE Palm Jumeirah or at Goose Island Tap House in FIVE Jumeirah Village. The futuristic arena comes with the added benefit of fully redeemable food and beverage packages for an extravagant experience. Diners can also visit its indoor retail store to shop for merchandise from up-and-coming sport and leisure fashion labels.
Goose Island Tap House, FIVE Jumeirah Village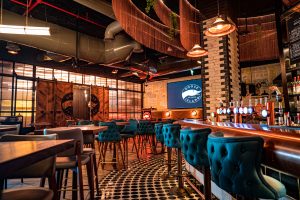 Goose Island Tap House's football watch party introduces over 21 hops, a barrel room, a wide gaming area, large screens, and multiple match screening viewings space. Known for its breathtaking party scene, FIVE's all-new extravaganza is no different. Going with family and friends? We recommend booking your spot at the impressive barrel room with a private bar, personal waiter and 123" projector screen to stream your favourite match.
Call +9714 455 9999 and email fpjd.dining@fivehotelsandresorts.com. Visit FIVE Jumeirah Village, the website or Instagram.
FIVE Palm Jumeirah
Make your way to the destination's party zone showcasing football décor, a sublime feast to order from its à la carte menu, and a live DJ booth with an international lineup of artists such as Tube & Berger and FIVE's resident DJ Drew Moreland. And, the celebration doesn't stop there. The show is followed up by showstopping performances by cheerleaders, entertainers, drummers, and a face painting station to explore during the World Cup. On the side, a 15-meter-long bar awaits to serve up all your favourite bevvies to join in on your favourite team's win!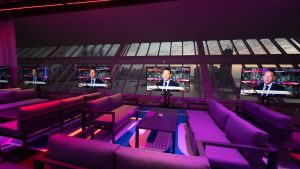 General access starts from AED150, Tables (accommodate 4 people) from AED1,000, Main Screen Front Row tables (accommodate 6 people) from AED3,000, and VIP Booths (accommodate 8-10 people) from AED4,000 – all fully redeemable against food and drinks. Call +9714 455 9989 or email fpjd.dining@fivehotelsandresorts.com. Visit FIVE Palm Jumeirah, the website or Instagram.