Sponsored: From sophisticated vibes at Ciao Bella to a laidback ambience at garden on 8 and innovative happenings at Qwerty, Media One Hotel is a top-choice destination for all things fine and fabulous
Located conveniently on a corner of the bustling Dubai Media City, Media One Hotel is as impressive on the inside, across its numerous restaurants and bars, as it is from the outside. The one-stop venue perfectly encapsulates the animated energy of the buzzing Dubai Media City, ensuring its patrons a favourite local hotspot no matter the setting they seek.
Read on for a breakdown of what's hot and happening at Ciao Bella, garden on 8 and Qwerty at Media One Hotel.
Ciao Bella
Young, fun and vibrant as ever, Ciao Bella is a chic Italian restaurant nestled on the ground floor of Media One Hotel. The restaurant boasts gorgeous interiors that simply elevate the delightful and welcoming Italian ambience. Grab a seat indoors, dine al fresco on the terrace or sit under the starry sky at Sicily – an island annex of Ciao Bella.
On the dining front, Italian Chef de Cuisine Anna Alaimo (see page 39) impresses with irresistible ingredients across breakfast, lunch and dinner. Think hearty bites, luscious home-cooked pasta, fresh-out-of-the-oven pizzas and other traditional Italian dishes. Whet your appetite with a lovely Italian antipasto, the Bruschetta Asiago e pere (sourdough bread with asiago cheese, pears, pomegranate reduction and walnuts); and follow this with a serving of the sinful Spaghetti alla carbonara featuring crispy bacon and pecorino cheese. The Orata alla griglia (sea bream fillet with salsa verde, seared new potato, rocket and fennel salad) and the classic Linguine alle vongole (pasta with clams, garlic, olive oil and white grape) will transport you straight to Italy.
To finish the epicurean experience, diners can savour a sublime lemon tart with Italian meringue and candied lemon.
Cheese & Grape at Ciao Bella
Not your regular Cheese & Grape evening, this brand-new offer at Ciao Bella features three hours of bottomless white, red, rose and sparkling grape. This is accompanied by twenty (yes, twenty) unique Italian cheeses that have been personally selected by Chef Anna Alaimo. Served buffet style to offer you the liberty of indulging in all your favourites, this latest offer takes place twice a week.
Thursdays and Saturdays from 6pm onwards. AED189 for three hours (inclusive of unlimited cheese and grape) and AED210 for three hours (inclusive of unlimited cheese and premium sips). Call +9714 427 1000 or email ciaobella@mediaonehotel.com. Visit the website or Instagram.
garden on 8
A short elevator ride to the 8th floor of Media One Hotel takes you to garden on 8, which is hands down one of the most entertaining places to hang out in Dubai Media City. This fabulous spot oozes with upbeat vibes and a no-frills atmosphere supported by string lights and herb gardens. Offering sports, drinks and great food – garden on 8 perfectly balances a laid-back ambience and an indoor dining experience. On one hand, it is exactly like hanging out in your own backyard when you're on the garden on 8 terrace – surrounded by large TV screens, sitting on wooden benches and enjoying the upcoming Dubai winter. With the barbecue opening up, it's great for anyone who enjoys grills. On the other hand, if you're not inclined to being an outdoorsy person, preferring to instead be on comfy cushioned chairs and in some air-conditioning, then the indoor dining space is perfect with pool tables, dart boards and multiple TV screens.
Menu highlights include the signature gourmet garden-style bacon burger made of 200g of Wagyu beef,  bacon and cheddar, served atop a homemade brioche bun alongside rustic cut fries; the Let's meat flatbread adorned with spiced lamb meatballs, cured meat, turkey ham and fresh buffalo mozzarella; and a 50cm-long giant hot dog topped with jalapeño salsa, tomatoes and 'dijonnaisse'. Mains call for a serving of melt-in-your-mouth Smokey BBQ short ribs served with triple-cooked fries and coleslaw.
Finally, garden on 8's decadent Chocolate mousse with cacao nibs and praline, a personal delight of the venue's chef, will wholly satisfy your sweet tooth.
Sunday Roast at garden on 8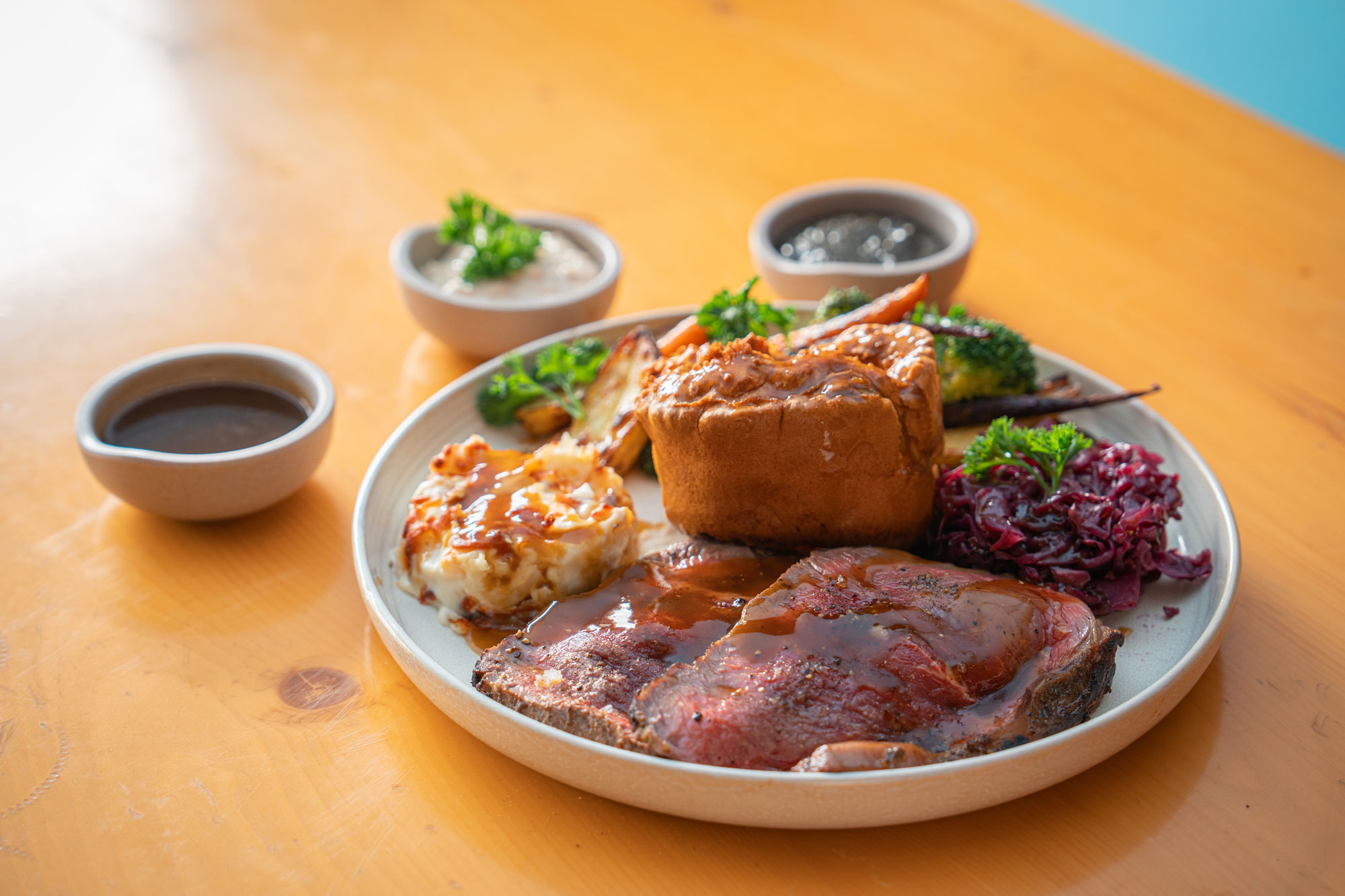 Chef Omer Dover, the restaurant's new culinary genius, is cooking up a storm with a scrumptious Sunday Roast offer. Take your pick from beef, chicken or lamb roast and enjoy your Sunday feast with all the trimmings.
Sundays, all day, from 12pm onwards. AED99 per person. Visit Instagram to book your table.
Qwerty
Everybody's preferred neighbourhood gastro bar, Qwerty is a creative food-driven space that serves up global gastro favourites elevated by bespoke creative concoctions. Upon entry to this hybrid pub, bar and restaurant, you are instantly captivated by artistic "sheep" phones, amusing quotes and lively indoor décor. The expansive outdoor terrace offers cosy yet stylish seating where live music sets the tone for memorable winter evenings.
During the week, stop by for the Flirty Qwerty ladies' night or an unmissable Biz Lunch featuring an ever-changing menu. If you prefer dining à la carte, indulge in their famous Cheese toastie brimming with cheddar and parmesan cheese, caramelised onions and tomato chutney. You could also tuck into a serving of slow-cooked sunrise short ribs with chamomile white beans, smoked paprika sauce and crispy ratte potato; or enjoy the Chicken schnitzel Holstein with accompaniments. The Chargrilled sea bass fillet with asparagus, bubble and squeak, confit tomato and a zesty chimichurri is a perfect al fresco dining dish.
If you're looking for a nourishing bowl, order the Miso ramen with dashi broth, tender beef short ribs, shimeji mushroom, boiled egg and bok choy. The Middle Eastern-style chicken roulade delicately prepared with pine nuts, kashkaval cheese, maftoul (couscous), accompanied with rocca salad and sourdough bread is another must-try. And lastly, dessert lovers will be glad to round off their meal with a gluten-free and dairy-free Very berry mousse.
Supper Club at Qwerty
QWERTY's restaurant manager and talented chef have joined forces to create a Supper Club concept, where each month focuses on a different theme. November is all about sustainability and showing off the kitchen team's skills. Here, you can expect a diverse, inspiring and delectable two or three-course menu, accompanied by beverages.
Thursdays from 7pm onwards. AED99 per person (inclusive of a two-course menu) and AED125 per person (inclusive of a three-course menu). Add on 3 beverages for AED80. WhatsApp +97156 843 6814. Visit the website or Instagram.