Looking for new things to do in Saudi Arabia during Eid al-Adha? Prepare for a memorable experience with these exciting offerings
Meraki
For Eid Al Adha, Meraki will be showcasing exceptional local fish varieties including Soltan Ibrahim, Hamour, and Najel. The focus on local varieties is aimed at not only supporting the thriving local fishing industry but also providing an exquisite dining experience for diners, allowing them to relish the unique flavours that Saudi Arabia has to offer.
June 29 to July 2. 20% discount on the Seafood market. Visit website.
ROKA Riyadh
The award-winning Japanese restaurant is bringing back its Izakaya Nights, offering guests an exceptional culinary experience featuring a variety of Japanese dishes including Imo mochi, Hotate kushi-age, Ebi toast, and Korokke. In addition, ROKA Riyadh has introduced a limited takeaway menu to order from a range of options such as Nigiri sushi, Maki rolls, Japanese rice hotpot, and Cotton soft cheesecake with robata grilled pear and chantilly cream.
Every Tuesday and Wednesday from 6pm. Visit website.
A.O.K Kitchen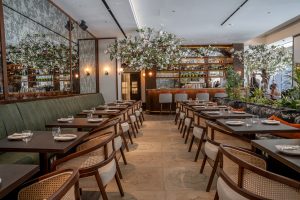 A.O.K Kitchen is hosting a series of summer celebrations called 'Summer Loving', welcoming diners to tropical island-themed interiors and an extensive menu brimming with light and flavourful dishes free from refined sugar and limited in dairy and gluten. Don't miss the vibrant stand outside the venue, serving refreshing coconut water to passers-by.
Call +966 9200 25304.
Il Baretto
Il Baretto is introducing a fresh seasonal menu, marking an exciting culinary addition in Riyadh's KAFD district. Originating from London, the Italian dining venue has captured the essence of Italy's diverse regions by skillfully combining the vibrant, seafood-centric flavours of the south with the robust tastes of the north. The newly launched menu showcases culinary delights from Milan, Sicily, and Tuscany including dishes such as Bruschetta con calamari saltati (sourdough bruschetta with sauté squid), Noccola e cavolo croccante (pan-fried red snapper with red lentil puree, mushroom, hazelnut and crispy kale), and Spalla di agnello arrosto (roasted lamb shoulder with roast potatoes and ratatouille). To conclude the fine dining experience, guests can indulge in a Vanilla cheesecake with poached rhubarb, strawberries, and lemon ice cream, and the Cremoso al cioccolato (chocolate cream, raspberry compote, and ice cream).
Visit website.
Rüya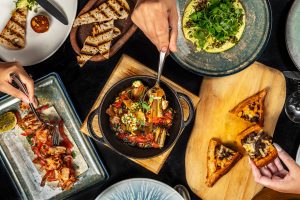 With successful locations in London, Dubai, and Doha, Rüya brings its signature Anatolian charm to Al Dabab street, Saudi Arabia. Indulge in authentic and contemporary dishes and experience the rich culinary heritage and traditions of the region with an extensive menu showcasing the classic Pide, a mouthwatering selection of hot and cold Turkish mezes, Lahmacun, and Lamb shank slow-cooked in a traditional clay oven. The restaurant interiors capture an enticing, vibrant atmosphere blending contemporary elements through dome-shaped chandeliers inspired by Byzantine architecture, Turkish carpets, and 3D mosaic tiles.
Visit Instagram.