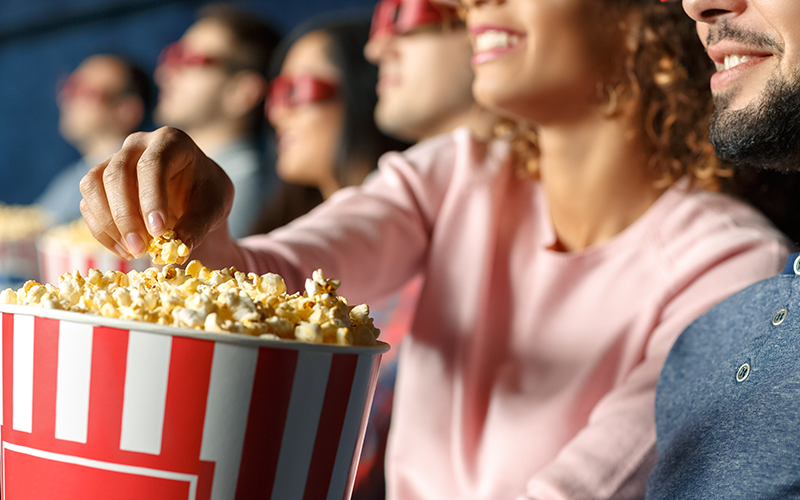 Dubai marina dinner and movie deal: There's a new movie club in town – and it comes with a fantastic dinner deal. DXB Experiments Presents: The Cinema are screening popular classic films at Le Royal Meriden for free throughout the winter, every Monday, Wednesday and Saturday.
The outdoor cinema club comes with its own delicious cinema menu (think buttery popcorn, doughnuts and your own private bar).
If you fancy something larger before the film, there's a pre-cinema deal on at several of the Le Royal Meriden restaurants. Book a table at Maya Modern Mexican Kitchen + Lounge, Geales, Zengo, Al Khaima or Rhodes Twenty10 and you will be able to indulge in a special pre-cinema dinner offer. There's a two-course menu for just AED 120 per person inclusive of select drinks or a three-course menu inclusive of select drinks for AED 150.
Even better – when you book a table for the pre-cinema menu at one of the restaurants, you will automatically be reserved seats at the cinema club for the same evening. (Without the restaurant reservation, seating at the cinema club is on first come first serve basis).
Fancy going along? Here's the full list of films showing this Winter:
4/11/17 Saturday The Motor Cycle Diaries
6/11/17 Monday Marie Antoinette
8/11/17 Wednesday Jaws
11/11/17 Saturday Sholay
13/11/2017 Monday The Big Lebowski
15/11/2017 Wednesday Vertigo
18/11/2017 Saturday Baraka / Planet Earth
20/11/2017 Monday One flew over a cuckoos nest
22/11/2017 Wednesday Withnail & I (Bruce Robinson, UK, 1987)
25/11/2017 Saturday Spirited Away
27/11/2017 Monday Annie Hall
29/11/2017 Wednesday Easy Rider (Peter Fonda, USA, 1969)
2/12/17 Saturday The Castle
4/12/17 Monday Waynes World
6/12/17 Wednesday Some Like It Hot
9/12/17 Saturday Amelie
11/12/17 Monday Rebel without a cause
13/12/2017 Wednesday Moulin Rouge
16/12/2017 Saturday Caramel
18/12/2017 Monday Casablanca
20/12/2017 Wednesday Star Wars: Episode IV – A New Hope
23/12/2017 Saturday Three Idiots
24/12/2017 Sunday It's a Wonderful Life
26/12/2017 Tuesday Die Hard
For more information, visit DXB Experiments Presents: The Cinema. If you enjoyed this article, you may like this story on Gordon Ramsay visiting Dubai this Winter.