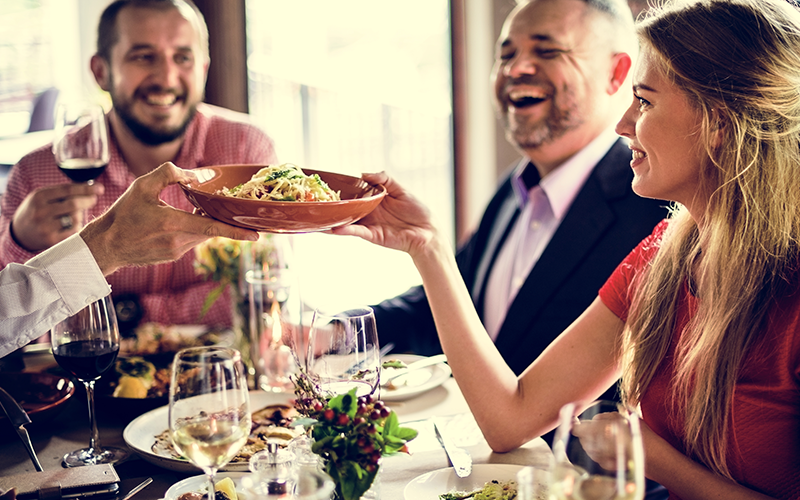 Over summer, there's always great food and drink discounts for savvy diners to take advantage of in the city. We tracked down eight new Dubai food offers in new cultural hub, Dubai Design District, d3.
The newest culture hub in the city, Dubai Design District's d3 is offering some fantastic mid-week discounts for diners this summer. From 5pm-8pm every weeknight during July and August, eight venues in d3 will be offering a range of food and drink offers. Called "Live@5" the offer also includes free valet parking for all visitors. Here's a breakdown of the best offers:
Molecule
This licensed French bistro will be offering a "buy one get one free" offer on house drinks every week night from 5pm-8pm. Entertainer diners can also take advantage of the 2 for 1 main course deal on the app. On Wednesday, there's also a live DJ playing old school hip hop and RnB.
For more information visit Molecule.
Amorino
A quaint, Italian-owned organic gelato shop is offering a chocolate box of treats for foodies with a sweet tooth over the summer. During July and August Amorino will be running a "buy one get one free offer" across all crepes and waffles in store.
For more information, visit Amorino.
Chez Charles
This licensed contemporary French brasserie offers Michelin-quality food (it was set up by chef Jeremy Degras, who used to run the kitchen of Michelin-starred restaurant Le Quartier Gourmand in France). Over the summer, diners can enjoy top notch food and two-for-one on select beverages.
For more information visit Chez Charles.
Vicolo
An authentic Italian street-style restaurant, Vicolo serves up delicious, pasta, pizza and sandwiches. Best of all – over the summer months the eatery is offering free fresh juice or a soft drink when you order a pasta dish. Caffeine fiends can enjoy discount priced coffee at AED9 when ordering a pasta dish.
For more information, visit Vicolo.
Frame and Yui
Quirky Japanese lifestyle shop Frame and Yui is offering free coffee and mint lemonade for shoppers perusing their urban clothing collections, along with a 15% discount on anything you buy. After shopping stop by their café area and tuck in to some delicious ramen and gyoxza.
For more information, visit Frame and Yui.
One Life Café
This laidback café serves fresh organic food, while blasting out old-school hip hop tunes from the speakers. Over the summer, One Life Café will be giving away free lemon iced tea with sandwiches bought at the eatery, and free coffee with all desserts.
For more information, visit One Life Café.
Craft Café
Serving up healthy organic food, the homegrown UAE café is offering 30% off sandwiches, pastries and coffee over the summer months.
For more information visit Craft Café.
Harper's Bazaar Café
This sophisticated café is the perfect place to enjoy a post-work catch up with friends. This summer the café is serving high end lose tea (the best from Tea Forte) along with great offers on their decadent desserts. Best of all, prices start from just AED 39 per dessert over the summer.
For more information visit Harper's Bazaar Café.