Sponsored: Award-winning Roberto's is serving up a plethora of offers this holiday season. Situated in the heart of DIFC, the homegrown brand is known for being a modern haven for Italian classics.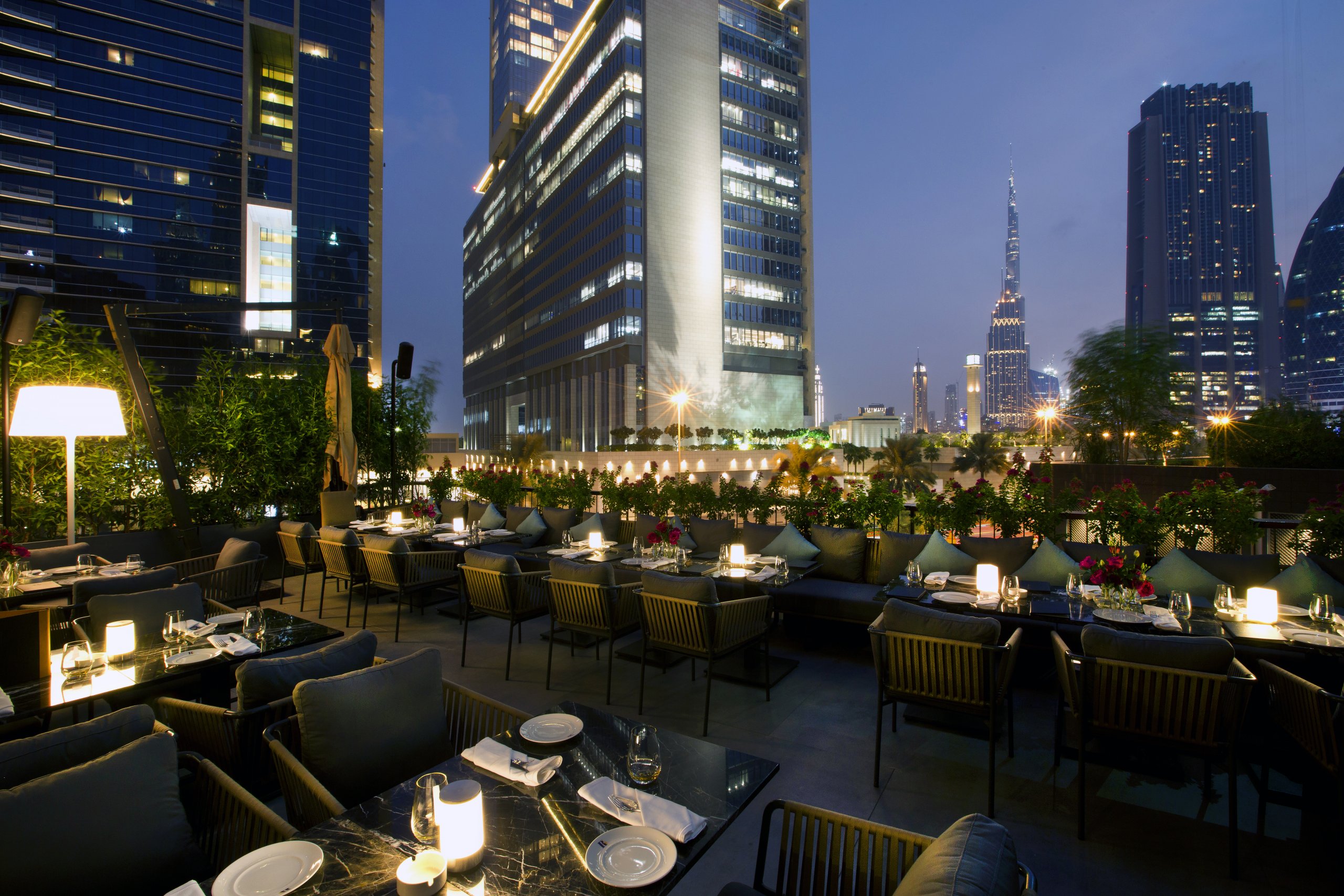 Embark on an exhilarating Italian fine dining journey packed with great vibes, phenomenal food, elegant interiors and magnificent skyline views. Group Executive Chef Francesco Guarracino is at the helm of the kitchen and has created a great line-up of lavish meals and brunches for the season ahead.
Festive Corporate Lunch
Celebrating the festive season with your corporate family? Take your pick from three exquisite Festive Corporate Lunch menus. The first menu features a lentil soup with bread croutons appetiser. Feast on homemade ravioli del pin in chicken broth followed by slow cooked lamb shank served with mashed potatoes. Head back satisfied with a scrumptious baba bread, cinnamon ice cream and orange dessert.
The second menu comprises a burrata, grilled vegetables and mint dressing starter, risotto mushroom and parmesan cheese, roasted turkey roll stuffed with spinach and cheese sauce for mains and a trio chocolate mousse for dessert. If none of these sate your cravings, try the third menu which includes octopus salad, sweet and sour seasonal vegetables followed by in-house made tagliolini with calamari. Delight in roasted salmon, broccoli coated in lemon butter sauce and polish off your meal with a Macedonia mix fruit salad and yoghurt.
AED125 per person.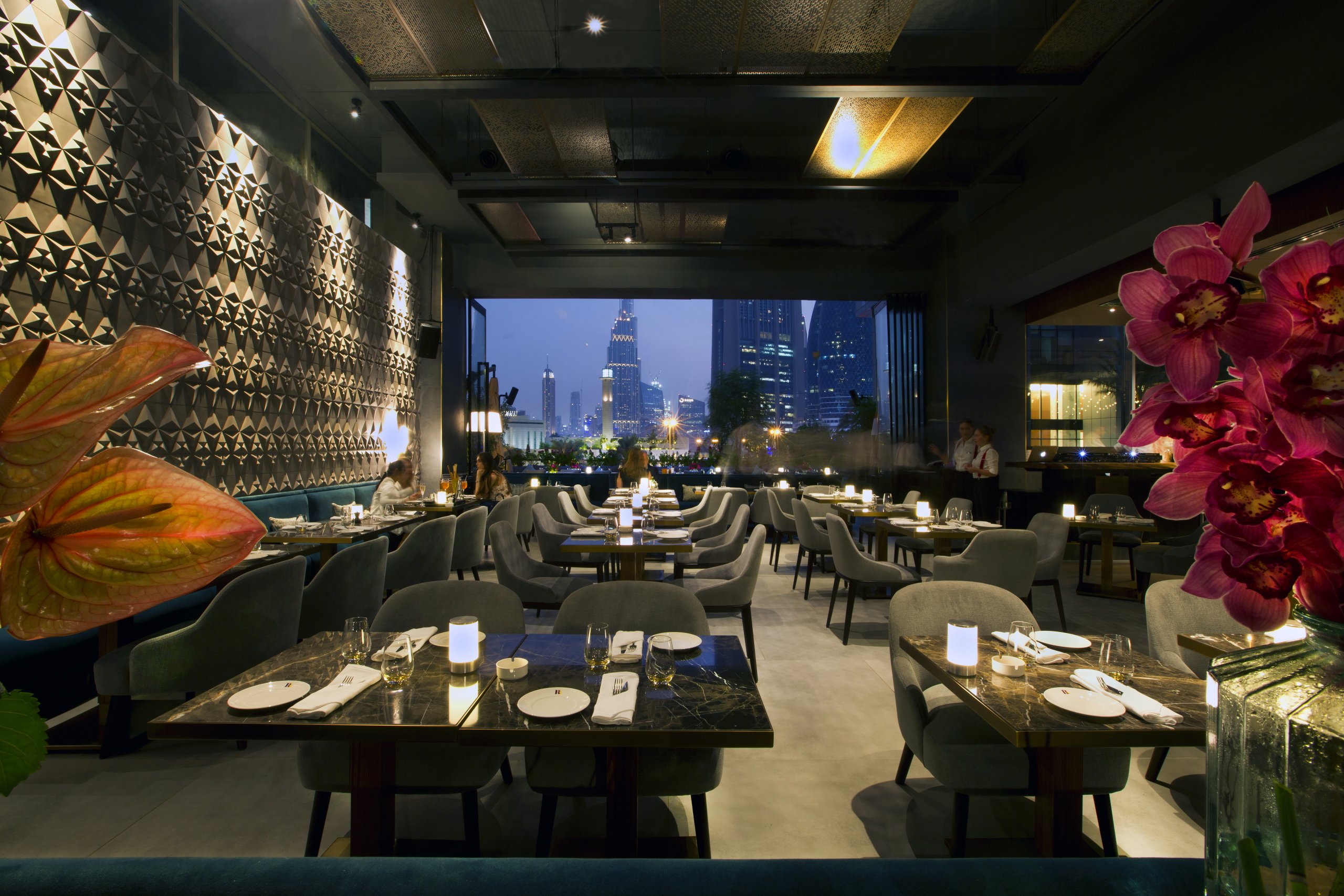 Festive Corporate Dinner
Want to spend a wonderful night feasting on the best of Italian delicacies? Start with insalata di mare tiepida e spuma di patate (warm seafood salad and potatoes foam), battuto di vitello su salsa di acciughe e cavolfiore (veal tartare, anchovies and cauliflower cream). Dishes such as ravioli di cappone in brodo chiarificato (capon homemade ravioli in clear broth) and spaghetto con vongole veraci e bottarga di muggine (spaghetti clams and muggine cured fish roe) are guaranteed to whet your appetite. On the list of mains are the rombo con carciofi, zucchine e tartufo (turbot fillet, sauteed artichokes and zucchini and black truffle) or tacchino con funghi porcini e polenta (roasted turkey breast, sauteed porcini mushrooms and polenta). Make sure not to miss out on a tempting baba con crema all'arancia e canella (baba sponge, cinnamon and orange cream) to end the night on a sweet note.
AED350 per person.
Christmas Eve Menu
Commence the Christmas festivities with a spectacular variety of appetisers including insalata di mare (seafood salad), polpo alla luciana (stewed baby octopus in rich tomato sauce), impepata di cozze (sautéed mussels with black pepper), carpaccio di ricciola (king fish carpaccio), insalata ai semi (organic mix salad and toasted seeds) and alici marinate (marinated anchovies). Tuck into traditional spaghetti vongole e bottarga (clams and cured grey mullet roe pasta) with family and friends. The pezzogna all'acqua pazza (Besugo snapper in cherry tomato sauce "crazy water") is an enticing main. Top it off with a special collection of homemade desserts from the southern European country.
7–11pm at AED395 per person.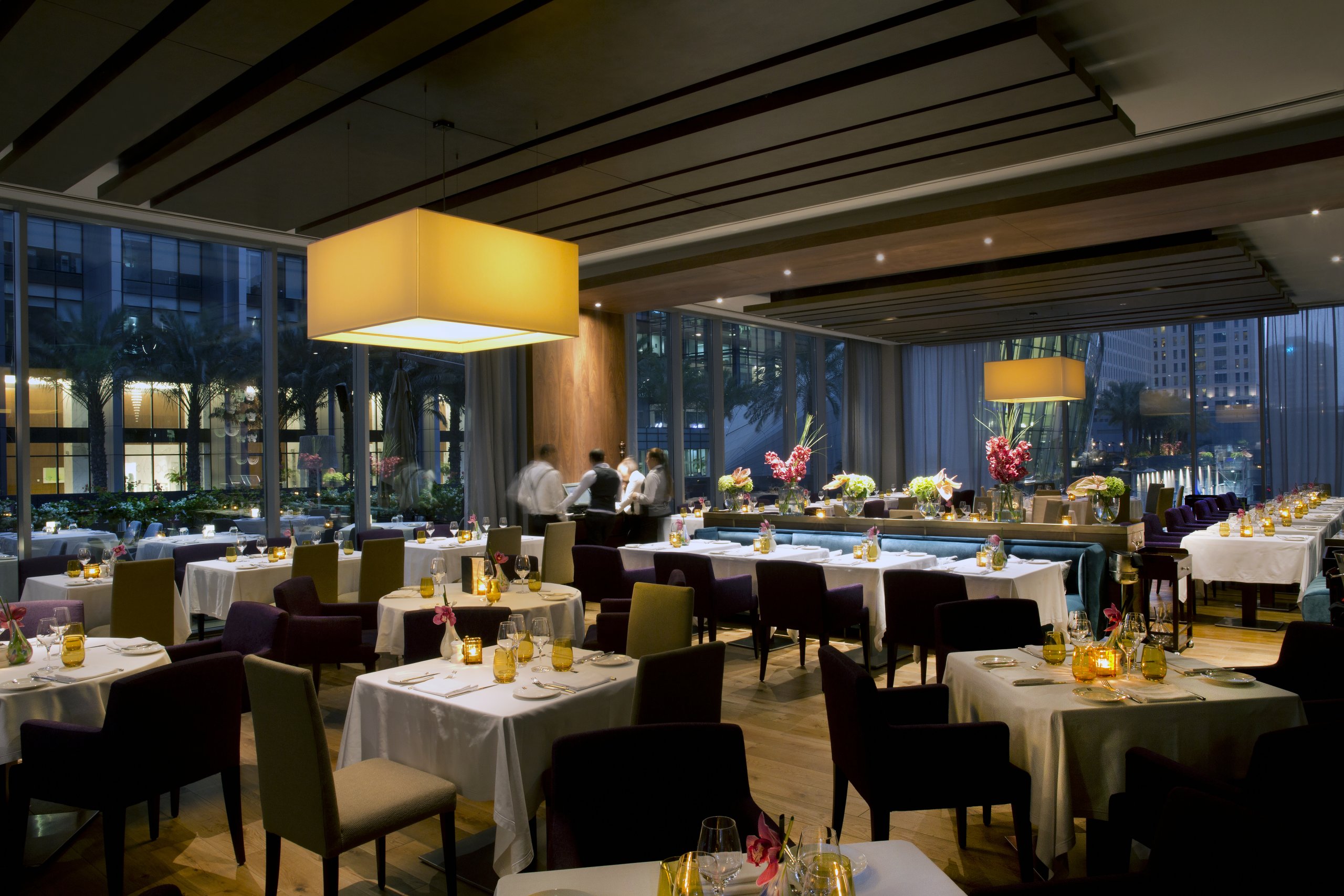 Christmas and Boxing Day Brunch
On December 25 or 26, tuck into a delicious array of sharing appetisers such as vitello tonnato (slice of aromatic veal with creamy tuna and caper sauce), insalata di Mare (mixed seafood salad), pizza con scarola e olive (escarole and olives Italian traditional pie), figliata con battuto di pomodorini e olive (buffalo mozzarella bocconcini with tomatoes and olives), salmone affumicato con barbabietole (smoked salmon and beetroot salad), carciofi (artichoke salad) and zeppole di alghe a gamberetti (deep fried dough with shrimps and seaweed).
Share homemade beef lasagna with bechamel sauce with your loved ones or indulge in risotto ai crostacei (carnaroli rice, langoustine, crab, prawns and lobster) for a lighter feel. Savour the best of mains featuring frittura mista di pesce di paranza (fried fish, calamari, anchovies, prawns and red mullet), orata al forno con patate e zucchini (oven baked sea bream with potatoes and zucchini), rolata di natale in salsa royal e fagato grasso (turkey leg roulade stuffed with mushroom and chestnut with foie gras and royal sauce) or agnello con cafolfiore e tartufo nero (grilled lamb chop with cauliflower and black truffle). End the night with a luscious platter of traditional Italian Christmas desserts.
December 25 and 26, 12–4pm. AED295 soft drinks package; AED445-AED665 premium package.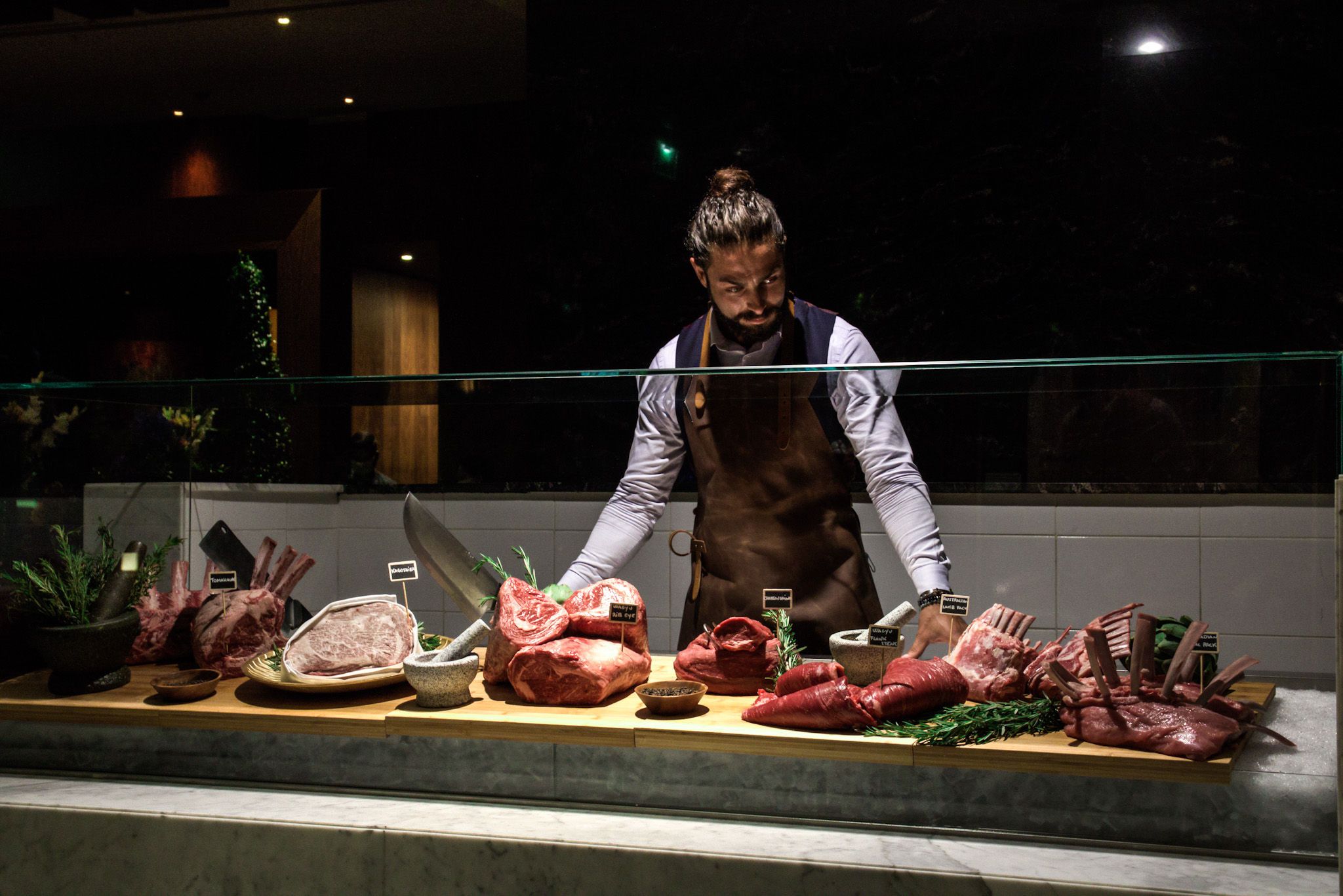 The Italian Butcher
Calling all meat enthusiasts! Roberto's has unveiled their latest experience with the launch of The Italian Butcher. The menu serves premium cuts from Australia, Canada, Ireland and Japan, and diners can take their pick from an impressive meat selection, cooked in a Josper oven. Meats vary from 200g of Japanese Kagoshima Ribeye to 1.2kg of Canadian Heritage Angus Tomahawk, 1kg Dry-Aged John Stone Angus T-Bone from Ireland and 250g Wagyu Westholme Beef Tenderloin from Australia.
Succulent Canadian milk veal chop and grilled Australian lamb rack are other options, with sides such as gratin cauliflower in Mornay sauce and marinated baby gem lettuce with gorgonzola cheese dressing. salmoriglio, peppercorn mushroom and bearnaise sauce, as the perfect accompaniments.
Location: Roberto's, Gate Village, Building No. 1, DIFC.
Visit robertosrestaurants, contact +9714 386 0066 or email reservations@robertos.ae