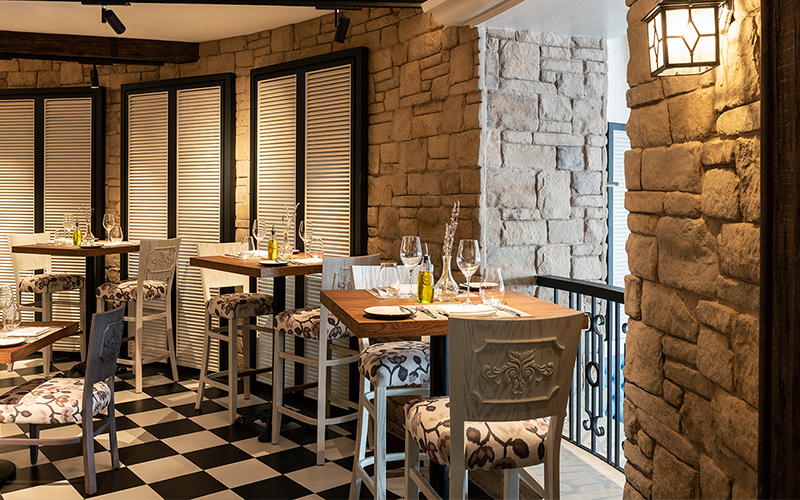 Sponsored: The recently revamped Beef Bistro at Le Méridien Dubai Hotel & Conference Centre, drawing inspiration from chic French eateries in the heart of Paris, has a new menu to match its new interiors.
With French specials reigning supreme on the menu, the adventurous can try appetizers like the Burgundy Snails sautéed in a delicate blend of onions and garlic. Keeping the fare indulgent are additions like Fois Gras, home-made duck liver terrine punctuating with a sublime medley of flavours, while Tarte Flambe, Freshly Shucked Oysters, and other dishes keep the offerings simplement français!
Look out for Chef's Specials, including the classic Beef Bourguignon, Slow Cooked Short Ribs livened up with a sublime artichoke puree, with a nutty finish of toasted sunflower seeds, among other delicacies. The menu also boasts of signature treats, including the likes of Classic Mille-feuille, Vanilla Crème Brûlée, Gâteau Au Fromage that are sure to excite ardent French dessert lovers.
Dominic Petzold, Executive Chef at Le Méridien Dubai Hotel & Conference Centre, shares, "The new offerings at Beef Bistro have a distinctly French character and every element of the menu, including the grapes, are carefully selected to complement a variety of beef cuts and steaks at Beef Bistro. To retain the authenticity of the cuisine, the kitchen team was carefully selected to ensure that chefs have a strong background in European and, especially, French cooking traditions and practices."
Le Méridien Dubai Village's beef and steak eatery has always been famous for its assortment of meat cuts. While the new menu retains past favourites, it brings to the fore an exhaustive selection of prime cuts from Japan, Australia, New Zealand, America and Argentina. Apart from rib-eye, tenderloin purists, connoisseurs can sample rump steak, flank steak grilled to perfection in a special Josper charcoal oven. Also on offer is a choice of "aged beef", courtesy the special Ageing room within Beef Bistro, stocked with over 500 kg of assorted meats, where guests can handpick their preferred cut.
Bright, revamped interiors of the bistro are dominated by white shuttered accents and stone walls, while artistically detailed chairs lend a restrained, understated charm to the décor. Every detail of Beef Bistro, right from the delicate floral arrangements on the tables, reminiscent of the 1950s and 1960s era, to the Parisian bistro-inspired staff uniforms, harmoniously blends with the French theme.
 Check out what we thought of Beef Bistro during our recent visit here.
 Details: Open daily from 12:30pm-11pm. Call 04 702 2455 for bookings.