Sponsored: Indulge in captivating sunset vistas of the marina from the rooftop while savouring Mediterranean and international cuisine straight from the rustic wood-fired oven at The Brick rooftop kitchen and bar.
Brick rooftop kitchen & bar is Abu Dhabi's first-of-its-kind, brick oven concept, it is a seasonal restaurant (open from September to May each year) offering a distinctive culinary experience at Aloft Abu Dhabi. Its rooftop garden provides a serene outdoor setting, ideal for enjoying a meal or drinks with breathtaking city and marina views.
Each dish is meticulously crafted in one of their two brick ovens, named Henry and Henrietta. Henry, fired at 800 degrees using cedarwood, and Henrietta, milder at 600 degrees using pecan wood, creates smoky and delectable dishes, including an array of vegan options.
In this new season, The Brick introduces fresh twists on flavours while retaining beloved favourites, such as the Ginger chilli & lime spatchcock chicken, Cedar plank Norwegian salmon, Seafood mix grill platter, Eggplant rollatini, Roasted marinate rump of lamb, and Spicy cajun chicken wings.
The menu continues to feature rustic sourdough bread, pizza, and s'mores, with the addition of a new Focaccia loaf. The vegan offerings have been expanded to include a Veggie burger and a Veggie tajine.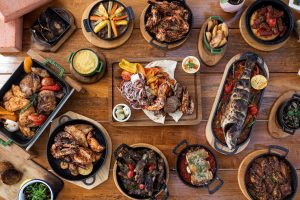 In addition to delectable food, The Brick's mixologist has crafted a sustainable beverage program for this season. Expect trendsetting drinks bottled with extra scents of spices, citrus, and herbs, as well as delightful options including cotton candy, chilli-infused, fruit-submerged beverages, and plenty more. To enhance the dining experience, live music by Marvin Lee complements the vibrant ambience.
Every Wednesday and Friday, from 7-10pm. Call +97154 994 2289 or +9712 654 5000. Visit Instagram.