Sponsored: Established in the heart of Istanbul in 1864, Hafiz Mustafa has endured the test of time, bearing witness to historical milestones spanning from the era of Queen Victoria to the modern age
Hafiz Mustafa 1864, a legendary name synonymous with timeless flavours and handcrafted confections, has remained a symbol of culinary excellence for over 150 years. Nestled in the heart of Istanbul, this historic establishment has not only persevered but thrived, serving as a sanctuary for dessert enthusiasts across generations. Since its inception in 1864, Hafiz Mustafa's Bahcekapi store has been a beacon of sweet indulgence, drawing patrons from every corner of the globe.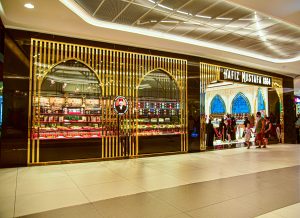 With a presence in Dubai, London, and Istanbul, and global doorstep delivery services, the legacy of Hafiz Mustafa continues to be nurtured by the esteemed Hafiz Mustafa Academy, where talented chefs emerge, carrying forward the torch of tradition and culinary mastery. Hafiz Mustafa's legacy of excellence has received global acclaim from its very beginnings. Between 1923 and 1938, the brand earned an impressive collection of 12 gold medals at prestigious international expos.
These accolades included recognition at the Exposition Internationale du Confort dans l'Habitation in Liège in 1925, the Exposition du Confort Moderne in Paris in 1928, the Internationale du Confort dans l'Habitation in Liège in 1928, the Exposition of 1930 in Liège, the Brussels International Exposition in 1935, the Exposition du Bien-Être in Paris in 1936, and the Exposition Universelle de 1937 in Paris.
What distinguishes Hafiz Mustafa is its steadfast dedication to quality. Over the centuries, the brand's procurement team has meticulously selected the finest ingredients, ensuring that each component contributes to the unparalleled richness and opulence of Hafiz Mustafa's confections. It's worth noting that Hafiz Mustafa's desserts are meticulously handcrafted without using glucose syrup, additives, preservatives, artificial colourings, or flavourings, upholding a commitment to authenticity and purity.
Unmissable Turkish delights
One of the crowning achievements in Hafiz Mustafa's repertoire is its baklava, a delectable pastry that has captured the hearts of people worldwide. The secret formula behind Hafiz Mustafa's baklava imparts the phyllo pastry with its divine flavour and unmatched crispiness. This formula, carefully safeguarded as a treasured secret, combines four distinct flours meticulously sourced from four different regions. The result is an enchanting phyllo so delicate and weightless that it almost appears to defy the laws of nature.
Another jewel in the Hafiz Mustafa crown is the Turkish Delight, a cherished Ottoman classic. Fragrant with flavours like pomegranate, honey, fig, orange, kiwi, and milk, and adorned with pistachio, walnut, and hazelnut, these treats rival the allure of any other Hafiz Mustafa delicacy. Expertly crafted by Hafiz Mustafa's skilled chefs, the Turkish Delights follow age-old traditions passed down through generations. This timeless confection has graced the palates of luminaries such as Picasso, Churchill, and Napoleon, seamlessly weaving itself into the fabric of Turkish culture.
In addition to its famed baklava and Turkish Delights, Hafiz Mustafa boasts a diverse portfolio of over 500 premium confectionery products, available in its branches. This range includes kadayif, cakes, Turkish puddings, Turkish coffee, Turkish tea, Turkish ice cream, kunafa, tres leches, pastries, and pogaca. Upholding a heritage that spans a century and a half, Hafiz Mustafa crafts each of these offerings using traditional methods, ensuring unrivalled quality and flavour.
Hafiz Mustafa's success transcends confectionery; it is a cultural ambassador inviting patrons to savour the essence of Turkey's rich heritage. Beyond the desserts, Hafiz Mustafa offers an authentic cultural experience, allowing customers to indulge in Turkey's flavours and cultural tapestry. Discover the exquisite flavours of Hafiz Mustafa 1864 and embark on a journey through the art of taste that spans over a century and a half.
Visit website.