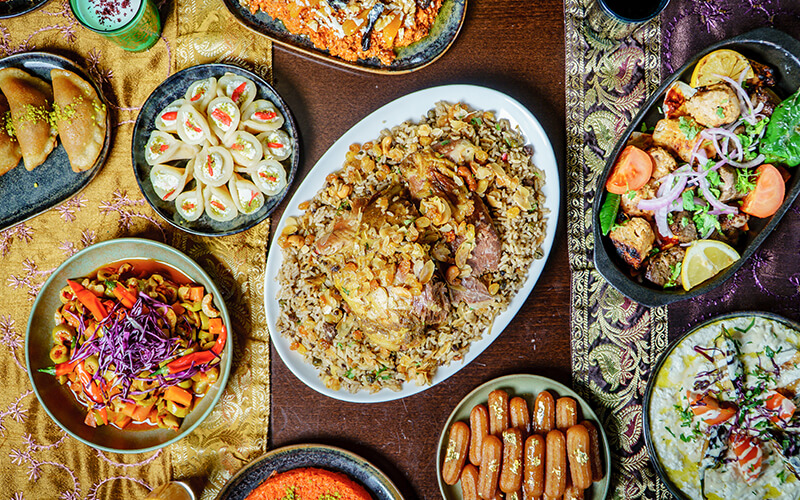 La Petite Maison Abu Dhabi, The Galleria
La Petite Maison has crafted an Iftar menu with Riviera-influenced classics using the freshest of ingredients for Ramadan. Guests can begin their culinary journey with a light soup and dates. Patrons will be offered a variety of starters, including green lentils, quinoa salad, carpaccio tuna and calamari. Select from flavourful classic main course dishes, such as grilled sirloin, grilled lamb cutlets with smoked aubergine, grilled tiger prawns and Arrabbiata and finish off with a pick of your favourite dessert from among cheesecake, warm chocolate mousse with malt ice cream or pistachio cake that comes with either a choice of tea or coffee. La Petite Maison's Iftar menu will be priced at Dhs240 per person (minimum two people) and will be served from 6.45pm until 8.00pm during Ramadan. Available at both Abu Dhabi and Dubai branches. Call 02-6929600.
Al Andalus Ramadan Tent, Fairmont Bab Al Bahr
With authentic Arabian luxury and decor, guests at Al Andalus Tent will be magically immersed in the flavours of ancient Islamic culture touched with Andalusian influences. With a stunning entrance complemented by luscious materials and intricate design, the Al Andalus Tent can comfortably accommodate over 500 guests.
The Iftar will feature live cooking stations including a whole lamb carving and Ouzi stations, a spectacular buffet featuring a selection of barbecued meats and seafood. Guests can indulge in the true flavours of Arabia with authentic dishes such as hot and cold mezzeh, freshly baked Arabic bread, manakish, shawarma rolled in saj bread, and a selection of Arabic soups. A dedicated Emirati cuisine station will offer local tastes including thareed, harees, and machboos. Guests can sip on a selection of Ramadan drinks and Arabic coffees while choosing from a range of premium dates and Western sweets including kunafa station and ice creams. Iftar will take place daily during Ramadan from sunset to 9pm, while Suhoor will be from 10pm – 3am (until 3.30am on weekends). Priced at Dhs235 per person for Iftar buffet, and free for children 5 years and below. Suhoor a la carte menu prices start from Dhs45 per person. Call 02-6543238 or visit fairmont.com/babalbahr.
Al Khayal, Marriott Hotel Al Forsan
In the spirit of giving and precious gatherings this holy month of Ramadan, Marriott Hotel Al Forsan welcomes guests to break their fast with an array of delicious food offerings and the traditional generosity of the signature Marriott hospitality. Set to take guests on a holistic culinary journey, Iftar at Khayal serves a smorgasbord of flavours across the local Emirati, Saudi, Lebanese, and Egyptian cuisines, accompanied by bespoke Ramadan beverages.
For Suhoor, Marriott Al Forsan welcomes guests to the opulent Al Khayal restaurant, which presents a sprawling buffet featuring Arabian delicacies, along with an impressive collection of signature hubbly bubbly flavours. Al Khayal offers six live cooking and carving stations to whet every palate, succulent grilled meats with traditional accompaniments and other traditional Emirati favourites, a selection of continental delicacies and an assortment of desserts. The Iftar buffet will offer a truly inspiring experience for all senses. The venue is perfect for family gatherings and friends alike. Iftar, priced at Dhs210 per adult and Dhs90 per child between the ages of 6 to 12, and will take place from 6.30pm to 8.30pm. Suhoor will take place from 9.30pm to 1.30am, priced at Dhs99 per adult and Dhs50 per child. Call 02-2014131 or e-mail mhrs.auhal.restaurant.res@marriott.com.
Giornotte, The Ritz-Carlton Abu Dhabi, Grand Canal
Guests to The Ritz-Carlton Abu Dhabi, Grand Canal are invited to enjoy a traditional Iftar experience throughout the holy month, daily from sunset to 9pm. Opening its door at sunset, the Iftar buffet at Giornotte will feature Arabian family recipes, delicious Ramadan beverages and live cooking stations that ensure the entire family enjoys together. A traditional Qanun player sets an authentic Arabian ambiance. Iftar is priced at Dhs235 per person. Call 02-8188282 or e-mail abudhabi.restaurants@ritzcarlton.com.
If you're looking for a new Iftar or Suhoor to try in Dubai, check out our round-up here.