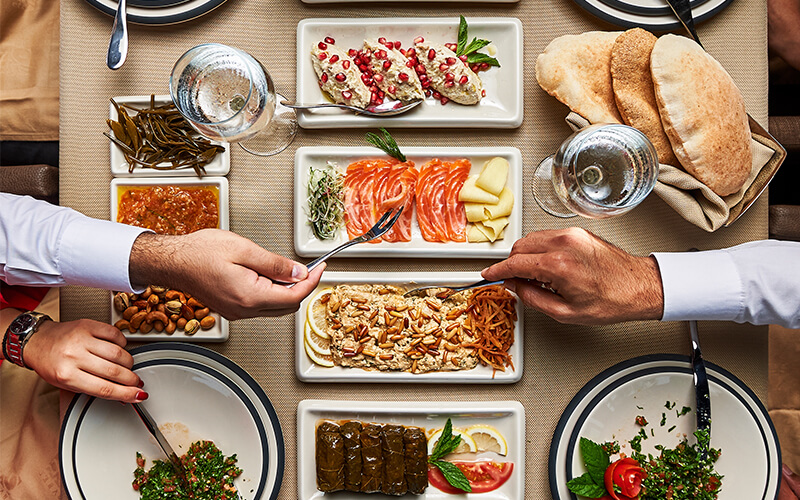 Our round-up of Iftars and Suhoors to try in Dubai this Ramadan.
Indian Steakhouse at Trèsind, voco Dubai
Thriving to constantly evolve, one of the city's most loved modern Indian restaurants, home grown in Dubai, Trèsind has introduced a new concept, exclusively for the month of Ramadan – an Indian Steakhouse. The specially curated menu will be available from dusk onwards, throughout the month of Ramadan for Dhs179. The experience begins with an exciting date candy with popping sugar folded in an edible paper, which is accompanied with a few other pre-appetizers on the table and a fresh Juice trolley, meant to entice the appetite. This will be followed by a meat board, with an offering of six meat dishes, like homemade sausages and skewers. The main course has a few live dishes, done gueridon style, like the pot nihari, giving the Trèsind signature touch to the menu. One of the highlights of the menu will be the selection of Josper-grilled steaks with Indian flavours as a part of the main course. To end the experience on a sweet note, there is a deconstructed baklawa and textures of mango. A vegetarian menu is also available upon request. The restaurant will be operational for lunch and dinner during the month of Ramadan. Prayer room available for men and women. Call 056-4209754 or 04-3080440.
The Majlis, Dubai World Trade Centre
Situated in the heart of Dubai's central business district, the Majlis at Dubai World Trade Centre brings to life classical Arabian atmosphere with the finest traditional cuisine to indulge in this Ramadan. Whether you are looking for a place for Iftar or Suhoor, the Majlis offers a vast menu selection brought to you by DWTC's award winning chefs, to experience the finest traditional Arabic cuisine and hospitality in a lavish Arabesque setting. Located within Za'abeel Hall 6, Dubai World Trade Centre, Iftar and Suhoor will take place daily from sunset to 3am. Priced at Dhs165 per person and Dhs85 for children aged 6-12years. Call 800-DWTC or visit booking.majlis.ae.
Al Hadiqa Ramadan Tent, Sheraton Jumeirah Beach Resort
This Ramadan, Al Hadiqa Ramadan Tent brings guests magnificent evenings brimming with Middle Eastern and international delights, as well as breathtaking panoramic views of the Jumeirah Beach. With a seating capacity of more than 200 guests, this contemporary tent is the perfect gathering place for family and friends to experience Ramadan at its finest.
Enjoy exquisite Iftar buffet every night followed by a late night Suhoor from the authentic a la carte menu, paired with a full selection of shisha, whilst enjoying traditional live Arabic entertainment. Iftar starts at sunset and is priced at Dhs99 during the first week of Ramadan, then Dhs165 from second week onwards. Suhoor is from 9.30pm – 2am. Call 04-3995533.
JW Marriott Hotel Dubai
Experience the essence of Ramadan at the JW Marriott Hotel Dubai. Celebrate the breaking of fast with two Iftar buffets options. The bustling market atmosphere of The Market Place will be offering an international anthology of cuisine this Ramadan, alongside traditional Arabic delicacies. Dishes will range from a healthy selection of cold mezzeh, lamb ouzi and an array of rice delicacies. Alternatively, step into Bamboo Lagoon, where a taste of Far Eastern and fusion cuisine meets the exotic, and a scattering of huts, bridges, waterways and waterfalls surround diners. Indulge in the seafood buffet where Polynesian, Indonesian and Thai influences offer an excellent selection of healthy choices, while also enjoying the extensive buffet at The Market Place, in addition to special Ramadan juices, Arabic coffee and sweets. Both Iftars will take place daily during Ramadan from sunset to 9pm. The Market Place is priced at Dhs99 per person with Ramadan juices and coffee, while Bamboo Lagoon is Dhs175 per person including including access toThe Market Place buffet, Ramadan juices and coffee. Both Iftars are priced at AED 50 for children aged 6-12 years. Children under six dine for free. Call 04 607 7977 or e-mail jwdubai.dining@marriotthotels.com.
The Loft at Dubai Opera, Downtown Dubai
As the holy month of Ramadan approaches, bringing with it festive nights and sumptuous gatherings, The Loft at Dubai Opera reveals its Gold & Honey Iftar. This luxurious festive moment will allow guests to break fast at sunset as the restaurant transforms into a palatial candle-lit Arabian experience. Guests will be invited to dine lavishly from a medley of live cooking stations serving an extravagant spread of Levantine and Khaleeji favourites. Combined with signature modern European dishes, daily evolving menus inspired by Greek, Italian, Turkish, Algerian and Persian specialities and a centrally located beverage counter serving up hand-crafted mocktails, milkshakes and Ramadan inspired beverages, The Gold & Honey Iftar promises to be a memorable experience for the whole family.
Taking place daily during Ramadan, the Gold & Honey Iftar will start at sunset to 10pm and is priced at Dhs265 per person and Dhs125 for children aged 6-11 years. Children under 6 will dine with compliments. Call 04-3627312, e-mail reservations@loftatopera.com or visit loftatopera.com.
Babel, La Mer
This Ramadan, break your fast-overlooking beautiful sunsets by the sea as you experience Lebanese cuisine at Babel La Mer. Start your meal with a selection of Babel's traditional soups such as the lentil soup, mushroom soup and seafood soup. Break fast in a bountiful fashion with a wide-ranging selection of conventional hot & cold mezzeh cooked in a contemporary manner including hummus Beiruti & pesto, grape leaves, shrimps beiroutieh, tabboulet el bahhar, fattoush, sambousik, fattet shrimps and ras asfour cherry. Customise your main course with freshly picked grilled seafood. Babel La Mer has an extensive seafood display with fresh seafood including hammour, sultan Ibrahim, sea bass, crab, Canadian lobster, shrimp, and malifa to name a few. End your dinner on a refreshing note with seasonal fruit servings and dates and satisfy your sweet tooth cravings with the signature ashta bel ashta, ghazlieh and end your night with Babel's Arabic coffee. Call 04-4190220.
Marriott International
Food has a way of bringing people together, sparking memories of long lost traditions and flavours that we remember from our childhood days. With this in mind, Marriott International wants to gather family and friends this Ramadan at their properties in the UAE, KSA, Bahrain, and Egypt, for specially crafted Iftar and Suhoor experiences.
For guests to experience authentic Iftar and Suhoor, and celebrate this special occasion with their loved ones, 40 Marriott International properties across the United Arab Emirates, KSA, and Bahrain, have come together and offer a 2 for 1 Iftar deal.
The Ramadan, Marriott International is also catering for corporate groups and families, with an exclusive "book for 8 people, and get 2 additional guests for free" offer.
Visit Ramadanwithmarriott.com to discover more information about the participating venues.
Dusty's, Al Fattan Currency House, DIFC
Taking place daily during the holy month of Ramadan, Dusty's in DIFC if offers a generous sharing Iftar menu, price at Dhs149. Break fast with a wide range of starters including dishes like daily changing soup, stuffed grape leaves, rice-stuffed dolma served with lemon slices, bell pepper salad with cucumber, tomato and pomegranate, plus slow-cooked chickpeas with rib eye, served with homemade sweet and sour dressing. For mains, dig into traditional manti, minched meat stuffed dumplings with garlic yoghurt, tomato sauce and oregano, spiced chicken skewers, Iranian rice topped with sauté prawns and tomato sauce, or homemade lamb kofta served with fresh pita bread, haydari yoghurt with mint leaves, grilled tomato and lemon. End on a sweet note with tempting options like Turkish style fresh baklava and classic kunafa served with pistachio and its own cheese. Call 04-3545435, e-mail info@dustysdxb.com or visit dustysdxb.com.
Yalumba, Le Meridien Dubai Hotel & Conference Centre
With the holy month of Ramadan just around the corner, chefs at Yalumba have put together an elaborate Iftar at Yalumba restaurant. Drawing inspiration from the culinary culture of the Middle East, the special Iftar buffet at Yalumba offers a delicious variety of traditional favourites. Priced at Dhs169 per person, the Iftar buffet spread features over 200 dishes, live cooking stations where guests can enjoy an assortment of Middle Eastern favourites, such as baked meat kibbeh, katayef and tandoori prawns, fresh Ramadan juices as well as delicious desserts. Starting from Dhs135, the Great Ballroom will host corporate and group Iftars, bringing a selection of traditional chef-tailored menus paired with a mouthwatering range of desserts to creating memorable moments with your families and friends. Shisha is available at Yalumba terrace for Dhs120. Iftar will take place daily during Ramadan from sunset until 9.30pm. Call 04-7022455.
Gallery Café, Hyatt Place
There's a new place in town to feast this Ramadan. Experience a choice of pan-Arabian and international cuisine at the renowned Gallery Café Iftar at Hyatt Place in Dubai's Al Wasl District. The chefs at Gallery Café have designed an eclectic menu for the for the feast of Iftar. Choose from the assortment of mezzehs, fresh fruits, Arabic dry fruits and dates along with traditional drinks of labneh (local buttermilk), tamar hindi and jelab. Pair it with your choice of beverage from fruit juices to ayran, qamar al deen, laban jallab, tamar hindi and kharoub. Don't forget to have a taste of mulukhiya dil dajaj, made especially for Iftar, and save some room for dessert too, as there's a delicious selection of chocolate cakes or crème caramel on offer. Iftar at Gallery Café is priced at Dhs60 per person, Dhs45 for children below 12 years, and free for children below 5 years. Iftar will take place daily during Ramadan from 7pm till 11pm. Call 054-5897637.
The Market, Hilton Al Habtoor City
Situated on the first floor of Hilton Dubai Al Habtoor City with wonderful views of Dubai Canal, the hotel's all-day dining restaurant, The Market is set to be dominated by live cooking stations during the holy month. It's bright and inviting décor will appeal to families and friends alike, with a mix of family-style tables to accommodate large groups, and a dedicated family area close to the children's play pen.  A wide-range of delicious options will be available to diners throughout the Iftar at the restaurant's numerous live stations. Hand-pulled noodles and ramen can be sampled at the Chinese station, while pani puri and traditional Indian favourites will be on offer at the Indian station. Don't miss the delicious handmade sushi from the Namu team, and a taste of Arabic delicacies at the Middle Eastern station. For the sweet lovers, be sure to visit the walk-in dessert counter to indulge in a huge variety of homemade desserts. Taking place daily, from sunset until 9.30pm, Iftar is priced at Dhs185 per person, inclusive of soft drinks, Dhs 60 for kids between 5-12 years, and free for kids under 5 years. Call 04-4355577 or visit dining@hiltonalhabtoorcity.com.
The Canvas Hotel Dubai – MGallery by Sofitel
Discover traditional flavours of Ramadan, courtesy of Estrellas Rooftop Lounge at The Canvas Hotel Dubai – MGallery by Sofitel, the poolside retreat serving lip-smacking food whilst overlooking a panoramic view of the Dubai Skyline. The Canvas Hotel presents an exciting menu during the holy month of traditional flavours, complete with a perfect view. Enjoy traditional favourites from the à la carte menu at Signature by Sanjeev Kapoor. Indulge in an elaborate buffet for Dhs149 in the warm and welcoming ambience of the exclusive Ramadan tent at Estrellas Rooftop Lounge. Iftar will take place daily from sunset to 9pm and is priced at Dhs149 per adult for an Iftar buffet. There's a 50% discount for children between 7 and 12 years of age. Call 050 274 3865.
If you're looking for an Iftar to try in the capital this Ramadan, check out our round-up of places to break fast in Abu Dhabi here.