We travel to W Bali – Seminyak, where impeccable service, vibrant seaside dining options and late-night parties make this playful, beachfront resort a fun-loving traveller's tropical paradise.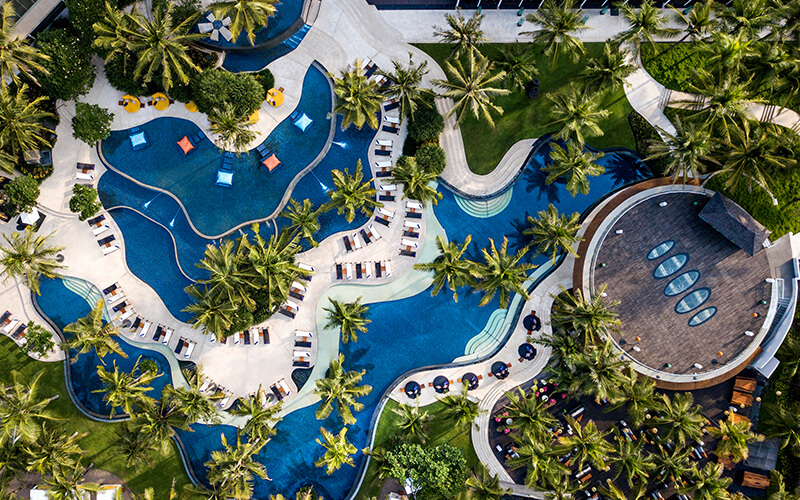 With its relaxing sandy beaches, lush rice paddies and pockets of barren, mountainous terrain, Bali's plethora of vacation offerings has firmly established it as a bucket-list destination for almost any type of traveller in recent years. For foodies, the island's growing dining scene – where local warungs now neighbour super cool cafés, luxury beach clubs and fine-dining eateries – has seen international chefs, such as Will Meyrick (Hujan Locale, Sarong, Billy Ho and Mama San) and Will Goldfarb (Room4Dessert) put their stamp on Bali's F&B industry with the openings of their own innovative concepts.
Authentic Balinese ingredients hold a fundamental role in many of the island's cultural traditions, from lavish spreads created for religious ceremonies, to the daily canang sari offerings that are spotted in front of houses, shops and temples, and often contain various items of food to demonstrate selflessness.
For those looking to make the trip and soak up the Bali way of life, a two-week getaway to the "Island of Gods" could see you exploring not only Bali's mainland, where you'll find lively tourist hotspots, traditional Balinese temples and iconic volcanoes, but will also give you time to comfortably visit its neighbouring islands. Take a short boat ride from Padang Bai port to immerse yourself in Indonesia's idyllic island lifestyle on Gili Air, party till the early hours on land or sea at Gili Trawangan, and take in Nusa Penida's stunning natural beauty at Kelinking Beach and Angel's Billabong.
Back on the mainland and just a short 35-minute drive from Ngurah Rai International Airport in Denpasar, we head to the W Bali in the popular tourist town of Seminyak – a stylish, upscale area scattered with quirky restaurants, high-end beach clubs and sea-view hotels.
ACCOMMODATION
In line with the hotel chain's focus around popular culture and vibrant design worldwide, W Bali's ultra-hip style is clear to see from the get-go. Tucked away on the corner of Jalan Petitenget, the W welcomes its guests via a leafy bamboo pathway, complete with onsite security check, before arriving at the hotel's expansive lobby. Here, elements of Balinese traditions weave their way into the W's signature, modern décor. Tiered chandeliers paying homage to those found in local temples and traditional bamboo rooster traps that are so often seen on Balinese roads add authentic touches to the lobby's striking interiors and hot pink hues.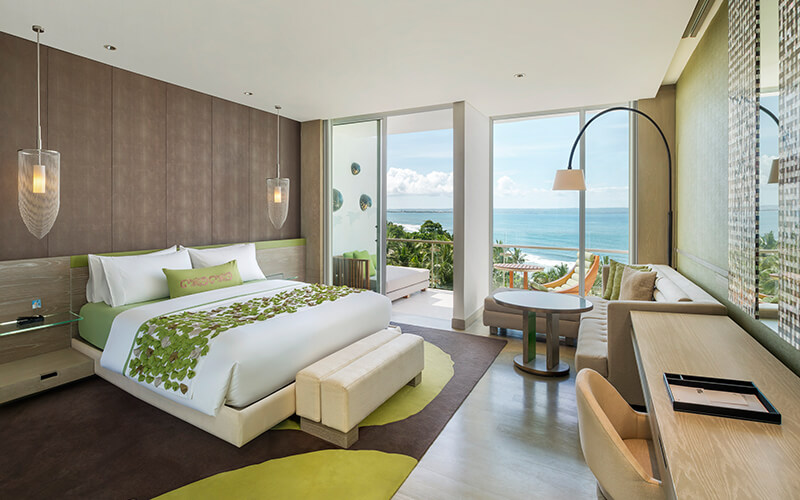 Of the resort's 229 rooms, ranging from the standard Garden Escape rooms to WOW Suites and Marvellous Pool Villas, the W's chic aesthetic taste is evident throughout. The clue is in the name with the "Spectacular Ocean Facing" rooms, which offer guests stunning views across the Wet Deck pool area and Indian Ocean from the comfort of the outdoor chaise lounge. Inside, the rooms are tastefully decorated with flashes of gorgeous green swirls and polished wooden and terrazzo flooring, taking inspiration from Bali's jungle areas.
For a more private retreat, hop on to a buggy at the main lobby and take the short drive down tree-lined cobbled pathways, before checking in to a Marvellous One Bedroom Pool Villa. Encased in its own tropical oasis, surrounded by overhanging trees and beautiful bougainvillea flowers, the villa offers the best of both worlds; an intimate escape away from it all, while still granting guests access to the hotel's onsite facilities and 24-hour "Whatever/Whenever" valet service.
DINING
Delicious dining options are aplenty at the W Bali, particularly if you're heading to the resort over the weekend as the hotel's two major eateries – Starfish Bloo and FIRE, host their infamous Sunday brunches, but more on that later.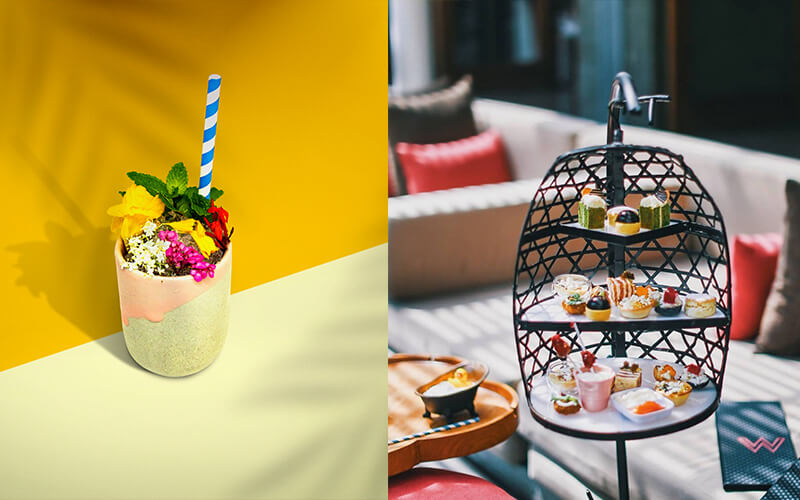 For a quirky twist on the traditional "high tea" concept, spend an afternoon down the rabbit hole at the W Lounge's Mad T-Party. Highlights from the "Hey, Sweetie" package include rose and raspberry macarons, green tea cheesecake and beef tataki rice cakes. For those with less of a sweet tooth, the "Savour Me" package features a range of bitesize delights, such as smoked salmon mille-feuille, olive and goats cheese lollipops and, my personal favourite – the spicy crab tacos with a fiery sambal mayo. Packages start from IDR 385,000 (approx. Dhs100), and afternoon tea is served daily from 2:30pm in the W Lounge.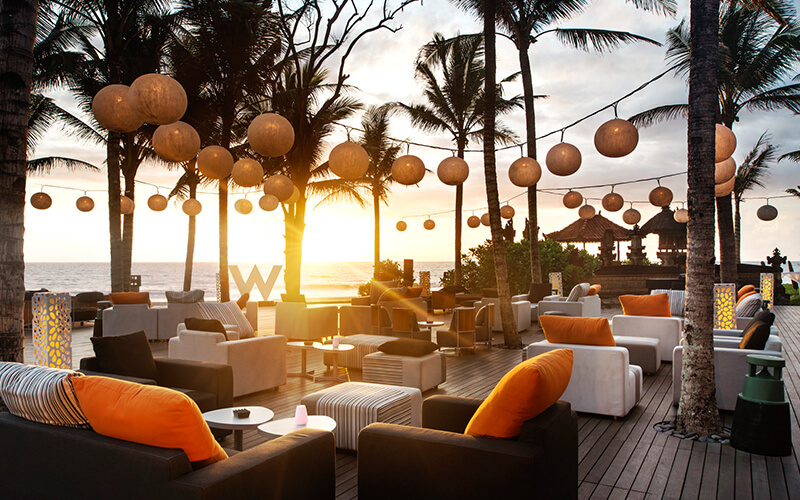 See out the day by soaking up all that Seminyak's stunning sunsets have to offer at Woobar, where its low-hanging lanterns and ultra-comfy, laid-back loungers offer the perfect spot for sundowners. Have a word with head mixologist, Villa, and allow him to create you the cocktail of dreams at the Mixologist in Action station on the lower deck, and sample beachfront bites from the menu as you watch the sun go down – the chicken and beef satay skewers are delicious!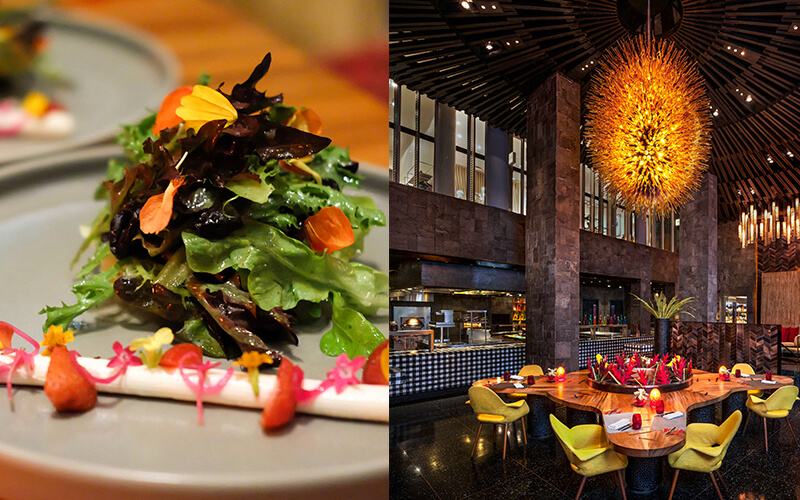 For a more formal outing (though, nowhere in Bali seems to come with a rigid dress code, and there's certainly not the need for heels – music to my ears!) head to FIRE to check out the selection of top-quality steaks, grilled fish and Asian-inspired dishes on offer. The hanging poleng pendants, which feature Bali's traditional black and white checkered design, and the restaurant's central point – a striking Kecak fireball chandelier made from burnt timber strips, bring aspects of Bali's heritage design into modernised surroundings in a tasteful and subtle manner. On the menu, we can't help but notice (and admire) the addition of homegrown ingredients from the onsite garden to various dishes. The "Chef's Garden" – a 326 square-metre plot in the hotel grounds – grows fresh fruits and vegetables to be used in all F&B outlets onsite, from cherry tomatoes and mixed greens, to herbs, edible flowers and microgreens. A standalone testament to the Garden's role at the property is highlighted in the Chef's Garden Greens dish from FIRE's starter selection – where guests can sample the ultra-fresh veggies for themselves. For a slightly heavier option, we recommend the confit pork belly, served with barley risotto, blistered tomatoes and wilted butter lettuce. The pork's crispy golden edge provides that ever-satisfying crunch when bitten into – the way that a great salty crackling should, while the meat itself is beautifully tender. For mains, there's a fantastic selection of cuts to choose from, should steak be your choice of dish. We're a huge fan of the Stockyard silver label sirloin – a Wagyu 8+ that's rich in flavour and cooked to perfection. To finish, don't miss FIRE's 64% melting sphere – a must-try for chocolate lovers. The richness of the chocolate is complemented by a deliciously light white chocolate mousse, while the passionfruit jelly and lemon popping candy are welcome citrus contrasts that help to create the ultimate sweet treat.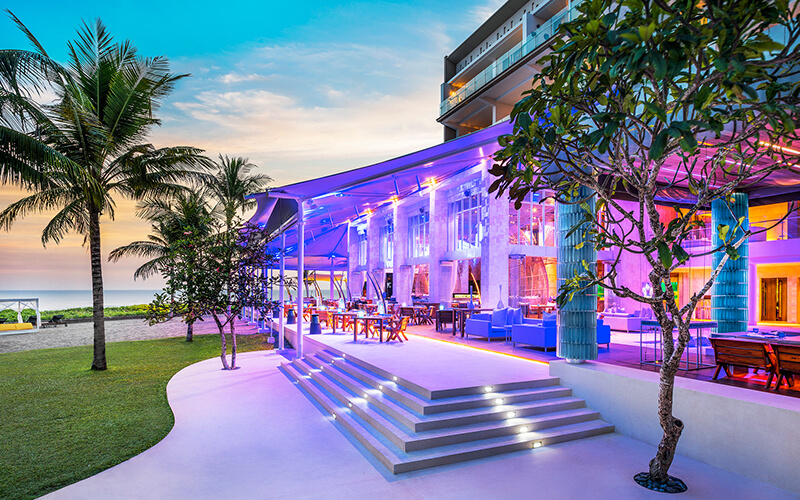 Last but not least, the "scene to be seen" brunch at Starfish Bloo – the W's shoreside, open-air restaurant that faces the crashing ocean waves on Seminyak's beach, mirrors a popular concept that our Dubai readers will undoubtedly know all too well. Switching up the UAE's traditional Friday brunch schedule, Starfish Bloo's Sunday offering has it all; a wide variety of sweet and savoury dishes from eggs-any-way to curries, sushi to pastries, to the Insta-worthy W donut wall. In true W style, there's a "detox" station for those seeking a revitalising lunch before the night ahead, where guests can find freshly made juices, smoothies and dishes ladled with vitamins and nutrients. Reverting to our love for local ingredients, the brunch serves up a selection of seafood – including oysters, mussels, clams, prawns and crabs – that are brought fresh off the boat to the W Bali, directly from Jimbaran and Lombok. There is also a traditional Balinese suckling pig, flavoured with local sambal spices and served with lawar (a mixture of vegetables, coconut and minced meat mixed with rich herbs and spices) and urab (a well-known Balinese salad.) Brunch packages start from IDR 585,000 (approximately Dhs150) per person.
ON-SITE FACILITIES
Perfect for the party people and spa seekers alike, the W Bali is a hotel that can do both. There are regularly DJs playing late into the night at WooBar after the sun goes down, where avid party-goers move from the terrace to the underground bar to dance the night away. But if it's some well-deserved R&R that you're looking for, the onsite AWAY Spa is open 24-hours a day, seven days a week and offers an extensive menu of treatments – from the traditional Balinese massage, to the "Morning After Detox Massage" for those seeking some TLC after a long night.
The hotel's tiered pool area – named Wet Deck – is mirrored on yet another Balinese feature, designed to signify the rice paddies that are often found inland at the island's hillside hamlets. From your sunbed, you'll also spot the hotel's latest sustainability initiative – in the form of a large, wired fish, named Goby. In a bid to reduce plastic usage and subsequent litter found on Bali's beaches, Goby serves as a large bin for people to discard their waste, rather than allowing it to pollute the oceans and nearby shores.
The bottom line: A lively and luxurious resort at the heart of Bali's main tourist coastline, providing easy access to some of the country's best-loved activities that will leave you wanting so much more from this beautiful, vibrant island.
Details: Emirates Airlines have daily direct flights from Dubai International Airport to Denpasar International Airport. W Bali can arrange transfers from the airport to the hotel, which can take up to 45 minutes one-way. To learn more, call +62 361 300 0106.