We journey to Anantara Kihavah Maldives to discover this stunning island's unflawed beauty, culinary delights and unforgettable experiences.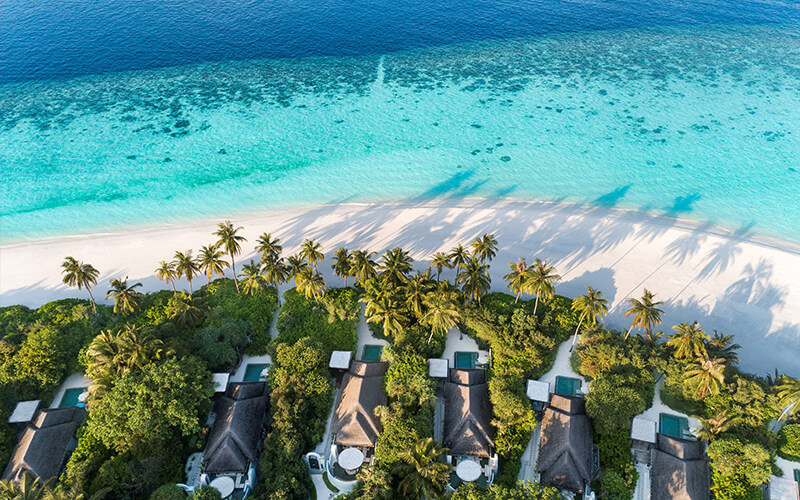 It's the glimmering turquoise waters – their colour as bright as cerulean blue, that first catch my attention as we begin our descent into Malé Airport. It's only then that it finally hits me that I am in the Maldives for the first time (and, naturally, I let out an involuntary squeal of excitement on the plane.) Islands of all shapes and sizes with snow-white sands and luscious pockets of greenery are dotted along our flight path to the mainland – just a mere selection of the Maldives' 1,200+ islands.
After a 35-minute seaplane journey north of the capital, we arrive at our home for the next few days – Anantara's stunning, private Kihavah island. Translating as "young coconut", it seems only fitting that our welcome to Kihavah – which includes a performance from bodu beru drummers – also features a thirst-quenching coconut, cut from the towering trees above us just moments earlier. Following a super smooth, faultless check-in process, we're soon whisked off by our personal butler via golf buggy in search of our private villa.
Checking in
It's golden hour on the island when we arrive, and as we wind our way through its sandy pathways to the beat of the bodu beru drums – a sundown ritual that takes place daily at Kihavah, we arrive at our home for the weekend. Of the 80 villas available on the island, which range from overwater pool villas with direct sunset views to beach villas with a private pool and direct access to Kihavah's shores, we're staying in the latter during our visit. Suitable for both couples and families alike, accommodation options are aplenty to cater for various party sizes – from one- and two-bed beach villas, to four-bed overwater residences.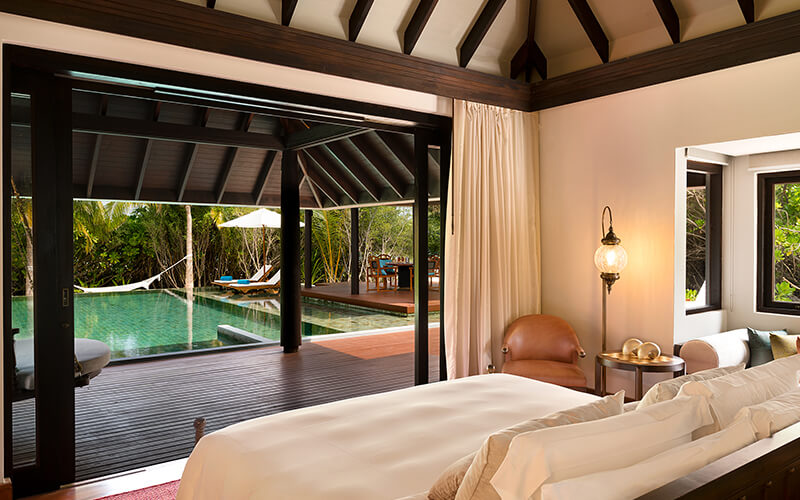 Privacy is paramount throughout the island, but particularly in the beach villas. Each villa is enclosed in its own private oasis – sealed off from the public pathways with walled gardens and a large wooden entrance door. Inside and down the garden path is a shaded terrace, private pool and a swinging chair big enough for the two of you to laze on with a morning coffee. We spot the tree-lined pathway through the opening in the hedges, scattered with miniscule geckos by day and low-flying bats by night, which leads us directly onto just one of Kihavah's many beaches. A few more steps, and we find ourselves paddling in the waves and catch a quick snap of the beautiful sunset. So gorgeous, that I now have the very photograph on my bedroom wall – a stunning scape of fluffy lilac clouds contrasting the sky's burnt orange rays.
The villa's interiors are just as spectacular as its exteriors; inside, you'll find an ultra-comfy king-sized bed, a well-stocked Nespresso machine for fuelling those sunrise seekers, and a sketchpad and pencils for those looking to recreate these magical moments on paper.
But the pièce de résistance of the property is undoubtedly the outdoor bathroom to the rear of the villa. Highlights include a heavenly waterfall shower and a double-sized jacuzzi bathtub – all accessible via stepping stones over the villa's very own shallow lagoon.
Dining at Kihavah
When I planned this trip, I had visions of spending the weekend devouring ultra-fresh seafood, juicy tropical fruits and, of course, sipping on countless coconuts – and it seems I wasn't wrong in my predictions. Dining options are aplenty on the island, so whether its a mesmerising underwater culinary delight with the fishes that you're after, or a romantic candlelit dinner on the beach with your toes in the sand, Kihavah has it all.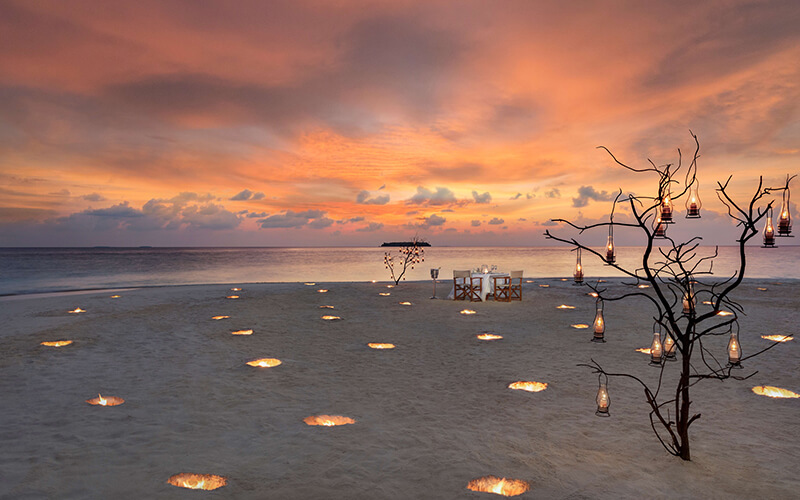 In signature Anantara fashion, the Dining by Design is a truly personal experience. A specially devised menu is prepared by a personal chef and served at a table by your butler in your chosen location, whether on an isolated sandbank in the Indian Ocean or on the deck of a private yacht. We opt for the beachside option, and in case a private dinner for two – lit only by hanging lanterns and candles – isn't romantic enough, the heart-shaped table buried in the dunes for your pre-dinner aperitif certainly helps in creating a dream dinner for lovebirds. On the menu, we enjoy a refreshing salmon salad to start, injected with a sharp citrus flavour from the yuzu, lemon and truffle dressing. For main course, the chef prepares a Tajima tenderloin, yielding a marbling score of 7/8. It's caramel-like texture means every bite simply melts in the mouth, leaving a silken finish of beef and butter on the tongue. Served with an Atoll lobster tail and baby vegetables, it's my most memorable surf'n'turf to date. To finish, we're served a lovely light cheesecake, delicately flavoured with strawberry and served with a strawberry and lychee sorbet.
Lunch the next day is served in Kihavah's underwater restaurant, SEA. As we arrive on the jetty to the land-level bar, we enjoy picturesque, 360-degree views of the island and its surrounding waters, before we make our way under the sea. I count just eight tables (including our large table, seating 7 people) in the entire restaurant, so it certainly has an exclusive feel. It's also the only fully-indoor restaurant on the island, but I'd certainly sacrifice an afternoon of sunshine to experience the deep blue. As we take our seats, we're greeted with a welcome from both the waiting staff and their trusty marine life friends – who surround us in the glass-encased, hexagonal restaurant. During our meal, we're fortunate enough to see the likes of baby sharks, sea turtles and colourful schools of fish gliding past just a short distance from our table, as we consult the "Reef Fishes of the Maldives" book that is strategically placed on our table to familiarise ourselves with the vast range of breeds swimming by.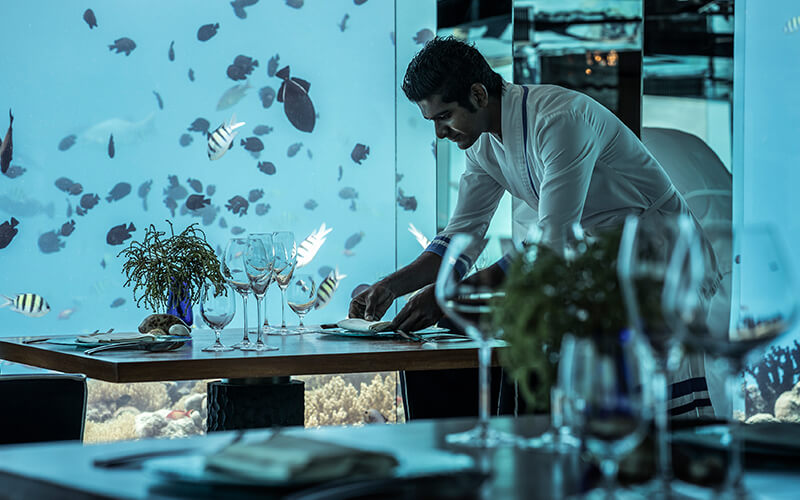 We opt for the Sea Sparkling Lunch menu – a four-course selection with beverage pairings that offers an extensive choice of both land and sea dishes. Don't miss the seafood platter for main course; a light, refreshing taste of the ocean waters, featuring small servings of reef fish, yellowfish tuna, scallops, prawns and lobster, served with a swirl of rich, nutty romesco sauce. We gladfully spend the afternoon spying every passing "Nemo" and "Dory" and learning about the resort's conservation efforts from the restaurant staff. It's my personal highlight of Kihavah's dining offerings, and one that I can't recommend enough. Unsurprisingly, many guests from neighbouring islands make the journey to Kihavah to enjoy it for themselves!
Those looking for an out of this world experience (quite literally) should pay SKY a visit; Kihavah's stargazing deck. Here, we enjoy a private astrology session, courtesy of the island's sky guru, Shameem. As we tuck into our three-course meal, which consists of a trio of Atoll lobster, a duo of wagyu beef, and a strawberry meringue spheer, he talks us through each star's story. Later, we peek through the Maldives' most powerful telescope and see the moon up close and personal in all its fine detail.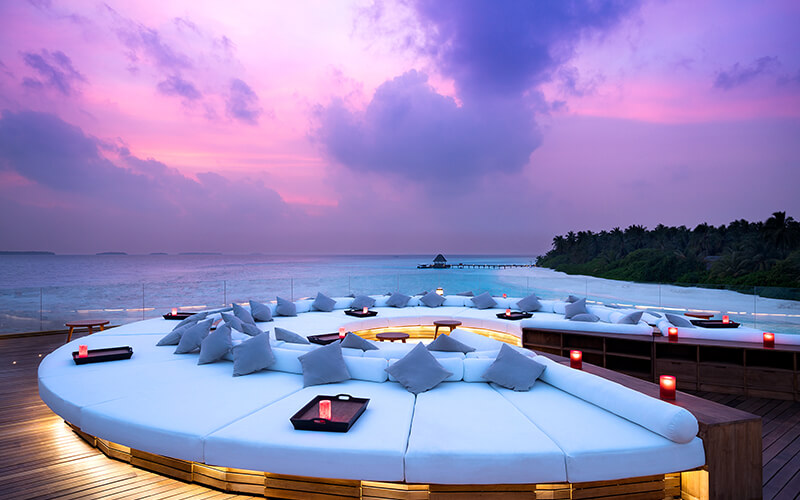 Island living
As I make my way around the island, (which takes approximately 20-minutes on foot, much less on your personalised bicycle) I understand why many say they "don't get bored" in the Maldives. For those who like to stay active during their vacation, Kihavah offers Muay Thai classes for guests, plus access to tennis courts and a fully-equipped fitness centre. For the creative minds, there's a beachside art class with the island's resident artist, or a cooking class for those looking to try their hand at authentic Maldivian cooking.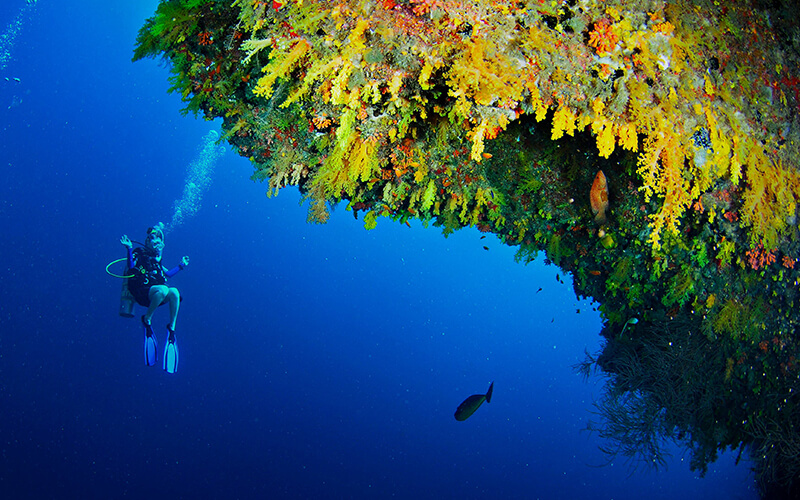 But the island's main attraction for holidaymakers is its stunning house reef, affectionately known by the locals as the Golden Wall. Simply slip on your snorkel and venture from your villa straight into the waters, and within minutes you'll be in full view of the surreal beauty that lies beneath. For the watersport lovers, venture out into the deep blue aboard a jetski, paddleboard or kayak, or dive beneath the surface with a jetpack seabob – an environmentally friendly jetpack that allows you to move at speed while discovering the island's marine life.
For those looking to relax and rejuvenate, pay a visit to Kihavah's overwater spa – which was undergoing major refurbishment during our visit. Nevertheless, its glass-bottomed floors beneath treatment beds for those all-day ocean views are not to be missed. We also enjoy the signature in-room slumber guru experience; an evening villa ritual that begins with a 90-minute massage on the terrace, before making your way to the rose-petal adorned bathtub, lit only by candles, for a long hot soak before bed. Kihavah also has a Deluxe Spa Pool Villa onsite, that offers guests a dedicated spa therapist and unlimited daily spa treatments. Now that's what I call R&R!
Memories to last a lifetime
With its unflawed beauty, impeccable service and outstanding dining experiences, Kihavah truly has it all and more. As my first (and hopefully not the last!) trip to the Maldives, my time spent here will forever hold a special place in my heart – and that is all down to the incredible memories made on the island. For an escape that will undoubtedly leave you feeling carefree, rejuvenated and stunned by nature's best kind of beauty – Kihavah awaits.
Details: For more information, visit anantara.com/en/kihavah-maldives. To read more of our international travel reviews, click here.