Get lost in the colourful streets of Kinsale, soak up the fresh sea air at Inchydoney beach and revel in five-star grandeur at The K Club on our stunning coastal road trip of the Emerald Isle.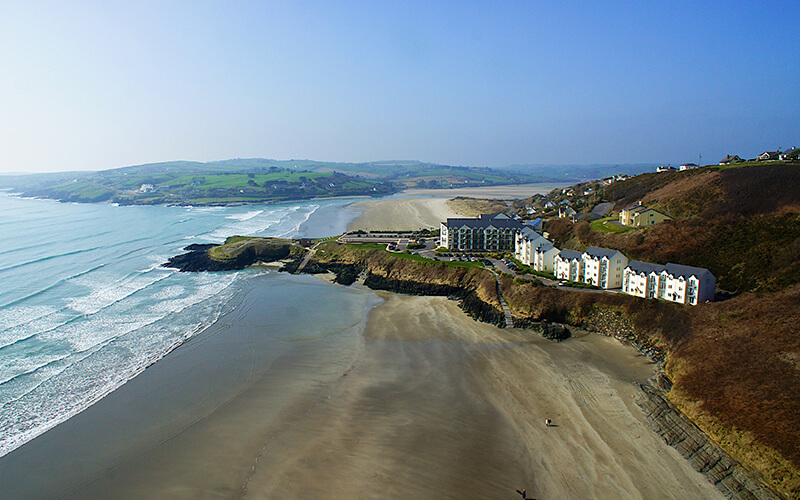 Inchydoney Island Lodge & Spa, Clonakilty
Best for deserted sandy beaches and outdoor pursuits
Off the coast of West Cork and just a short drive from the quaint town of Clonakilty sits Inchydoney – a tiny island with large beaches and grassy coastal trails, connected to the mainland by two causeways. Perched above Inchydoney beach and set into the rugged coastline is the island's namesake lodge and spa, offering unparalleled ocean views and a cosy place to rest your head after a day of outdoor activities. Staying guests can take advantage of the hotel's numerous excursions, from surfing, kayaking and whale watching, to hiking on nearby dunes.
The hotel has a homely feel to it, finding the perfect balance between luxurious and comfort. Rooms are decorated in soft, neutral tones, with local artwork from surrounding beaches and landmarks adorning the walls. Head upstairs to The Lounge for afternoon tea or a pre-dinner aperitif and sink into the ultra-comfy leather sofas as the open fire roars and pianist plays. The hotel's restaurant, The Gulfstream, uses predominantly Irish ingredients to comprise its menu, with local suppliers namechecked throughout. For a hearty dinner following a jam-packed day of activities, try the roasted rump of West Cork lamb with a honey mustard and parsley crust, fondant potato and smoked aubergine, topped with a tangy black olive jus. Lighter options include the pan-friend monkfish with a red pepper potato cake, or the Castletownbere cod wrapped in prosciutto and served with a caramelised shallot potato puree. Wake the next morning to the sound of crashing waves from your balcony before heading for breakfast. Grab a table by the window, a strong coffee and enjoy a delicious plate of scrambled eggs with Ummera Smokehouse's locally smoked salmon, as you take in the ocean views.
If the broody skies cloud over, spend the day curled up with a good book in the hotel's luxurious leisure facility, home to Ireland's only seawater spa. Or, venture into the centre of town to visit Clonakilty Brewing Company, founded by Norwegian native "Thirsty Frank" after his move to Ireland six years ago. Using predominantly local ingredients, including water from the filtered well in the brewery's car park, Frank and his team aim to create 2,000 bottles a week of their four core brews. Call ahead to arrange a tour of the brewery on +353 87 924 6105.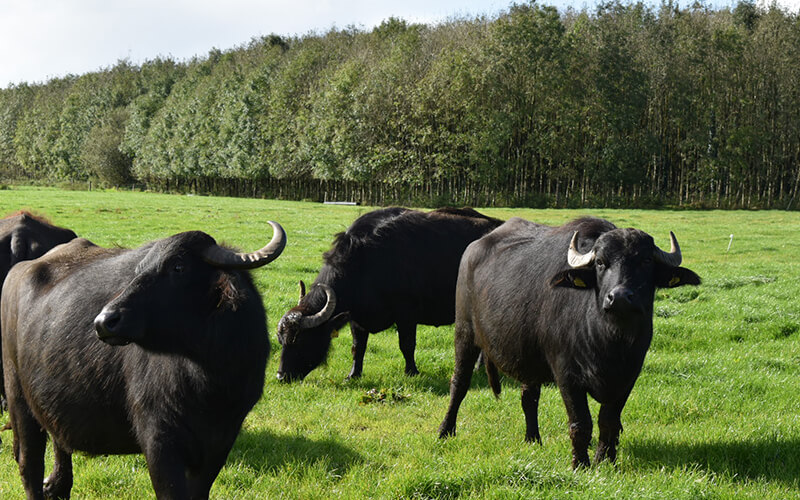 Should the weather be in your favour, make the trip to Ireland's only buffalo farm in Macroom (a 50-minute drive by car from Inchydoney.) Since opening more than a decade ago, Johnny Lynch and his wife Geraldine have built up their empire from scratch, initially importing 31 buffalos from Cremona, Italy to begin production. Now, the farm in Macroom produces more than 1000 litres of milk per day, and Johnny sells his produce under Macroom Buffalo Cheese Products Ltd – including mozzarella, Greek-style cheese, ricotta, halloumi and bocconcini – to low-cost supermarket Aldi, as well as local delis across the country. Tours of the farm are available, and those interested are advised to contact the farm directly via the website (macroombuffalocheese.com)
Details: A bed and breakfast stay at the Inchydoney Island Lodge & Spa starts from €169 (Dhs692) per night. The hotel is a 3.5-hour drive from Dublin International Airport. Buses run daily from Clonakilty to Cork, where onward connections by rail and air can be made for those travelling without a car. (inchydoneyisland.com)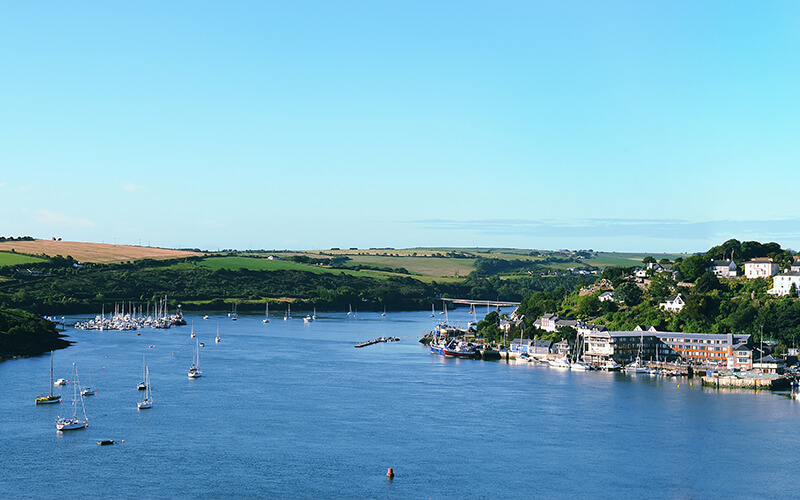 Trident Hotel, Kinsale
Best for fabulous seafood and waterside charm
Nestled between the hills and south-west Ireland coastlines lies the picturesque town of Kinsale. This vibrant harbour, guarded by the 17th century star-shaped Charles Fort – one of the largest military installations in the country, is steeped in history, filled with narrow winding streets, quirky gift shops and a heartfelt love for all thing's good food.
Perched on the town's edge, just a short 8-minute walk from the centre, is the Trident Hotel; a four-star lodging with panoramic views of Kinsale's bustling harbour, and home to three onsite restaurants. Best known for its seafood, guests can expect an array of freshly caught local fish on the menu. Head to Pier One, the hotel's first floor restaurant with water views, for the ultra-fresh seafood symphony; a delicious plate of turbot, mackerel, salmon and hake, simply flavoured with a chilli and garlic essence.
Known as the "gourmet capital" of Ireland, Kinsale has established its reputation over the years in providing visitors with high-quality dining options through its very own Good Food Circle. Comprised of 11 restaurants dotted around the town (the Trident Hotel being one of them), the town's true love is celebrated once a year at the annual Kinsale Gourmet Food Festival. Every October, Kinsale's dining scene comes alive with a weekend of festivities, beginning with a champagne reception and followed by the popular Mad Hatter's Taste of Kinsale. Each attendee is assigned a group leader – either Alice, the Mad Hatter, Queen of Hearts or the March Hare – before embarking on an escorted foodie tour through Kinsale's colourful streets, visiting member restaurants and enjoying samples of their signature dishes at every stop. For those looking for a true taste of the Irish 'craic, be sure to mark your calendars for the 2020 event (dates to be confirmed).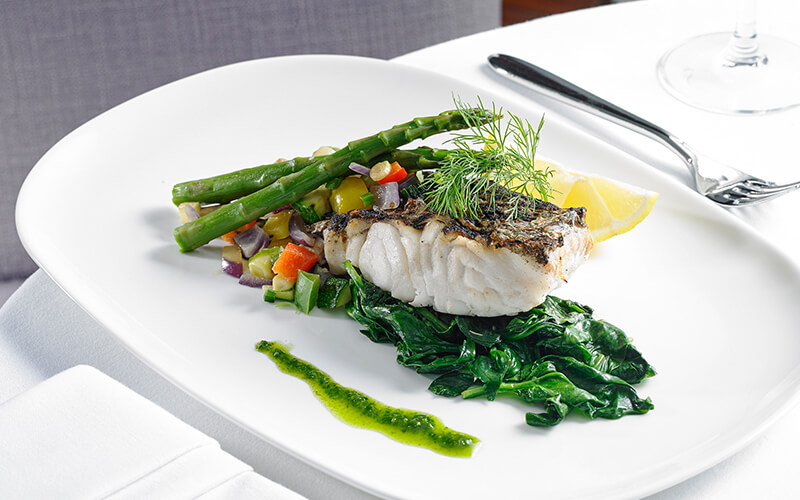 Trident Hotel's convenient location also lends itself well to visitors looking to explore the local area, with a regular bus service to Cork City and just a 20-minute drive to Old Head Golf Links – one of the most revelled golf courses in the country. Spend a morning at the famous English Market in Cork; a bustling indoor hub of local farmers, fishermen and small-scale producers – some long-standing, some new to the area – all with the same goal of bringing fresh Irish produce to Cork residents and visitors. Head upstairs to Farmgate for a hearty breakfast (which also offers a great view of the stalls below) before you begin weaving your way through the various delights on offer. Visit On The Pig's Back for a fantastic choice of cured meats and cheese (be sure to try the Cais Na Tire, produced in County Galway), or join the queue at Alternative Bread Company for your pick of fresh loaves.
Kinsale also marks the gateway to the Wild Atlantic Way – a 2,500km coastal journey from Kinsale in County Cork, to Inishowen in County Donegal. An ode to Ireland's natural beauty, it's certainly worth hiring a car and completing even just a fraction of the journey to enjoy its unspoilt sandy beaches, rural retreats and spectacular views.
Details: A bed and breakfast stay at the Trident Hotel Kinsale starts from €125 (Dhs513) per night. Kinsale is a 3-hour drive from Dublin International Airport, or a 20-minute drive from Cork International Airport. (tridenthotel.com)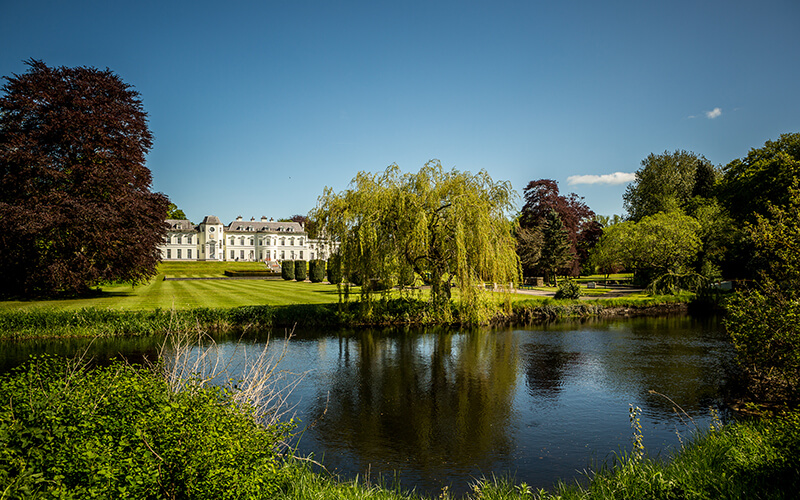 The K Club, Kildare
Best for golf fans and old-world beauty
After hosting the 2006 Ryder Cup, the 2016 Dubai Duty Free Irish Open where we saw Rory McIlroy's European Tour Shot of the Year and 13 European Opens, The K Club has established itself as a bucket-list destination for golf fans worldwide. Situated in County Kildare, just 30-minutes from Dublin, the area is best known for its thoroughbred horse-breeding. With three top-class courses to choose from – Curragh, Punchestown and Naas – it's the ideal spot for those looking for a classy day out at the races.
For onsite activities, The K Club has plenty to offer aside from golf. Explore the 550-acres of grounds either on foot or by bike on a guided tour, venture to the nearby River Liffey for an afternoon of kayaking or try your hand at clay-pigeon shooting at Abbeyfield Farm, with prices starting at €65 (Dhs265) per person.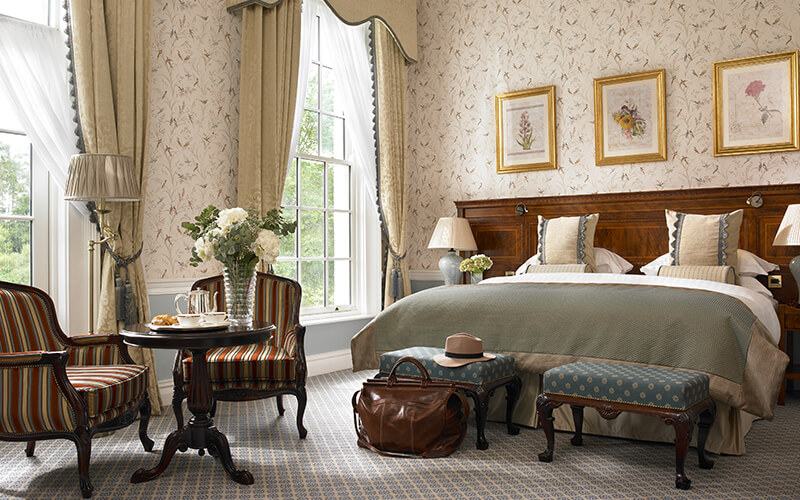 The resort exudes grandeur from the moment you enter the drive-way, and its opulent exterior is matched by its old-world beauty and classic 19th century style throughout. Rooms are elegantly decorated taking inspiration from French style chateaux, with no two suites being the same. It's more country manor than hotel in both its appearance and ambience, with staff roaming the corridors of each wing and always on-hand to help. The various libraries, lounges and cosy alcoves throughout the property bring with them a nostalgic feel, taking me back to childhood days of wanting to explore, get lost and discover the many treasures to be told in each room.
For traditional, fine-dining fare during your stay, the in-house Byerley Turk restaurant serves elegant starters of seared west coast scallops or slow-cooked belly of suckling pig, and mains including a fillet of wild Irish venison or monkfish served with beach mushrooms, fresh garden peas and locally-sourced mussels. There is also a Thai restaurant located at the clubhouse with views over the golf course, serving dishes with strong Lao and Burmese influences. Enjoy a full Irish breakfast in The River Room overlooking the resort's landscaped gardens and the banks of the River Liffey, and be sure to stop by the Vintage Crop Cocktail Bar for a pre-dinner aperitif and a game of draughts.
Details: A bed and breakfast stay at The K Club starts from €219 (Dhs897) per night. Kildare is a 30-minute drive from Dublin International Airport. (kclub.ie)
Emirates Airlines and Etihad Airways both have direct daily flights to Dublin International Airport from the UAE. Prices starting from Dhs2795 (approx.) during low-season. If you enjoyed this article, you may be interested in reading more of our international travel stories here.