When using dairy, no other products match the versatile qualities of French cream. Here pastry chef Aaliya Randeree shares a recipe using the staple ingredient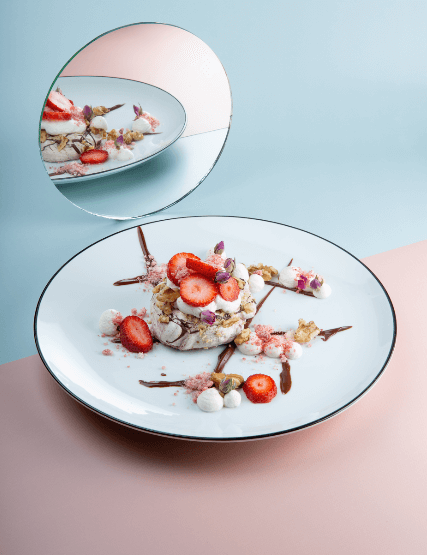 FOR THE PAVLOVA
Yield – 20 pcs (20g each)
120g egg whites
250g sugar
1 tsp white wine vinegar
1 tsp corn flour
1 tsp vanilla
100g walnuts, chopped
100g dark chocolate, melted
Maldon salt
Preheat the oven to 120° C.
Whisk egg whites in an electric mixer fitted with a whisk attachment until it forms a stiff peak, add the sugar one tablespoon at a time until the meringue is stiff and glossy.
Whisk in vinegar, corn flour and vanilla.
Fold in half of the chopped walnut then swirl in the 3⁄4 melted chocolate.
Weigh 20g of meringue onto baking paper then shape each one into circles creating a crater by making the sides a little higher than the middle. Sprinkle with walnuts and maldon salt then drizzle chocolate.
Bake at 120° C for 40-60 mins. Turn the tray after the first 30 min. Turn off the oven and allow to cool completely.
DARK CHOCOLATE GANACHE
140g (70%) chocolate
150g cream
50g butter
Melt over Bain Marie, mix till well combined.
ROSE WHITE CHOCOLATE CRUMBLE
150g caster sugar
40g water
105g white chocolate
10g rose water
Pink food colouring
Boil water and sugar until just about to turn brown. Whisk in white chocolate, rose water and red food coloring.
ROSE AND HONEY CREAM
400g cream
125g Mascarpone
15g dried roses
25g honey
1 tsp rose water
Heat cream, dried roses, honey and rose water till 50° C.
Allow to cool complete, ideally chill over night (this allows for better infusion) and then strain. Whisk cream and mascarpone.
TO ASSEMBLE
Slightly melt the ganache. Using a teaspoon create lines on your plate. Place a pavlova on the plate and fill it with the whipped Rose and Honey Cream and sliced strawberries.
Pipe some of the cream onto the plate as well.
Garnish with Rose White Chocolate Crumble, Walnuts and dried Roses.