Sponsored: This Wagyu Truffle Burger recipe from CarniStore is often referred to as the most epic burger in the Universe, by loyal customers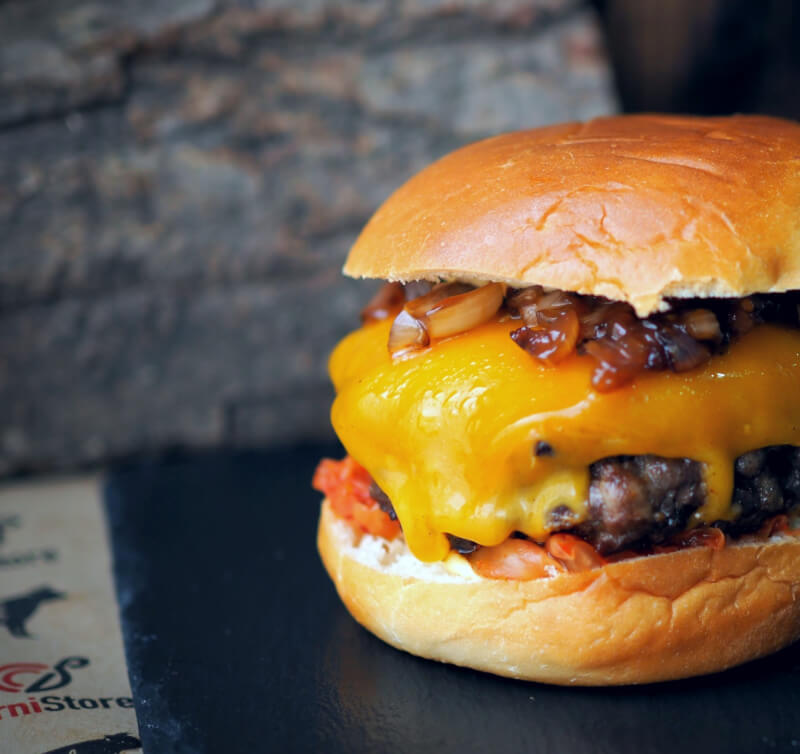 CarniStore's Wagyu Truffle Burger is a concoction that was several years in the making. It comprises 5 specially-crafted ingredients, with the wagyu meat boasting a marbling score of 7+. The characteristics of wagyu fat are such that it melts at 25 degrees, slightly above room temperature. As such, the fat renders quickly during cooking and keeps the patty tender and juicy.
To add flavour depth, we top our patties with caramelised onions. At CarniStore, the onions are simmered with balsamic vinegar and light brown sugar, for over 20 minutes, until soft with acidic sweet flavours. Finally, burgers are taken to the next level with Japanese mayo mixed with Chef's Choice white truffle oil.
Wagyu Truffle Burger 
SERVES 4
600g wagyu mince, formed into 150-gram patties
4 Martin's Potato Buns
4 aged cheddar slices
1 large onion
2 tbsp butter
1 tbsp groundnut oil, butter or ghee
1 tbsp balsamic vinegar
1 tbsp light brown sugar
2 tbsp premium Japanese mayo
1 tsbp Chef's Choice white truffle oil
Sea salt to taste
Salt the patties on both sides for 30 minutes before cooking. In a nonstick pan, heat butter over medium heat and add in sliced onions. After 5 minutes, when the onions start to become translucent, add salt, vinegar and sugar. Maintain medium heat and continue to simmer for 15 minutes, until the onions are soft. Set aside in a bowl.
In a separate small bowl, mix together the mayo and truffle oil until they emulsify.
Butter both sides of the potato buns and toast lightly in the pan until a gentle golden crust is formed on the inside of the bread. Remove from heat and add one teaspoon of truffle mayo to each side of the bread, spreading evenly.
Heat groundnut oil in a pan over high heat. Place the burgers and grill about 4-5 minutes per side. During the last minute, add a slice of cheese on each burger to achieve the desired melting.
Remove each burger and place directly onto a bun that has been toasted and appropriately mayo'd. Add a generous amount of caramelized onions and close the burger with the top section of the bun.
You don't have to go shopping for individual ingredients, to sate your cravings. CarniStore has put together a Wagyu truffle burger kit that includes everything you need for this recipe. Click here to shop the burger box and have it delivered right to your doorstep.