Sponsored: Rangitikei free range chicken is tender and delicious with no artificial flavours, ingredients, colours or preservatives. Raised in New Zealand with no added hormones, you can trust Rangitikei to deliver authentic great tasting chicken.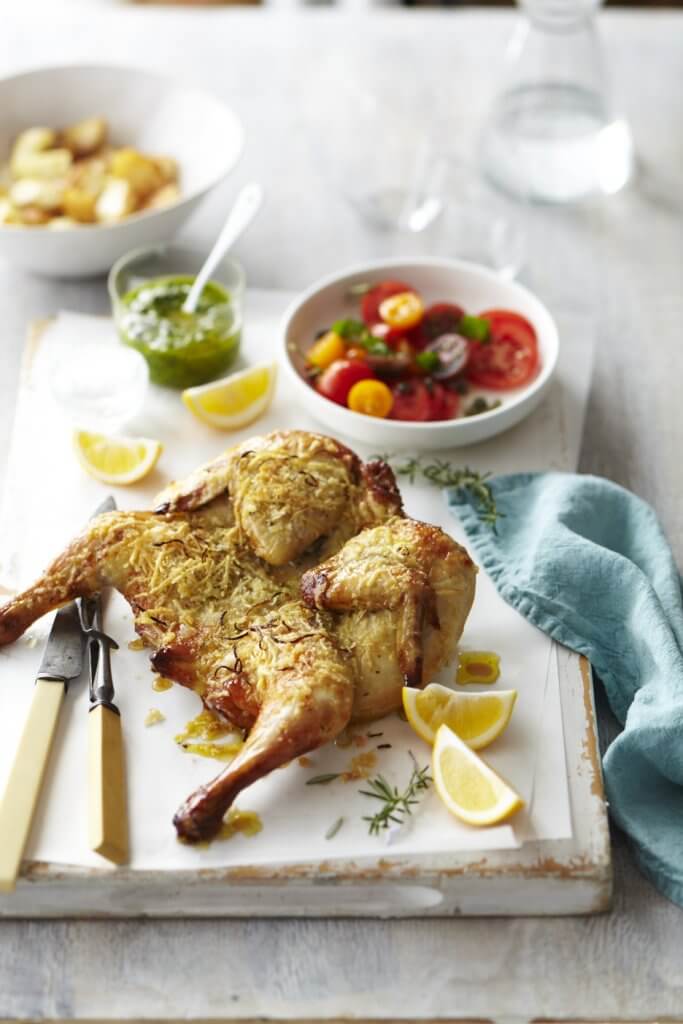 Roast chicken is loved by all, but on weeknights, time is of the essence. This is where the super-easy three-step method of butterflying a chicken comes in handy!
Step 1: To butterfly a chicken, place it breast side down.
Step 2: Remove the backbone with kitchen shears.
Step 3: Flip the chicken and simply press firmly on the breastbone to break it and flatten the chicken.
Once you butterfly the chicken, try this hearty roast for a quick and easy meal.
Butterflied Chicken Roasted with Panko Parmesan Crust served with Salsa Verde
Ingredients
1 Rangitikei chicken
400-500g baby potatoes, halved
1/4 cup parmesan cheese, finely grated
half cup panko bread crumbs
1 tbsp olive oil
1 tsp lemon zest
FOR THE SALSA VERDE
1 packed cup baby spinach leaves
1 small bunch Italian parsley, roughly chopped
1 small shallot, diced
1 clove garlic
half tsp sea salt
2-3 tbsp boiling water
1/4 cup olive oil
Method
In a small bowl, mix together fresh rosemary, garlic, and lemon with generous amounts of sea salt and freshly ground black pepper. Marinate the chicken in the sauce for at least 30 minutes – the longer the better.
Pre-heat the oven to 175C and line a roasting dish with baking paper. Lay the baby potatoes around the base and place the butterflied chicken in the middle. Roast the chicken for 30 minutes. Meanwhile, whizz the parmesan, panko, garlic, and oil in the food processor to make fine crumbs. Sprinkle over the chicken and cook a further 25-30 minutes or until the chicken is golden and cooked through and the potatoes are tender.
For the salsa verde, place the spinach, parsley, shallot, garlic, and salt in the food processor and whizz until finely chopped. Add the hot water and blend until smooth. Then add the oil and mix until combined.
Serve the butterflied chicken in pieces with the roasted potatoes and salsa verde with a tomato salad on the side.
Rangitikei free range chicken is currently available at Prime Gourmet, Park n Shop and select Choithrams stores.