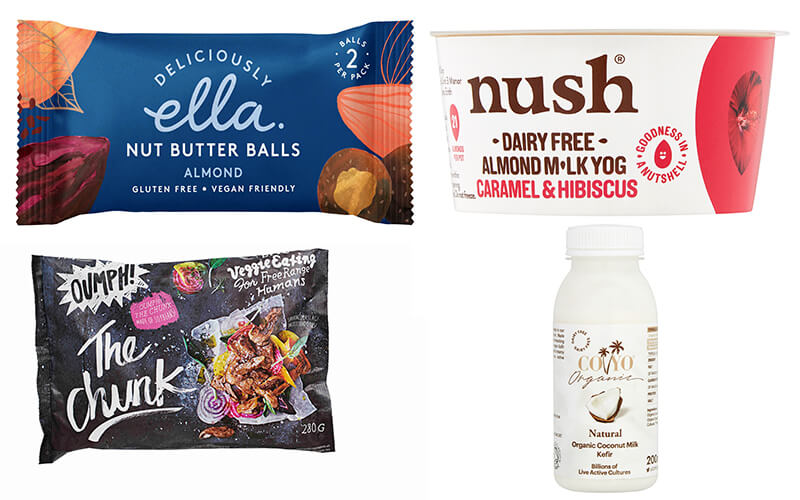 Online food delivery company, Kibsons has introduced new items to their vegan category and are now available for purchase through kibsons.com. Veganism is becoming an increasingly popular lifestyle, not only does it help the environment, but it also comes with great long-term health benefits – we will all be thanking our younger selves in the future for incorporating the healthier regime.
New items include Deliciously Ella's Nut Butter Balls (Dhs9 per packet), which are made by blending almonds, cocoa and dates to make chocolatey balls, filled with a creamy, nut butter centre – making them the perfect afternoon snack. Priced at Dhs20 per packet, Oumph! The Chunk is a new plant-based food that is made from soya protein, extracted from Non-GMO, sustainably sourced soya beans.
Made using traditional age-old methods by fermenting organic coconut milk with live, vegan kefir cultures to produce a delicious rich and creamy kefir brimming with billions of live active cultures, Coconut Kefir Milk is also now available, priced at Dhs20.50 per carton.
Nush Almond Milk Yogurt (Dhs12.75) is a new almond milk yogurt produced using Sicilian almonds, that provide a smooth and creamy mouth feel. And lastly, Fresh Pretzels (Dhs10.50 per pack), is a newcomer made to the highest German standards using flour with lye and sold in packs of two. Each vegan pretzel is handcrafted using a long-fermented sourdough and is free baked by the Kibsons passionate team. All breads are handcrafted using traditional methods and are completely free of chemicals, preservatives colourants and sugar.
Details: For more information, visit kibsons.com or call +971 800 5427667.