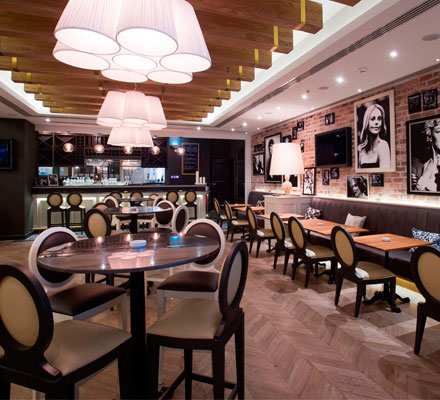 What's it like: We love all things associated with France and naturally an affinity towards its hearty cuisine is a major part of it. Dubai's dining scene lacks a good selection of French bistros that offer bang for your buck, but this restaurant, located in the section of the mall which is more restaurant hub than shopping centre, offers a refreshing change (they have another outlet in Century Village). Split into a bar and dining area, the bistro has a warm, relaxed vibe, with parquet flooring, black and white photos of old-school Hollywood stars like Audrey Hepburn, leather couch seating and a brick wall and pillars that give it a rustic touch.
Frogs' legs was the first thing that caught my eye on the menu, and I knew I had to try it out – having never eaten it before. The fried legs were quite small, but plump, with a light herb sauce with garlic and white wine that complemented it perfectly – any other spices would have been overpowering. My partner loves seared foie gras and tried the variation here which came with an apple and ginger compote and had a slight punch to it. While it tasted great, we wished it came with brioche. I devoured the crispy duck leg on white bean cassoulet and a velvety foie gras red wine jus for mains. The duck was beautiful – soft on the inside, crisp and caramelised on the outside. My partner chose the roasted rack of lamb with caramelised onions, dauphinoise potato and crunch asparagus spears. The lamb was quite a big portion for one, and the onions had just the right balance of sweetness – I even helped myself to some, to complement the duck. Tempted to try the chocolate fondant, we decided we'd come back for it when the weather was better as it would've been a bit too heavy for our liking. Instead we had the pavlova, which arrived like a square piece of cake, with layers of meringue and fresh strawberries in between oodles of whipped cream.
If you want to go: AroundDhs300 for two, without drinks. Call 04-3413415.
Best for: Date night