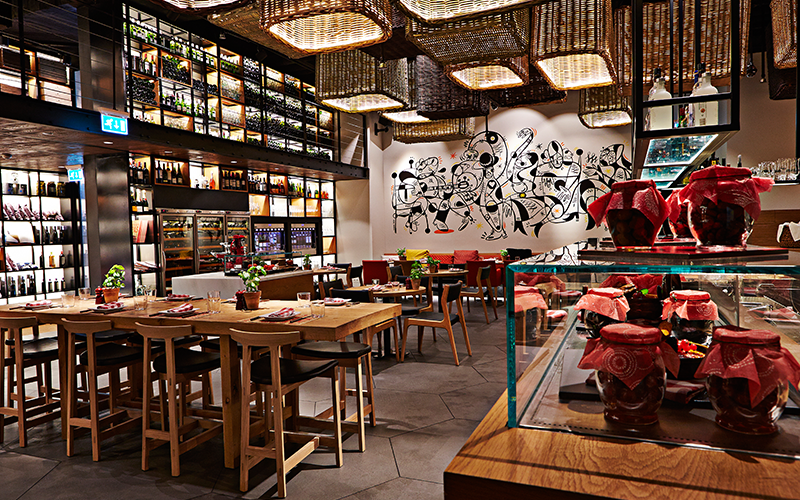 What's the concept?
A mall in the desert is probably one of the last places you would look for good Spanish food. However, for the past four years, a tapas bar hidden away inside the Kempinski entrance to Mall of the Emirates has been serving up delicious authentic Spanish dishes. In Spain, tapas are small shared dishes traditionally served alongside a glass of red or white (bodega means 'cellar' in Spanish), and at Salero that certainly rings true. Tapas is a social event, rather than formal dining, and has been popular way of sharing a meal in Spain for nearly a thousand years. Three centuries before Spain became a unified country in 1516, it sprung up as a popular way of eating amongst all social groups, from rural peasants to the ruling classes across the different kingdoms.
What's the food like?
Dishes on the Salero menu hail from the many different regions of Spain. Be sure to arrive hungry, and order around six plates for every two people dining. Try the delicious seafood paella, it's one of head chef Marco Torres specialities. According to the chef, he writes his menu based on the quality of meat and seafood he can source, and it certainly shows. Seafood fans will also love the authentic 'gambas al ajillo' (spicy sautéed shrimps with garlic and chili). There's plenty of popular Iberico and spicy cured meat options on the menu for carnivores too. The 'tabla de quesos' is a well-sourced selection of some of the best Spanish matured cheeses (expect plenty of Manchego, Mahón, Tetilla and Idiazába). The Spanish tortilla is a delight – freshly made and perfect to balance the heavier options on the menu. There's also plenty of great traditional Spanish drinks available, that pair with the different dishes.
How was the service?
The team at Salero were excellent. Many of the staff are from Spain, including chef Marco. The team know the menu well, and can offer background information about where the ingredients have been sourced and how they are traditionally eaten. Chef Marco came out of the kitchen during BBC Good Food Middle East's visit, and chatted to the different tables about their tapas.
What's the atmosphere like?
The restaurant is completely shut off from the connecting hotel and mall – which works in its favour. Diners aren't subjected to the echoing noise and crowds of mall-trawlers that plague most shopping centre eateries. The windowless restaurant has the feel of a traditional Spanish tavern, with low lighting and creative flamenco graffiti on the walls. The cosy atmosphere is ideal for having a laidback catch up with friends, or a low-key date with your other half. Be sure to check ahead when you're planning to visit – as some evenings the restaurant hosts flamenco nights and other events, including a fiesta brunch each Friday.
Details: a meal for two without drinks costs around AED 400. For more information visit Salero – Tapas & Bodega