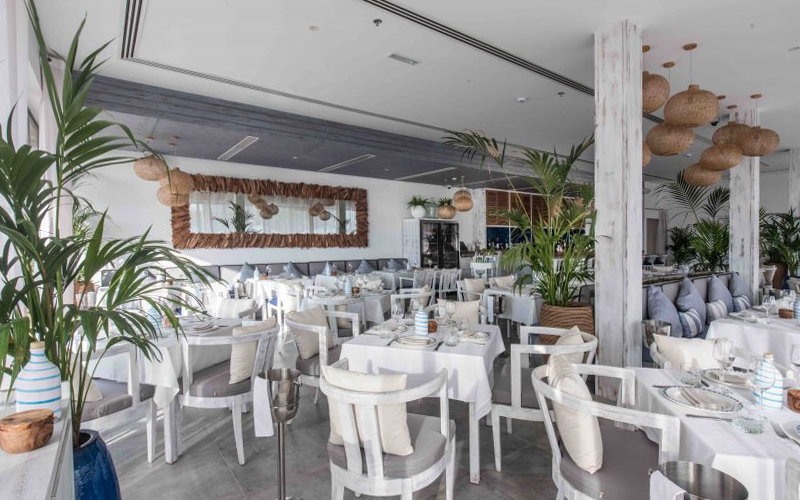 What's the concept?
Riviera Seafood Grill is the new beachside eatery at the Rixos JBR. Specializing in Mediterranean flavours and fresh seafood, the restaurant's interior channels the French Rivera with its all-white open plan design. Quick to jump on Dubai's growing "evening brunch" trend, the restaurant offers a "Ce Soir brunch" every Friday.
What's the food like?
Starters are served buffet style, there's plenty of fresh delicious salad, along with dishes hummus, smoked salmon, shrimp and tabbouleh. When you're finished with the buffet, the serving staff will bring a delicious seafood platter, piled high with shell fish, shrimp, tuna and salmon, fresh off the grill. Next up is the main course, served from a set a la carte menu. There are three options on the menu: for veggie fans there's a butternut squash and fennel risotto, with parmesan cheese. The restaurant's signature a chargrilled sea bass, with asparagus, potatoes and a lemon butter sauce and a third dish of grilled lamb cutlets, served with a pumpkin puree, green beans and mint sauce. Our favourite of the three dishes was the sea bass, which was fresh, moist and complemented beautifully with the lemon butter sauce, while the wholesome risotto placed a close second. For dessert, we were served a range of different mini sweets, including a delicious chocolate mousse, a fresh and yummy panna cotta, along with bite sized pastries. There are plenty of drink options available on the brunch menu, with a range of house options, along with drinks created by their in-house team of mixologists.
How was the service?
The serving staff were friendly, and quick to take our food and drink orders. Despite the restaurant being busy, the team made sure to keep our drinks topped up throughout the dinner. One of our dining partners at the table had celiac disease, and despite there being no dessert menu options that they could eat, the team went out of their way to get a fruit platter for dessert for the diner of our party.
What's the atmosphere like?
When BBC Good Food Middle East visited, the restaurant was busy with couples dining without children, and groups of friends. During the cooler months, the restaurant opens up the building's floor to ceiling windows, allowing guests to enjoy the cool evening sea air, adding to the French Riviera vibe.
Details: AED 250 per person including soft drinks // AED 395 including house beverages // AED 550 for the bubbly package. Every Friday from 7pm-10pm. For more information, visit The Riviera Seafood Grill. If you enjoyed this article, you may enjoy this story on The Soho Garden evening brunch.