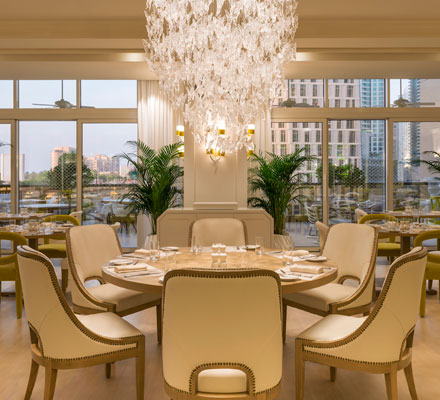 An afternoon tea conjures up everything I love — a sophisticated setting, tons of brewed tea, and of course, freshly baked scones. Naturally, I was intrigued to see what the new afternoon offering at this establishment, helmed by celebrity chef Gary Rhodes, had in store. The chic décor of pastel greens, combined with pops of yellow, and interesting light fixtures make up the inviting space. The terrace's cool breeze beckoned us to take a seat at one of the comfortable white garden-style couches, and we chose our teas to commence the afternoon, while sipping on a refreshing strawberry-kiwi welcome drink. My friend chose Assam, while I had the Dragon green tea, and they both arrived in gorgeous off-white and pink Royal Albert teapots that prompted us to immediately head to a store to purchase one (true story!).
The savoury items arrived on the first stand — there was a delicious, slightly toasted cream cheese, onion and herb croque monsieur, and moreish crisp, and warm shepherd's pie fritters to dunk into cold mint yoghurt. Regular high tea items like cucumber, cream cheese and chive sandwiches also made an appearance, along with an interesting mix of sweet and spicy tomato and sweet chilli sandwiches which we polished off, as well as a coronation chicken sandwich, providing a punch of flavour in each morsel. Quail's egg mayonnaise, and salmon, were the other sandwich options, and we tried it, but saved room for the dessert assortment that made our eyes light up! The freshly baked scones were served with clotted cream and strawberry jam, but while we enjoyed it, we wouldn't call it a new favourite. We did however absolutely love the Eton mess, a light and fruity mix of meringue and raspberries, as well as the tart bite-sized lemon cakes, and typically British warm chewey crumpets which went down easily even though we were stuffed. The afternoon tea here is a complete British affair – from the food to the atmosphere. Head here to live out your ultimate Downtown Abbey fantasy!
If you want to go: Dhs195 per person (without bubbly). Call 04-3176000.
Best for: Elegant outing with the girls