Array
(
    [ref_id] => 869
    [photo_file_name] => the-art-of-japanese-cooking.jpg
    [posted_by] => Sophie Voelzing 
    [text_display] => <p>
	<span style="background-color: initial;">Born in Hiroshima, Japan, </span><a style="background-color: initial;">Masaharu Morimoto </a><span style="background-color: initial;">is the chef and owner of Morimoto Restaurants. He has a worldwide following for his seamless integration of Western and Japanese ingredients, and is most commonly known through his role on Iron Chef.</span>
</p>
    [cover_photo_file_name] => the-art-of-japanese-cooking1.jpg
    [slider_images] => 
)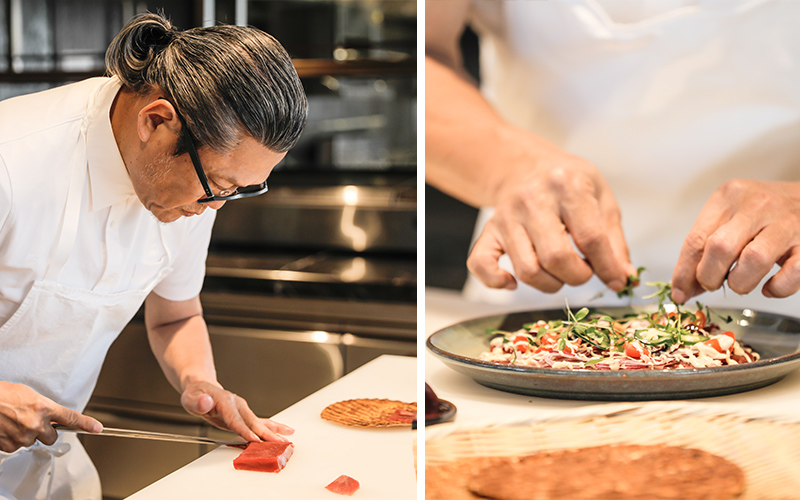 Born in Hiroshima, Japan, Masaharu Morimoto is the chef and owner of Morimoto Restaurants. He has a worldwide following for his seamless integration of Western and Japanese ingredients, and is most commonly known through his role on Iron Chef.
Believe it or not, Morimoto set out to become a professional baseball player in Japan during his earlier days, but after a shoulder injury saw that career path close, the soon-to-be chef began studying sushi – an art he soon grasped that led him to open his first restaurant at just 24 years old.
Travelling to America five years later to build on his culinary experience, Morimoto found himself recruited to join the original Nobu restaurant, where he was fast promoted to executive chef.
From Nobu, he went on to open his first stateside restaurant in Philadelphia in 2001. Next was the debut of Wasabi by Morimoto at the Taj Mahal Hotel in Mumbai in 2004, followed by a second Wasabi at the Taj Mahal Hotel in New Delhi in 2008. The much-anticipated flagship restaurant, Morimoto New York, opened in 2006.
Today, there are additional Morimoto restaurants in, Mexico City, Bangkok, Las Vegas, Maui, Morimoto Sushi Bar in Boca Raton, Morimoto XEX in Tokyo, and Morimoto Asia in Orlando, Doha and soon-to-open Morimoto Dubai.
Chef Morimoto first competed on Japanese television show Iron Chef in 1998 and then became one of the stars of Food Network's Iron Chef America in 1999. As Iron Chef, Morimoto was able to showcase his flawless technique and creativity with unique ingredients in front of millions of Americans. Chef Morimoto returned to the Iron Chef challenge in the spring of 2017 with "Iron Chef Gauntlet".
Talking on the upcoming opening of Morimoto Dubai, here's what chef Morimoto shared with us…
How would you describe the dining experience at Morimoto Dubai?
The restaurant is on the top two floors of the Renaissance Downtown Hotel, with an open ceiling space which gives you a really good sense of freedom and openness. Once you step out to our terrace, the mighty Burj Khalifa will be right in front of you. It's a breathtaking view.
Morimoto Dubai offers an extensive teppanyaki area and menu, that's something unlike other Morimoto restaurants around the world. We have teppanyaki chefs from Japan. I think everyone will really enjoy the experience. Of course, we also have Morimoto signature items which I'm very proud of, as well as dishes inspired and arranged based on Dubai's culture and palate.
How does Morimoto Dubai's offering differ from other Japanese outlets in the city?
I can't say how it differs from other Japanese restaurants in Dubai because I haven't tried any of the places. I guess it is for the guests to see and how we do things differently including our quality of service, music, uniforms, lightings, designs, ambience, and overall hospitality.
What are some of your signature, 'must try' dishes that you'd recommend ordering at Morimoto Dubai?
Sushi and sashimi go without saying, and I take proud in my teppanyaki menu too. But if I can choose only one dish, I would pick the tuna pizza. I recommend it because it's such a fun and accessible dish, even for people who have never tried eating raw fish before with its presentation as 'pizza'.
For our readers that would like to try making sushi at home, what ingredient essentials are needed from the supermarket?
Rice, sushi vinegar (already seasoned and ready to use), soy sauce, and seaweed (optional). A rice cooker would be helpful too. As far as what goes on top or inside of your sushi, you can go ahead and try anything you like; fish, meat, sausage, vegetables…
Some might think that Japanese cuisine is complicated and mysterious, but that's not true. You can try making it at home. It'll be fun. One of the things I'd like to do as a sushi chef is to bring sushi closer to people and closer to home. That's why I like to demonstrate and teach how to make sushi, which is something I'll be doing in Dubai.
What are your top tips for rolling the perfect sushi roll?
Don't go for perfection. That's a tip I can give. Roll sushi with and for your family, children, friends. That's what makes it perfectly good.
Let's talk about sushi etiquette! What's the correct way to eat sushi and sashimi?
The correct way is difficult to explain. It all depends where you are. You can eat in any way you like. But to give a couple of tips, you might want to avoid mixing wasabi in your soy sauce because nigiri sushi already has wasabi in it. Also, when you dip your nigiri sushi in soy sauce, dip it with the fish side down. Otherwise the rice will be drenched in soy.
Tell us about yourself, and how your journey in the kitchen began…
I had two dreams growing up, one was to become a professional baseball player, and the other one was to become a sushi chef. As a shoulder injury ended my career as a catcher, I started working at a sushi restaurant right after graduating from high school.
What are your thoughts on the Middle East's F&B scene?
I take a great interest in Middle Eastern culture including its food. One of the reasons I chose to open in Dubai was that I thought that this city will understand my cuisine so I will be able to express what I envision through my food and restaurant.
Do you have any other expansion plans to come in this region?
I opened in Doha in October. As to other expansion plans, I suppose it's up to Dubai; I want to see how I do here first. Considering the physical distance between the restaurant and my base, I should be cautious. When I feel confident in operating in this region, I will definitely want to try to come back to do more.
For those who haven't yet visited Japan, where would you recommend going for the best culinary experience?
Anywhere you go in Japan, you will be able to find satisfying quality culinary experience that meets your budget. Japanese food is not all about sushi, tempura, and sukiyaki. There is a lot more.
If you're interested in trying some very traditional and typical Japanese cuisine, and if you don't mind a stiff and formal ambience, Kyoto is a good place to go. The city is used to tourists and visitors from other countries so you will be fine. That doesn't mean they speak English though…
—
To find out more about chef Morimoto, follow him on Instagram @chef_morimoto or visit ironchefmorimoto.com