We sat down with Stewart Bell, pastry chef at The St. Regis Abu Dhabi, to talk all things patisserie and the return to traditions in the pastry kitchen.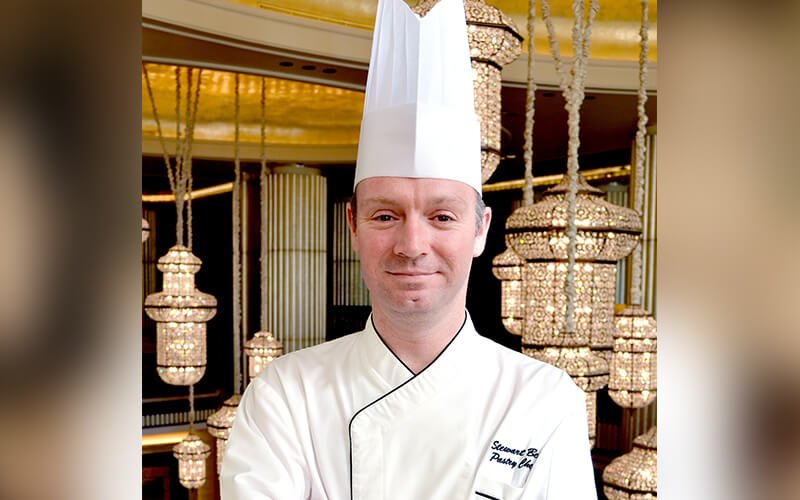 Tell us a bit about your role…
I head up the daily running of our kitchen whilst supervising a great team of chefs and bakers, to oversee all of the hotels' outlets. From the breads and pastries for our breakfast, room amenities, restaurants and afternoon tea in our lounge.
Where did you learn your pastry skills?
After a 3-year internship studying in hot kitchen, I decided to turn my sights on pastry (as I found it a bit more challenging and more suited to my artistic flair). I took on a commis position to work under my pastry chef from my previous hotel, and from there on pushed to work my way up the levels
In terms of trends in pastry, what are you witnessing the consumer of today wanting when they visit the hotel?
Consumers are looking for a healthier product – be it sugar free or allergen free, so it is quite interesting to try and push one's self to see how far you can push the pastry boundaries with in these expectations of the guest.
It's been said that there's a strong return to traditional when it comes to pastry. Would you agree with this?
I totally agree with this, even though there is a market for the upscale, fine ding dessert, people will always gravitate to dishes that remind them of home and their childhood.
For pastry chefs just starting out in the industry, what word of advice would you offer to them for progressing in the pastry industry?
If you are seriously passionate about pastry as a career, then put your head down, put in the long hours and learn the fundamentals of each aspect of pastry, as it is both a science and an art.
Do you have a "signature" dish, or a favourite dish?
My favorite dish that I made was a milk chocolate espuma, pear sorbet, coffee crumble, nitro pear mousse and a coffee aniseed sauce.
What is your must-have piece of pastry equipment?
The humble pastry knife and of course the kitchen-aid mixer.
Have you had any kitchen disasters during your time as a pastry chef?
Accidently tripping a fellow colleague in the kitchen whilst she was carrying a finished wedding cake, which resulted in a sleepless 24-hour marathon of starting a new cake from scratch!
What has been the most memorable moment in your career to date?
Every day creates a new memory when you are able to satisfy the guests beyond their expectations.