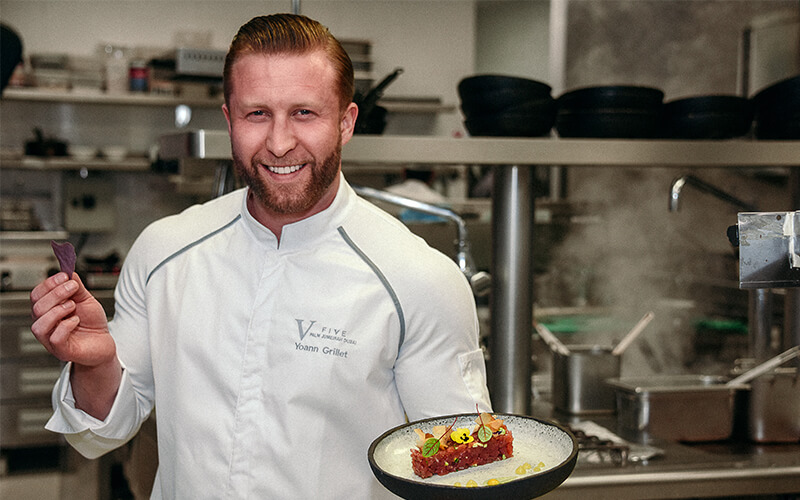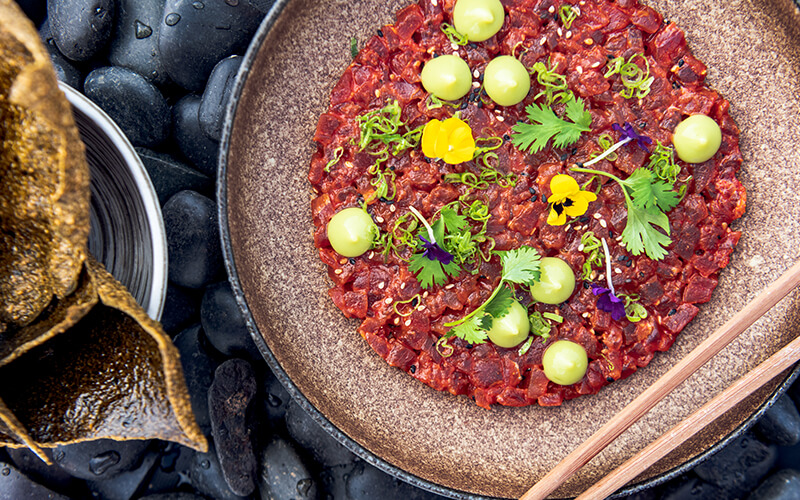 We caught up with FIVE's director of F&B and culinary, Yoann Grillet, to get the lowdown on the luxury brand's latest hotel opening in Jumeirah Village, featuring more than 247 luxurious rooms, 269 private floating pools and numerous modern restaurants and cafés.
Tell us a little bit about yourself and how you started out as a chef…
I used to watch my grandparents, mother and father cook from a young age, so I grew up surrounded by food. Food was more than a job in my family; it was a culture, and a tradition. One summer, I wanted to earn some extra money so I got a job in a restaurant in the South of France. That's when I knew I wanted to cook. Soon after, I started my training in a Bouchon Lyonnais, a typical restaurant from my city, which focused on fresh products and cooking each dish from scratch. During that time, my chef was very "old school" and he refused to buy anything that wasn't local.  In the winter, we used to go hunting and bring the game to the restaurant afterwards. The memories I have from there are the most beautiful memories from my whole career. Then I moved to a 2 Michelin star restaurant where the philosophy was very different. This experience taught me the importance of having a strong mind and remembering even small bits of information. 
Talk us through your day-to-day role as director of F&B and culinary at FIVE. 
With FIVE Jumeirah Village and FIVE Palm Jumeirah, I am overseeing the culinary operations of two hotel properties, with more than 17 food and beverage venues. There's a lot of behind the scenes work to do, such as product sourcing, menu elaboration and engineering, and staying up-to-date with the current demands – especially in such a high demanding market like Dubai. However, I believe it's important to still be on the ground and in the kitchens, to know all of my chefs from commis to executive chef, as well as being in the restaurants themselves and seeing for myself how people react to what we plan and prepare in the office and kitchen. Your team is an essential part in F&B, and a major part of my work is the sourcing of chefs. I believe in the authenticity of food and sourcing the best talent from all around the world. For our signature restaurant Soul Street at FIVE Jumeirah Village, which offers street food from 5 different countries, I've personally been to all of the countries – not only to search for the best street food, but also the most innovative and authentic chefs. 
FIVE Jumeirah Village has recently opened, which is very exciting! Can you tell us more about the property…
FIVE is known for luxury, parties and award-winning dining experiences. At FIVE Jumeirah Village, you experience the very best of FIVE, while also enjoying a younger, urban, local hangout for tourists and residents alike. Host a buzzing high-rise pool party overlooking the Dubai skyline, tuck into food from across the world at a range of modern restaurants and cafés or recharge at REFIVE, a contemporary spa. FIVE Jumeirah Village is a city chic hotel with beach access, more than 247 luxurious rooms and 254 one, two and four-bedroom hotel apartments with spectacular panoramic views, landscape terraces and 269 private floating pools. We conceptualised the resort as a party and culinary hotspot with a range of restaurants and nightlife experiences for local and international visitors, as well as UAE residents. Highlights include a lush social pool overlooking the Dubai skyline; gourmet street food restaurant Soul Street; all-day dining Turn Up and One for the Road, a lively café. Revitalise at ReFIVE, an urban spa offering a range of luxurious face and body treatments, and a state-of-the-art gym, InstaBody that offers a wide range of personal training options, classes and membership programmes. We promise guests a combination of glamour, music and parties resulting in extraordinary experiences. 
What F&B concepts will be on offer at FIVE Jumeirah Village?
We are starting into the market with three F&B venues – all conceptualised in-house by our own team. Our signature, Soul Street is a multicultural hangout, which offers up honest street food, street art and street sounds with delicacies from Asia, Latin America, Europe, India and the Levant. Impressive street art crafted by international artists will transform the walls to amplify the soul-inspired vibe. This new dine and wine hotspot is set to open at the end of September. Turn Up is our cool and quirky all day dining venue. The name was chosen for a reason; you turn up the way you are, the vibe you choose, it's always the right choice from breakfast, lunch and dinner. Meanwhile, 'One For The Road' will offer quality coffee and scrumptious pastries perfect for a quick work meeting or grabbing a bite with friends. But this is just the start; FIVE Jumeirah Village Dubai is planning on turning it up a notch with more dining and nightlife experiences coming soon.
What was the thinking behind creating such concepts at this property?
FIVE Jumeirah Village is designed as local hangout for travelers and residents alike. We're located in a new lifestyle area and are the first licensed property in Jumeirah Village Circle. Our focus is to attract international travelers and Jumeirah Village and neighbouring areas, offering residents a place for after-work drinks, a dinner with friends, and a place they can go to at the weekends. 
Are there any standout offers taking place at the moment that our readers should know about? 
We are entering the market with a staycation launch offer to experience the very best of FIVE Jumeirah Village. Additionally, guests can experience our great social pool, offering panoramic views over Dubai and a live DJ on the weekend. Pool access is AED100 per person, which is completely redeemable against F&B. For the fitness freaks, our state-of-the-art gym InstaBody offers exclusive memberships starting from AED440 per month.  
You've been in Dubai for more than 12 years now. How have you seen the emirate's F&B industry and consumer demands evolve during that time?
Dubai's culinary scene is just like it's visitors and residents, multicultural. The demand for multicultural concepts is strongly increasing. With that consumers are also demanding a higher quality for products, served in an innovative way with an entertainment factor. One of the major changes are the success of standalone restaurants offering a specialised concepts. We treat each of our venues as independent standalone venues with their own identity. To succeed in this market, you need to offer a product that surprises customers who are exposed to no limits and concepts from all over the world. However, the differentiator is the authenticity.  With all of our venues, especially Soul Street we are promising guests an authentic concept experienced in a way that you've not seen before. 
Your favourite place in the world to visit for culinary offerings and why?
Working in culinary, it's important that you always stay up to date with new trends and experience unknown cuisines. The Asian cuisine offers you honest, authentic food, with simple ingredients but great flavour. It's one of the cuisines you can learn a lot in terms of technique, preparation, spices etc.  With Soul Street we're bringing the authenticity of this region to Dubai. 
What has been your fondest culinary experience to date?
Food is a passion. For me as a chef, it's important to share this passion. The greatest culinary experience I had was in a small restaurant in California, which consists only of two long tables. You sit directly in front of the chef, you communicate with the chef, you can watch the process, and truly see the quality of the food. That's a rarity in cooking nowadays.
Details: If you enjoyed this article, you may be interested in learning more about FIVE Jumeirah Village here. For more information or to make a reservation, call +971 4 248 9999, email fpjd.dining@fivehotelsandresorts.com, or visit the FIVE Jumeirah Village Instagram page here.