We journey to Oman for an evening of decadence and enjoy a Middle Eastern twist on the wedding menu of a much-loved royal duo.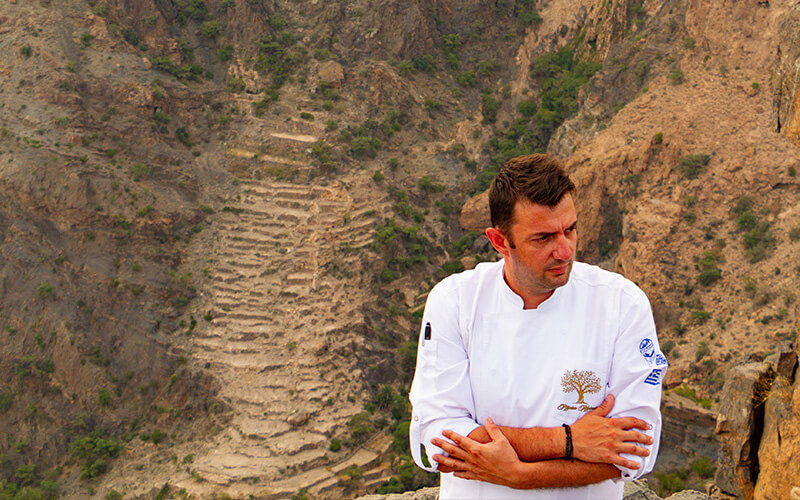 On 19 May 2018, the world watched on as we witnessed the stunning wedding of Prince Harry and Meghan Markle at St. George's Chapel in Windsor. It was a beautiful British summers day; the sun was shining, the celebrity guests turned up in their masses and the happy couple looked every-inch in love.
There was that dress – designed by British designer Clare Waight Keller for Givenchy, that ring – custom made using one diamond sourced from Botswana and two smaller stones from Princess Diana's collection, and then – though we didn't get a glimpse ourselves as onlookers on the day – there was that wedding menu.
Compiled of nine-courses and required to feed 650 guests, curating this special menu was no small task for the 24 chefs assigned to work on the project brief. Among them was chef Nikolaos Koulousias; a German-born chef with Greek parents, who established his love for cooking at a young age when creating dishes from his heritage alongside his Grandmother in Greece.
During a recent visit to the Gulf, chef Niko recreated the royal menu at the Anantara Al Jabal Al Akhdar with a Middle Eastern twist, for an exclusive Royal Affairs event for staying guests and media.
"It was spring 2018, and I had just finished part of my scholarship and taken up some consultancy work in the U.K. when I was asked if I'd be interested in joining the team to create the wedding menu," he says. In no time at all, (April 2018, to be precise – just over one month before the wedding date) he began work with the team on prepping the menu and dishes.
"The initial brief provided by the royal office was simple enough; create dishes that were reminiscent of both Harry and Meghan's childhood," he explains. "But there was a last-minute change that required us to source all ingredients from the Windsor farm, which created challenges for the team in reworking the menu to fit these ingredients."
Of the chefs involved, chef Niko was stationed at Buckingham Palace ahead of the big day, as the group was split into two; one half tasked with preparing the Queen's pre-wedding luncheon, the other half responsible for finalising any last-minute preparations for the wedding menu.
On the day itself, stress levels had to be kept to a minimum, Niko explains. "There's no time to change anything at that point, and while there were some minor technical issues – as to be expected with a large number of guests, we got through it, and I felt better knowing my stress was shared with 23 others!" But it wasn't dietary requirements or allergies that caused issue on the day. "Instead, it was a certain famous couple, who decided last minute that they wanted all of their ingredients steamed," jokes Niko.
Home to the renowned Diana's Point, the Anantara Al Jabal Al Akhdar seemed a fitting location to host such an event. It is named as such following Prince Charles and Diana's visit to the mountainous escape in 1986, when – overlooking the canyon and farmed terraces below – the Princess of Wales stood and admired the view.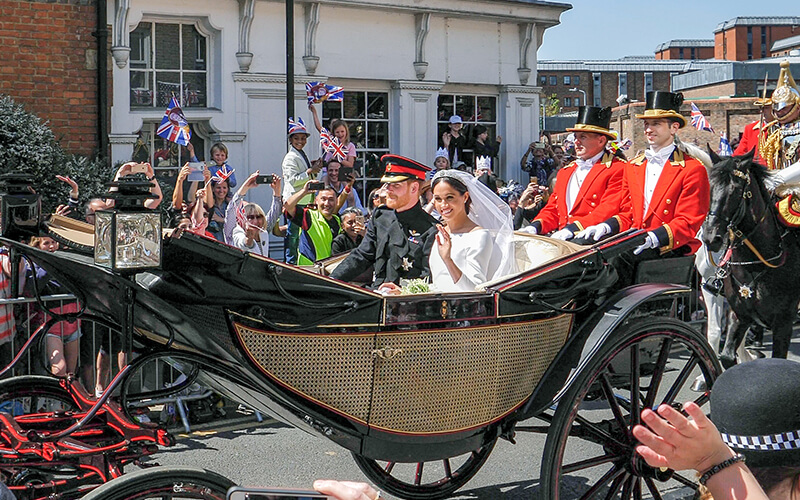 On the evening of the dinner, Omani bagpipes begin to play from the viewpoint at sundown, signalling the beginning of the royal gathering. As guests make their way to the deck to the tune of "Scotland The Brave" – a very famous, traditionally British bagpipes melody, there is already the sense of the East merging with the West to mark the occasion.
Overlooking the majestic canyon from Diana's Point, we're served a selection of canapés, including langoustines wrapped in smoked salmon with citrus crème fraiche, grilled asparagus wrapped in basturma, garden pea panna cotta with quail eggs, and croquettes of Omani baby goat confit with shallot jam.
As we move inside to begin the dinner, the local touches become more prominent. A delicate amuse-bouche of Omani baby hammour kicks things off, before a refreshing heritage tomato and basil tartare follows – using local pomegranates from the nearby trees. According to official figures, there are 27,000 pomegranate trees that contribute 3 million Omani Riyals for farmers every year.
The area is also well-known as a highland haven for roses. From March to mid-May, Damask roses bloom on the surrounding mountain slopes just outside the hotel grounds, colouring the landscape of Al Jabal Al Akhdar in softer shades of red and pink and turning the entire mountain range into a visual spectacle. We're lucky enough to sample the roses' delicate flavours, which are used in a rose water sorbet midway through the meal to provide a light and fragrant palette cleanser between courses.
The poached Dhofari free-range chicken is served as course four, bound in a lightly spiced labneh with dry apricot and pistachio; mirroring the very dish served at the royal wedding with exception to the local ingredients. But the star of the show for both myself and chef Niko – as his personal favourite dish on the menu, is the pea and mint risotto. A simple yet satisfying dish, and one that Meghan herself requested, will have undoubtedly been the perfect decadent menu addition on a beautiful summer's day in May.
Like at all great weddings, I'm intrigued to see what is arguably the culinary highlight of such an occasion; the cake. At Windsor, the wedding cake featured an elderflower syrup made at the Queen's residence in Sandringham from the estate's own elderflower trees, and was decorated with Swiss meringue buttercream and 150 fresh flowers. At Jabal Al Akhdar, chef Niko combines the region's love of coffee with lemon butter to create a stunning centrepiece, topped with delicate rose fondant flowers.
To plan your trip to Anantara Al Jabal Al Akdhar, call +968 2521 8000 or visit anantara.com/jabal-akhdar.