We speak to Manchester-based chef and TV personality Andrew Nutter, billed to be Britain's 'next big thing', on the importance of being nice. I was always teased in school, with a name like Nutter, how could you not be?" says Andrew Nutter, who doesn't sound even a bit annoyed about being teased when he was …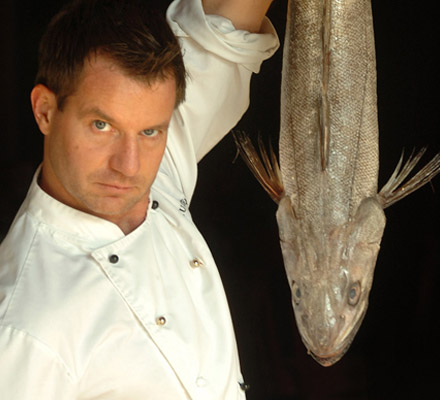 We speak to Manchester-based chef and TV personality Andrew Nutter, billed to be Britain's 'next big thing', on the importance of being nice.
I was always teased in school, with a name like Nutter, how could you not be?" says Andrew Nutter, who doesn't sound even a bit annoyed about being teased when he was younger. He has always had a fondness for his family name and the ring it has to it. "It's me, my identity, which is why my restaurant and books have the name as well," he says, requesting me to call him Nutter, a name everyone calls him by – other than his mother, who calls him Andrew.
He definitely plays up to the quirkiness of his name, with not a formal or strait-laced bone in his body, something I gathered when I saw him rocking up to his interview, on a recent visit as a guest chef at Cavalli Club Dubai, in a Union Jack chef's jacket that was custom-made by a fan in Dubai. "I love it when people are unexpectedly nice," says the fun-loving, humorous chef, who offers a barrel of laughs during our conversation. "I still can't believe I got here. As a kid, I never thought a career in food would take me around the world," he says.
Nutter's journey began when he first attracted attention at the Daily Mail cooking competition at the age of 16. Contending against housewives, executives and skilled chefs from catering companies was quite nerve-racking for him, but the outcome was great. "I didn't win the competition but Anton Edelmann, head chef from Savoy, saw potential in me, pulled me aside and told me that I could be the next big thing, and that he was willing to train me," he says. And so he entered the big bad world of restaurants, by joining Savoy in London, going on to open his own restaurant when he was just 21. After three years of working with Edelmann, Nutter moved to France to work at various Michelin-star restaurants. "It was exciting as I was up in the Alps, working with ingredients like foie gras, fresh cheese and local produce," he says.
Nutty flavours
The idea of opening his own restaurant sparked an interest after a few enquiries from friends. "My family was always into food – my dad was a butcher, and mom was a home economics teacher who taught me basics like making a pastry shell, fruit purées for homemade pies and other techniques," he says.
Nutters restaurant opened on the top of the Ashworth Moors in Manchester, in the middle of nowhere, in 1993. The restaurant wasn't advertised or promoted in any way, but grew popular in no time, which led Nutter to relocating to a larger location nearby, to accommodate more diners. The new site, in a lavish 18th century Manor House ten miles away from central Manchester, offers exquisite views across the moors, and caters to over 300 covers every afternoon. The concept at Nutters restaurant has been the same ever since it opened, and Nutter has stuck to his roots by serving British fare, but with a contemporary twist, bringing his experience and knowledge gained in France into play.
Some of the highlights on the menu include a deep fried berry black pudding wonton, which is diced and fried with spring onions; and a chicken mousse, a French classic with a twist. Nutter has also cooked for several high-profile weddings, including those of well-known Manchester United players, and comedian and actor Peter Kay.
Over the years, Nutter says he has changed his cooking philosophy quite a bit, to now become a confirmed locavore (someone who primarily cooks and eats food that is locally produced). "I still cook the dishes people love eating, but I now use a lot of local produce," he says. Nutter has a set group of suppliers who have become good friends over time, who he likes to grab a drink with on his day off. "They're a great bunch and it doesn't hurt to be nice. In return, they give me the best catch or produce of the day, first thing every morning," he adds.
When Nutter isn't serving the classics at his restaurant, and playing guest chef at venues around the world, he likes to use his imagination and get creative with food. "I love drawing on happy times and memories," he says. For example, Nutter recently served a ferris wheel cookie, gooey flapjacks, and candyfloss pastry – to represent all the things people love at theme parks, every child's favourite place. Another of his creations that inspires happiness is a crème brulee and bubblegum marshmallows served with matchsticks, to flambée the crème brulee, and toast the marshmallows with – which is meant to bring back memories of a campfire. "I love seeing the excitement on people's faces when they see food like this. And being a 21st century social media-savvy chef, he also loves it when people take out their camera phones to immediately post pictures on Instagram, Twitter, or Facebook. "I love tweeting! I don't realise people are reading my tweets, and I love that they love being part of the success. Some fans even join me for dinner, if they are in the country where I'm hosting one," he says.
From the kitchen to a TV screen
Like many a popular chef before him, the transition to TV happened as his restaurant grew more successful in the 90s, with Remote Control, a cookery show he hosted on ITV. TV was easy for Nutter, as the show required a charming and high-energy personality. "Remote Control was brilliant, and widely popular as well. It was a live broadcast via satellite, where people got to copy what I was cooking step-by-step, in their homes. From there I moved on to Utter Nutter, where I showed audience how to work with their creativity and innovativeness when cooking. Among other things, on the show I flambéed foods and cooked in the middle of a firework display and on top of the BT tower in London," he says. Utter Nutter was a huge hit, and resulted in Nutter releasing a book off its back, Utter Nutter (Bantam Press), which showcased all the dishes from the show. Soon after, Nutter released his second book in 2009, Nuts About Food: The Art of Seriously Good Cooking (Regional Magazine Company) which he describes as a journey of himself and his family. The book was even voted by The Independent as one of the top 50 must-have cookbooks. With a third cookbook on its way, Nutter doesn't look like he's ready to slow down anytime soon. He believes that 'doing it all' is possible if you work hard, play hard, and more importantly take a 20 minute nap every day. "I'm grumpy without it, and can't function well," he says.