Guy Savoy, one of France's best known and most respected chefs, waxes eloquent on why food can be magical, in an interview with Jonathan Parsons. As I ride the elevator to the second floor of The Pearl-Qatar's Porto-Arabia for this interview, I'm nervous. I've been invited to meet one of the world's most influential chefs. …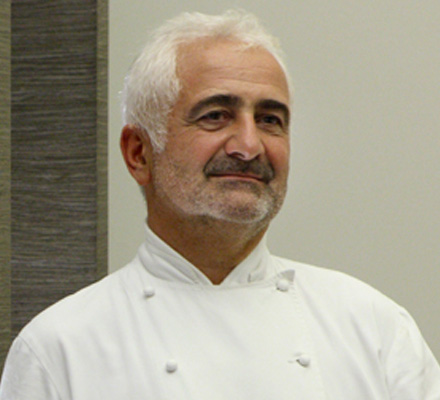 Guy Savoy, one of France's best known and most respected chefs, waxes eloquent on why food can be magical, in an interview with Jonathan Parsons.
As I ride the elevator to the second floor of The Pearl-Qatar's Porto-Arabia for this interview, I'm nervous. I've been invited to meet one of the world's most influential chefs. A man that changed the history of French cuisine forever – he is, after all, one of the handful who has been credited with inventing what we refer to today as 'Nouvelle cuisine'; a man whose restaurants top most guides in France, including the prestigious 'World's 50 Best' list (three times in the last ten years) and boast Michelin stars; a man who has himself won numerous awards.
Now a man of 60, and with 45 years of experience in the restaurant industry, Chef Savoy has seven restaurants spanning four continents – four in his hometown Paris, Restaurant Guy
Savoy in Las Vegas, Guy Savoy in Singapore and his newest venture, Quisine by Guy Savour in Qatar's capital, Doha.
My nervousness was unfounded. As soon as the elevator doors opened, I found in front of me a man beaming from ear to ear with a smile that fills his whole face. Welcoming me with a "Bonjour!" he disappears to change into his chefs' whites, to "look the part for the photoshoot". I get a chance to take in my surroundings while waiting.
The artwork in his restaurant, Quisine by Guy Savoy, is breathtaking. As I stand gazing at an orange and blue sculpture of a giraffe's head, made entirely from matches, Chef Savoy reappears. "Incredible, isn't it?" he quips as he sits down. "Art is always important in my restaurants. In Paris I have a Buddha made from matchsticks and in Las Vegas we have a polar bear."
"I love supporting local art," he adds. "We have some beautiful pieces from an Iraqi artist here." He spends the next ten minutes talking about his love of art, and while I am bursting with questions, I don't want to stop him – his passion is endearing. "To me, all of my restaurants are works of art," he explains. "In a restaurant, everything around us is important – starting with the smile. Before the cuisine, comes the warm atmosphere. It's impossible to have a great meal if it's not in a nice atmosphere. When you arrive in a restaurant, you don't see the food at first – you see the people, the walls, the artwork. Everything must be in harmony, everything must be human."
A passion for cuisine
So, what were the motivations in this wonderfully passionate man's youth that made him want to become a chef? "My mother used to make small cookies when I was a boy," he says. "She used to blend flour, salt, sugar, egg and a little butter – very simple ingredients. Separately it's impossible to eat them. But when she put them in the oven, in six or seven minutes, they become delicious, crispy cookies."
"I think… cuisine, is magic. Every day, we transform the ingredients for every dish, every course, into something wonderful," he sums up.
After more than 45 years in the restaurant industry, he has seen a dramatic rise in culinary standards worldwide. "The evolution of cuisine around the world is incredible," he says. "Today my menu is totally different."
He reminisces of the first time he visited New York City forty years ago. "There was only one place to find good produce, Dean & Deluca, and they had a very small selection. Today you can find two hundreds types of olive oil alone in New York!" he says.
This would naturally suggest that chefs
have had to raise their game over the last forty years? "Of course!" he enthusiastically shouts. "Good food today is important all over the word. Today we have TV shows about cuisine all around the world. It is good for the chefs, good for the guests."
"And the market in Doha," he continues. "Even here, my chef here found local fresh herbs, fresh fish. The standard of agriculture has gone up."
The Middle East is a new market for Chef Savoy. In a region whose cuisine shares few similarities with the French, I asked him if it posed a challenge. "I arrived here to do exactly what we do in Paris, to transport it to a different world. The food and the service here is like a three Michelin star restaurant," he says. But what about the lack of alcohol? His head droops slightly, like a man who has had the wind taken from his sails. "It's a problem," he admits. "For me, wine and French food go hand in hand." [Rumour has it the restaurant might shift to a different location soon].
Eager to bring back his enthusiasm, I ask him what other food, apart from French cuisine, he loves. He pauses for a moment, deep in thought. "Italian," he states. Then continues, "Morrocan, Chinese, Indian…" He laughs again. "Oh, and mezze! I love mezze! Lebanese food, oh my goodness Lebanese food." He makes a smacking sound with his lips and kisses the air. "Tabouleh! It's so fresh, so delicious!"
Little indulgences
Chef Savoy smiles at me again, takes a deep breath and sinks back, deep into his dark leather armchair. I'm eager to find out about his home life – does he have dinner parties? Does he cook? "Of course! At home, if you come to the table sweating it means that you have worked hard until the last minute cooking, but you cannot do this in a restaurant!" he laughs.
What are his guilty pleasures? He looks bemused and turns to his restaurant manager for a translation. As my question is relayed to him in French, both erupt in laughter. Chef Savoy turns to me and pulls a comical face. "I love ice cream!" he says, wide eyed. "My ice cream, with low fat and just a little sugar. I take it home from the restaurant. Almond milk ice cream, strawberry, vanilla, chocolate… black chocolate sorbet, I love it! For the chocolate sorbet you need a very small spoon, but for the almond, you…," his sentence trails off as he mimes scoffing down ice cream with a humongous spoon.
"If I am hungry, I take… this is a secret, OK?" he smiles conspiratorially. I lean in. "I take a big piece of country bread, toast it and I cut it into three or four pieces. I then go to the fridge and cut a large slice of very cold, hard butter to put on top. I then place a sardine to finish. The bread is crispy, the butter is cold and firm and the sardine is very sweet – it's a wonderful combination."
This quick snack, one of Guy Savoy's guilty pleasures, sounds mouthwateringly delicious. And surprisingly simple, for a chef known for producing dishes worthy of multiple Michelin stars – a recognition that traditionally rewards complexity.
"Michelin is like the Olympic games," Guy says. "Once you have one, two or three stars, it's like you're a world champion. But, the Michelin guide does not make chefs famous; guests make the restaurant famous. We don't make our food for the Michelin guide; we make it for the guests. If we rise to the challenge of making great cuisine then the Michelin guide arrives after."
"I waited 17 years for my third star," he adds. "When I got my first, I started to think about my second and after that, I think about my third. But that doesn't change anything, the job stays the same."
And what does he think of chefs that put their name to so many restaurants around the world that they can't possibly control them all? "Look, it's not my place," he replies. "For many years I wanted just to stay in Paris. I had the opportunity to go to Las Vegas, and the first time I was asked, I said no. I didn't want Vegas, Vegas wanted me. For me, when the project is amazing, I will say yes."
He follows a similar ethos even when coming up with new dishes. "For me, when it is ready in my head, we try it. Maybe it will be a few minutes, a few weeks or a few months," he says. "Cuisine is not a laboratory, it is life. For two months now, I have been thinking of a recipe around beef tail. I want to come up with a very modern recipe with that. I love that challenge – on the cow, there is only one tail! There is a large fillet, so it is easy to use, but the tail – it is special."
This passion for his craft and ability to stay grounded has led to accolades coming thick and fast for Guy. The Michelin guide writes that 'his cuisine reveals simplicity and sophistication, childhood memories and invention, and it is unapologetically tasty and rigorously executed'. World famous chef Gordon Ramsay credits him as being one of his biggest professional influences. Guy smiles fondly, "Oh Gordon! He was a very good student of mine in Paris. The transference of skills from chef to chef, it is very important."
So what's next for Guy Savoy? "Smiling," he replies. "Loving the life. I have six grandchildren and I want to be with them." And what about retirement? "Never," he laughs. "The retirement age in France is 60, so I could retire already, but why would I want to? I am never tired! I sleep four or five hours per night. I'm in the restaurant before nine every morning, except if it's a Sunday and I'm there till 1am everday."
There's something very captivating about his overflowing passion, honesty and child-like enjoyment of life. Maybe that is what is key to his enduring success.
" Cuisine is magic. Every day we transform the ingredients for every dish into something wonderful. "