India's best known chef, Sanjeev Kapoor, tells Rashi Sen why reinvention is paramount in food, in a freewheeling chat about his life and times. I know this evening will be an interesting one when the face of MasterChef India's third season looks me squarely in the eye and says that cooking is not about competition. …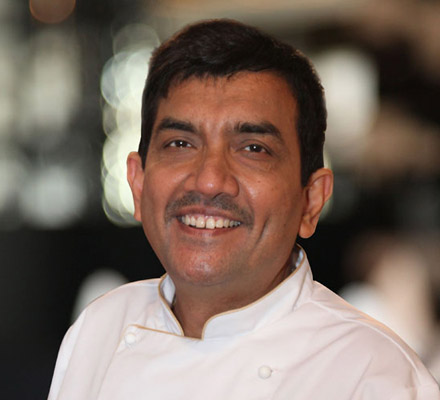 India's best known chef, Sanjeev Kapoor, tells Rashi Sen why reinvention is paramount in food, in a freewheeling chat about his life and times.
I know this evening will be an interesting one when the face of MasterChef India's third season looks me squarely in the eye and says that cooking is not about competition. It is not about following recipes alone, nor is it about letting your ego run loose. Sanjeev Kapoor, celebrity chef and entrepreneur, was born in Ambala in the north-western Indian state of Haryana, and raised in Delhi, where he graduated from the Institute of Hotel Management Catering & Nutrition, Pusa, in 1984. Always inspired to do something different, he chose to study cookery at a time when it was not looked upon as a respectable profession in India – certainly not for a man. At about 26, he became the executive chef of the 400-room Mumbai Centaur Hotel and was soon offered the role of a host for the first-of-its-kind cookery show in India, Khana Khazana, making him a household name and face in a country of millions. There has been no looking back since.
Hundreds of cookbooks and numerous awards later, Kapoor now has a franchise that runs a mammoth website, which gets more than 25 million hits a month and a 24-hour food channel, which is aired in 120 countries and counting. He is also considered one of the top chefs in the world alongside Heston Blumenthal, Gordon Ramsay, Jamie Oliver and Wolfgang Puck, according to a CNN report, and has a loyal fan following around the world.
Recipe for success
Yet he is humbler and more approachable than any chef I've interviewed. "You learn very early on that humility is an important requirement for success. You cannot get very far in the kitchen if you don't have respect for someone else's cooking." That, coupled with a positive outlook and hard work, complete the recipe for success, says the chef. "You have to tell your mind that things are not difficult and that you'll be able to succeed. If you start believing in something, it starts happening. I am a firm believer in the power of positive thinking.
"Let me share a small incident that happened on my first day of work at a hotel," says Kapoor. "There were 20 of us, all management trainees, and, as part of the induction, we were taken to different departments at the Centaur Hotel. When we entered the executive chef's room, I asked, 'Sir, how old are you?' He said, 'I am 40. Why do you ask?' I said, 'I just want to know how long it takes to become an executive chef'. He said, 'I started when I was 20 and it has taken me 20 years to get here. I am the youngest executive chef this company has. Now that you know, what are you going to do?' I said, 'I will do it in ten [years]. How? Most people work eight hours, I'll work 16.' Everybody laughed at me then, but I actually did it in 8 years!"
Today Kapoor heads the kitchens of a chain of Indian and Asian-inspired restaurants – Khazana, The Yellow Chilli, Pin Yin Cafe, Signature by Sanjeev Kapoor and Sura Vie Lounge – which have branches in India and around the world. With this month's launch of the second Options in Dubai this year, Kapoor now has four restaurants in the emirate and all four seem to be doing quite well. Options by Sanjeev Kapoor, seven years old, marked the master chef's first foray into the Middle East. It is an exclusive brand available only in Dubai and, true to its name, serves up a dizzying variety of Indian dishes. "Guests were driving all the way from Abu Dhabi to eat at my establishments but I always thought that Dubai was the place to be and didn't even consider visiting Abu Dhabi. Couple of years ago, when I got a chance to breeze through Abu Dhabi for some events, I felt that the city would grow into this vibrant food hub very soon. So, now we have this fantastic location on the capital's corniche."
The restaurant in Abu Dhabi, Signature by Sanjeev Kapoor, is much bigger than its namesake in Dubai. "The two Signatures will be the same in philosophy but serve different things on the menu. We'll go for a sort of modern rustic look in the restaurant. We will work with hand-cut stones, wood and metal to achieve this look," he says. When I question his obvious interest and knowledge about the interiors, he reveals, "Not many people know that if I was not a chef I would have been an architect".
Redefining Indian cuisine
The menu at Signature by Sanjeev Kapoor will be 'progressive Indian' – while it will be Indian, it will not be old-world, explains Kapoor. "What do I mean by that?" He himself asks as a response to the confusion evident on my face. "The Indian food of today is based on the goodness of what was. Some of the rich heritage that Indian food is bequeathed with may not be relevant today. The way we used to cook 75 years ago was very different from what it is today and that's mainly because some of the procedures involved have become irrelevant. For instance, in India, refrigeration dates back some 75 years. Before that, you had to overcook food and add a lot of oil and spices, because you were preserving it for at least a day. Today we don't need to do this. So we can cut down on these things.
"We have to move with times, our style has to change, but this does not mean we lose a sense of our traditions and heritage," he continues. "From where we mix and use our blends of spices to the different styles of cooking vegetables and curries – using multiple ingredients for one single dish, for instance – this is all very intrinsic and unique to Indian food."
Indian food, with so many regional variations, is certainly very difficult to define. I ask how he tackles that. "Do you mean Indian food in restaurants or Indian food at home?" comes the reply. "Normally, restaurant-style food in India is quite different from what is cooked at home. You may live a full life and may never bake naan bread at home, yet you go out to eat and order it and it's Indian.
"In my kitchens, the expectation is that of restaurant-style food, so the perception of restaurant style is what we have to manage and then create something that gives customers the comfort of familiarity, while giving them something new."
What about defining 'authentic' Indian food? "There is nothing called authentic, food is ever changing, otherwise it would be very boring," says Kapoor passionately. "What was authentic yesterday, what was authentic 50 years ago, what was authentic 400 years ago, is not the same, it has been changing. Whatever I do is authentic Sanjeev Kapoor. If I try to cook something that was authentic 20 years ago, it will not be authentic for me, that is someone else's authentic. I will only be copying.
"Authenticity may help standardisation, authenticity may help grow a cult of a certain kind of food but authenticity kills creativity. Because the moment people try to be too authentic, they are compromising on creativity.
As it turns out, a cuisine that is so difficult to define is equally challenging to cook. "Indian food is very bold," says Kapoor. "To work with an ingredient in isolation is easy because the results are predictable. If you smell thyme and put it in your food, you know what it will taste like, but when you put thyme and mint and coriander, along with cardamom and cloves, and then some ginger and garlic, and still ensure that everything lends a balanced taste – that's difficult and that's where Indian food stands out."
So how important are presentation and plating? "Presentation is important but not more than taste," says Kapoor. "What's the point of designing fantastic clothes that no one can wear? In the same vein, food should be designed so people enjoy eating it – food is not a visual expression alone on the plate. It is the palate that has to say 'wow'."
And when does Kapoor's palate go wow? "I enjoy eating home-cooked food, and not just from my home, anybody's home. So now that I am in Dubai, I would like to try homemade Emirati meals. Other than that, naturally, things which you have grown up with tend to be special. So the way my mum cooks Punjabi curry, sarson ka saag or rajma, no matter what state of mind I am in, I can eat them. It is not just the taste but also the emotional connection that makes mum's food so special. A mother's burnt toast can taste better than the perfectly toasted bread."
It is obvious that Kapoor is a family man, and a nice guy to be around. "I have a very easy-going style in the kitchen; one that does not put pressure on anyone." It appears that the only pressure he gives in to are from his wife and two daughters, Rachita and Kriti, who he admits are the light of his life. "When it comes to holidays, the kids are the boss. They decide where they want to go and we tag along," smiles the chef. "Spain has come to become one of my favourite holiday destinations."
Of course, the holidays are as much about family as they are about food. "As soon as a destination is decided, we work on where to eat and what to eat. Everyone in the family is a total foodie! A few years ago, even when we thought that my daughter could not do justice to a €200 meal, she would be enthusiastic to try the food, and I love that."
Being someone who travels around the world trying out all kinds of cuisines, Kapoor expresses a keen interest in the growing green trend that upholds local sourcing of food. "A lot of good places are now focusing on the seasonality of food as well. Importance is given to regional cuisine, making food location-specific and, therefore, more special. This is a sustainable idea with very little carbon footprint and the food is also fresh."
His next venture is opening up his own culinary school in India – one where he can inspire young minds to let their imaginations loose and be creative. Because he believes it's not enough to just cook good food. "I feel I have a greater obligation – to lead the way in a direction where people can follow. For instance, if we do molecular gastronomy in the restaurant, and it turns out to be something that people cannot grasp, then it's not worth our while. I want to leave a legacy, give direction and lead the way in which followers can be satisfied and believe that they are also contributing."