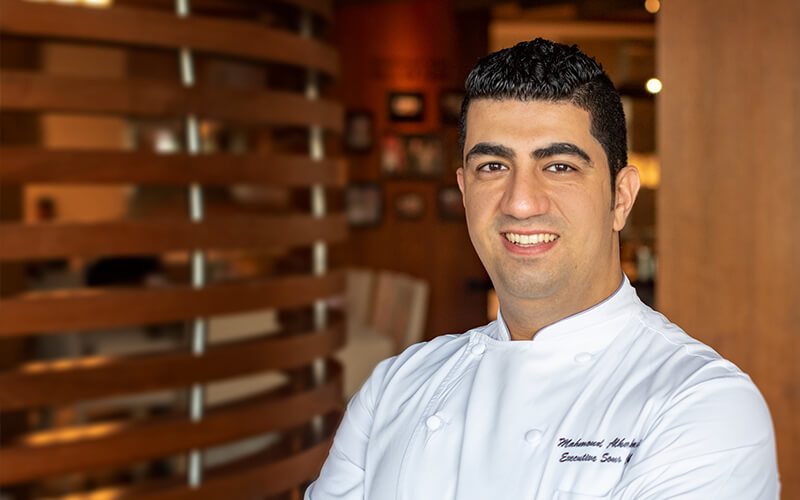 Tell us a little bit about how you started out as a chef…
After graduating with a degree in Hotel Management, I began my career as a commis chef at a standalone restaurant here in Dubai. In 2009, I joined the Hyatt Group, and a year later was promoted to chef de partie at the luxury brand, Park Hyatt.  Over the years, I gained the much-needed knowledge and experience that goes with the job, and later transferred to Grand Hyatt Dubai in 2015 as chef de cuisine.
Talk us through your day-to-day role as head of culinary operations at Grand Hyatt Dubai.
My day typically starts at 6:30am and ends at around 9:00pm. It sounds crazy, but I cannot tell you how much I love it! That famous saying, "Do what you love and you'll never work a day in your life?" certainly fits right here! The hours just fly by, and usually before I know it we are setting up for dinner and gearing up for the "home stretch" of the day.
Grand Hyatt Dubai consists of 13 food and beverage venues (14 if you include room service) situated on the property, so my team and I have a monstrous task of ensuring everything is in order. The mornings begin with a quality and quantity check (otherwise known an as inventory check) for all the supplies that are needed in our restaurants.
With a number of restaurants at my fingertips, it would be logical to say that each restaurant has its own operating hours. I usually try to manage my day accordingly, to ensure that I am available at all times at these respective outlets.  You will find me visiting all the restaurants, starting the day by making breakfast pancakes for the kids at The Collective by Market Café, right through to assisting my line chefs at Peppercrab, iZ and so on for dinner.  This is to ensure that the kitchen is running smoothly and ultimately make sure that our diners are being served, simply put, the best food. If for whatever reason the kitchen is struggling and orders are being delayed, it is up to me to jump in and assist in any way that I see fit to ensure service goes on.
Can you briefly summarize the dining options available at Grand Hyatt Dubai?
Sure! Each restaurant at Grand Hyatt Dubai is uniquely different, taking diners on an eclectic culinary journey.  Even the fussiest of foodies would be content!  The selection of cuisines include Singaporean (Peppercrab), Lebanese (Awtar) , North Indian (iZ), Italian (Andiamo – read about our most recent experience at Anidamo here), Japanese (Sushi), Pan Asian (Wox), Peruvian fusion (Manhattan Grill), a delicatessen (Panini), an all-day international restaurant (The Collective by Market Café), a wine bar (Vinoteca), a cocktail bar (Cooz Bar), a lobby lounge (Al Nakheel Lounge) and our Poolside Restaurant serving light bites and international cuisines.
Are there any standout offers taking place at the moment that our readers should know about?
Well, the month of September promises to be an exciting one.  Our very own Panini is up to no good with a mouthwatering collection of assorted donuts.  Whether you enjoy custard, tiramisu, lemon curd or chocolate fillings, to name only a few, these donuts will satisfy anyone's sweet tooth.
And it only gets better, as Al Nakheel Lounge is offering a new and improved high tea menu for all guests, while restaurants such as Andiamo, Awtar, Manhattan Grill and Peppercrab prepare to blow you away with a variety of new menus and innovative dishes.
To stay updated and view sneak peaks of what is to come, be sure to follow us on Instagram, using the handle @GrandHyattDubaiRestaurants.
What are some of the signature 'must-try' dishes that you would recommend ordering at Grand Hyatt Dubai?  (Pick three, please!)
That is a very difficult question!  From all the restaurants we have, there is definitely more than three that I would like to name!  But if I were to choose, these are my favourites:
–       Braised beef ribs at The Collective by Market Café.  These are 36-hour slow-cooked ribs with a homemade spice mix.  This just melts in your mouth
–       Next up, the Peppercrab at Peppercrab.  As obvious as the name is, this must-try delicacy will rank very highly on any crab lover's list!
–      The ever-famous Kunafa roll from Panini.  At Grand Hyatt Dubai, all our kunafa rolls are made from scratch and our secret is all in the cheese!
What are your three favorite ingredients to cook with and why?
I strongly believe that the key to cooking is being able to create a variation on food using old and new techniques.  This comes down to trying out numerous ingredients and flavors to give dishes that extra spark.  Based on that, my three favorite ingredients to cook with are:
Garlic: This can be pungent, sweet, roasted, acidic, pungent, spicy and even burnt. A wee bit can really balance out a dish.
Jerk seasoning: I love jerk seasoning because it goes with just about everything.  It is great on fish, scallops, chicken and tuna.  It has everything nice… and to me, it is the universal spice!
Shallots: I love cooking shallots for their versatility and flavor.  They can be incorporated into salad dressings and sauces, and can also be grilled and used as a garnish.
Your favorite place in the world to visit for culinary offerings and why?
That is simple: Portugal!  And to be more specific, Lisbon! This is because of their passion for sustainability and the innovative dishes.  Here, the people, places, flavors and trends have all played a role in making Lisbon a dazzling dining destination.
What has been your fondest culinary experience to date?
The fondest culinary experience for me, to date, has been the city of Kiev. The number of restaurants currently opening up in Ukraine and the quality of food that is being served to guests is just unbelievable, and in my opinion exceeds many five-star restaurants around the globe!