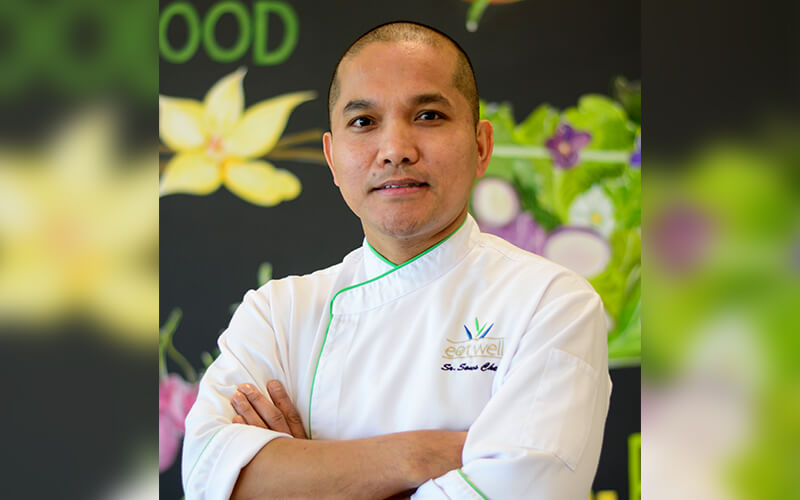 How would you describe the dining experience at Eat Well?
As our motto suggest, "healthy meets delicious," we work hard to do full justice to this. We create dishes with healthy ingredients focusing on the original flavours and taste of every dish. When you dine at eat well Restaurant, you will feel a change in the perception of healthy food not being tasty. The soothing ambience of our dining room and the views of the Dubai skyline, complemented with our friendly service, will ensure you the best dining experience.
What signature, must-try dishes can we expect to find on the menu?
Our aim is to not try and create a signature dish and limit ourselves in creating innovative recipes. However, we do have few constant dishes on our menu, based on popular demand, such as gluten-free paper pancakes, our edible garden salad, confit duck and vegan chocolate fondant.
With an increased consumer interest in healthy eating in the UAE, and a number of new health-focused restaurants opening on a regular basis, what makes Eat Well stand out from the crowd?
Our primary ethos has always made us unique from many other healthy restaurants in Dubai. Our menu is entirely free from gluten and refined sugar and we rarely use any lactose in our food preparation. Due to increased demand in vegan food, we have started to offer an exclusive vegan menu, which consists of breakfast, starters, salads, main and desserts.
Are you seeing an increased demand for dietary-specific menus? Can you talk us through some of the paleo/vegan/gluten-free options that you offer?
All our dishes are free from gluten and refined sugar. It's frankly quite surprising to see our menu, which is varied, but also support different dietary requirements. We offer a vegan friendly menu, regardless of whether it's for our a la carte or Friday brunch menu. Vegan tartare is just one example, which is suitable if you are vegan or following a paleo diet.
How have you seen Dubai's F&B industry and consumer eating habits change over the years? (please specify how long you have been in the region)
The healthy food market was a niche market; however we've seen a significant rise in the past few years, with our guests focusing on certain diets or healthy eating trends. The most recent trend we've been seeing is the increase in demand for vegan food. More and more of our guests are being educated on the numerous benefits of going vegan and we are here to support their dietary requirement.
Are there any offers taking place at Eat Well currently that our readers should be aware of?
Every Friday, we have our "Healthy meets Brunch," and on weekdays we serve our business lunch from 12pm to 3pm. You can also follow us on our social media pages for upcoming vegan nights and other themed events.
Can you tell us more about Eat Well's bespoke meal plans?
Bespoke meal plans are healthy meal programmes, exclusively created for guests based on their health, dietary and taste preferences. We create a completely new menu, once the guest meets our in-house nutritionist and completes the Body Composition Analysis (BCA) and food intolerance test. We highly recommend taking the food intolerance test, because it allows us to eliminate any intolerant food, which might hamper your overall fitness goals. We also offer many other meal plans which our guest can choose directly from our website.
What is the most bizarre request you've ever received from a customer?
For me as a chef, a request from a guest is never bizarre, especially in our concept. For many other chefs, cooking without butter is already bizarre. Our cauliflower fried rice was first created for a guest who had more than 30 food intolerances now it's very popular and every request allows us to create something new.
What are your three favourite ingredients to cook with, and why?
If I had to pick only three, they would be onions, quinoa and sweet potatoes. The humble onion is one of my favourite as I see it as a very important ingredient, which I can use for almost all of my dishes and it gives a good taste and a nice texture. For me, quinoa can turn out to be delicious or boring. But if you know how to use it well, quinoa can create a mouth-watering dish – and of course it's very healthy! Finally, sweet potatoes are a very versatile ingredient that can be used from salads to desserts.
What has been your most memorable moment in your career to date?
Getting a company award as a chef is a dream and a very important recognition for what we do. From my most recent memories, the most memorable moment for me is me attending BBC Good Food Middle East Awards 2018 and winning the award for the 'Best Healthy Eating Restaurant'. I was a very happy chef on that evening, and extremely proud of our eat well team.